 Practical help with understanding the regulations, technologies and management strategies that reduce energy costs.
Guidance
The Cold Chain Federation is committed to supporting its members to reduce their energy usage to help lower operating costs, meet Government targets for energy efficiency and support the U.K's drive towards a net zero future.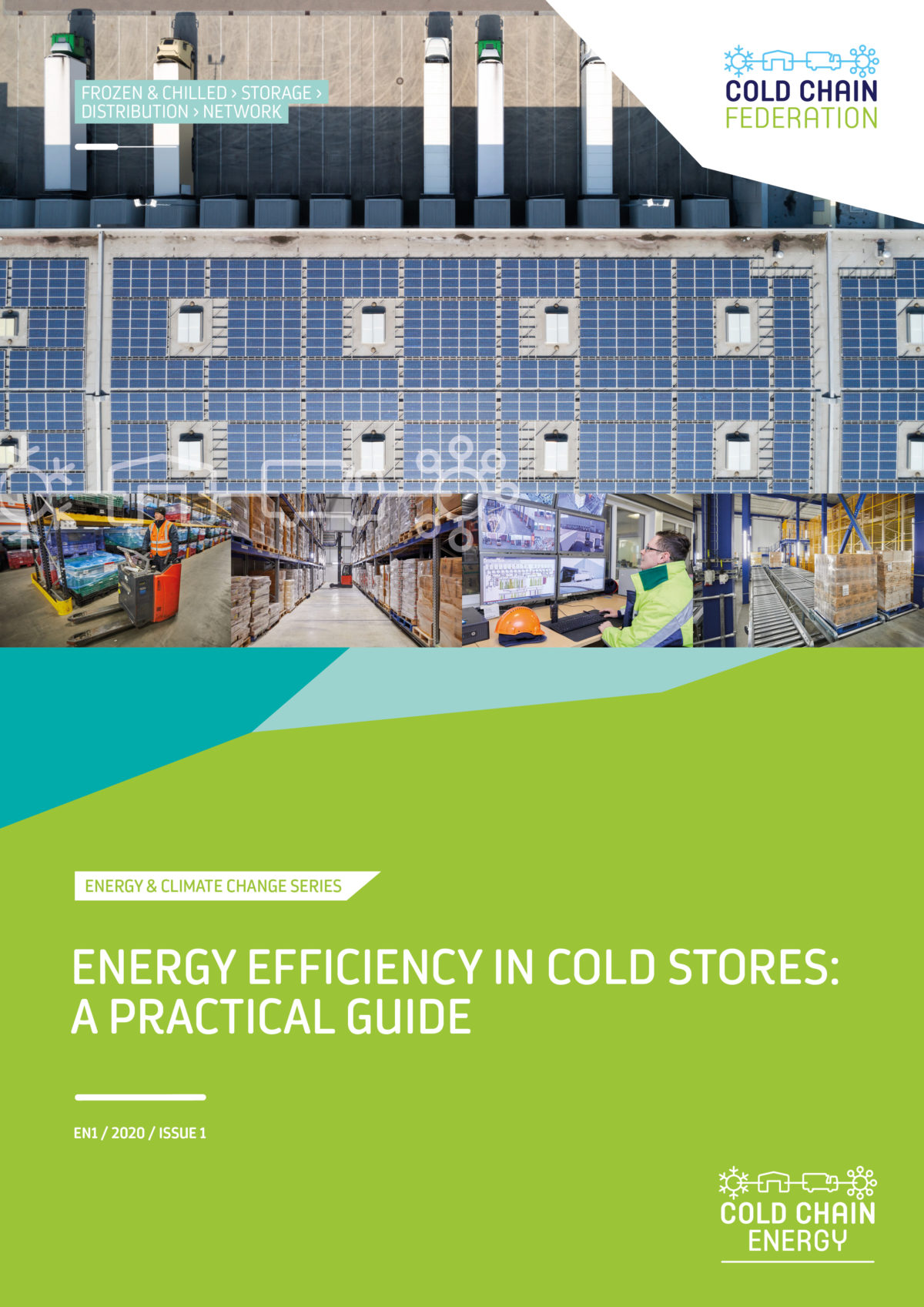 ENERGY EFFICIENCY IN COLD STORES: A PRACTICAL GUIDE is our definitive guide to operators of temperature-controlled facilities. Detailing everything from how to create an energy strategy, the specific operational changes and investments which can be made to reduce energy use, as well as how to bring about cultural change in your business to support the energy agenda and an assessment of available options for renewable energy, the guide is your one stop shop for reducing your energy bills.
To aid the value you get from ENERGY EFFICIENCY IN COLD STORES, we have worked with our partners at SafetyCulture to design an iAuditor familiarisation checklist of the key recommendations in the guide. Completion of the checklist will provide a bespoke energy efficiency action plan for your business.
For more information and to access iAuditor and the Energy Efficiency Guide template, please visit our dedicated page.
---
Climate Change Agreement
The Federation runs the industry's Climate Change Agreement, which saves subscribers over £10m per year.
Climate Change Agreements (CCAs) were set up by the UK Government to incentivise and encourage a greater uptake of energy efficiency measures amongst companies in energy intensive industries. The CCA scheme allows businesses who reduce their energy usage (and hence CO2 emissions) to make significant savings on their energy bills. The Cold Chain Federation is the exclusive administrator of the Climate Change Agreement for businesses that operate cold stores.
CCAs are voluntary, but they offer significant financial benefits to businesses that meet the energy saving targets. The current CCA scheme runs until 2025 and is open to new entrants.
Benefits of joining the Cold Chain Federation CCA
Significant discount on the Climate Change Levy (CCL), a significant contributor to a cold store's energy bill of up to 90% for electricity and 65% for gas, coal and LPG
Cost savings through energy reduction
Corporate responsibility benefits
Cold Chain Federation members get 50% off CCA administration fees, so if you are not already a member now is a great time to become one!
---
Events
Through our events we provide opportunities for members to learn about products, systems and innovations that can make a genuine difference.
Check our EVENTS PAGE for a full listing of upcoming events
---
PREVIOUS WEBINARS
Cold Chain Conversation – Defining a Net Zero Cold Chain
Originally broadcast 10th February 2021
---
The Cold Store of the Future
Originally broadcast 18th November 2020
The Renewed Climate Change Agreement for Cold Stores
Originally broadcast on 17th November 2020
---
The UK Energy Landscape
Originally broadcast on 16th June 2020
Innovations in Renewable Energy in the Cold Chain
Originally broadcast on 17th June 2020
---
Excellence in Energy Efficiency
Originally broadcast on 18th June 2020
Insulated Construction – Investing Today to Save Tomorrow
Originally broadcast 19th November 2019
---
Improving Energy Efficiency in your Cold Store
Originally broadcast 8th October 2019
To find out more call 0118 988 4468 or email info@coldchainfed.org.uk