Cold Chain Live! in October 2020 marked the official launch of the Cold Chain Federation's Net Zero Project: a long-term commitment to support our members and guide the industry through the challenge of net zero. Our project will seek to map out the road towards net zero and what this means for cold chain businesses.
On the face of it the cold chain is vulnerable. Long described as a 'hidden' part of the supply chain, refrigeration is also an energy intensive process. A crucial part of our project will be to collaborate with Government, NGO's and other stakeholders to increase visibility of the unique decarbonisation challenges of our industry as well as the achievements of cold chain businesses. We want the cold chain to be viewed as an example of how industry can proactively work towards a net zero future.
Cold chain businesses cannot afford to sit and wait and see what happens with climate change policy. We need to start adapting now. Large capital investments will be expected to last for decades and so businesses need to make sure the decisions they make now are resilient to future energy and emission regulation and taxation.
In October 2020, we released Part One: Setting the Scene, which provides an outline of what we hope to achieve over the coming months and years.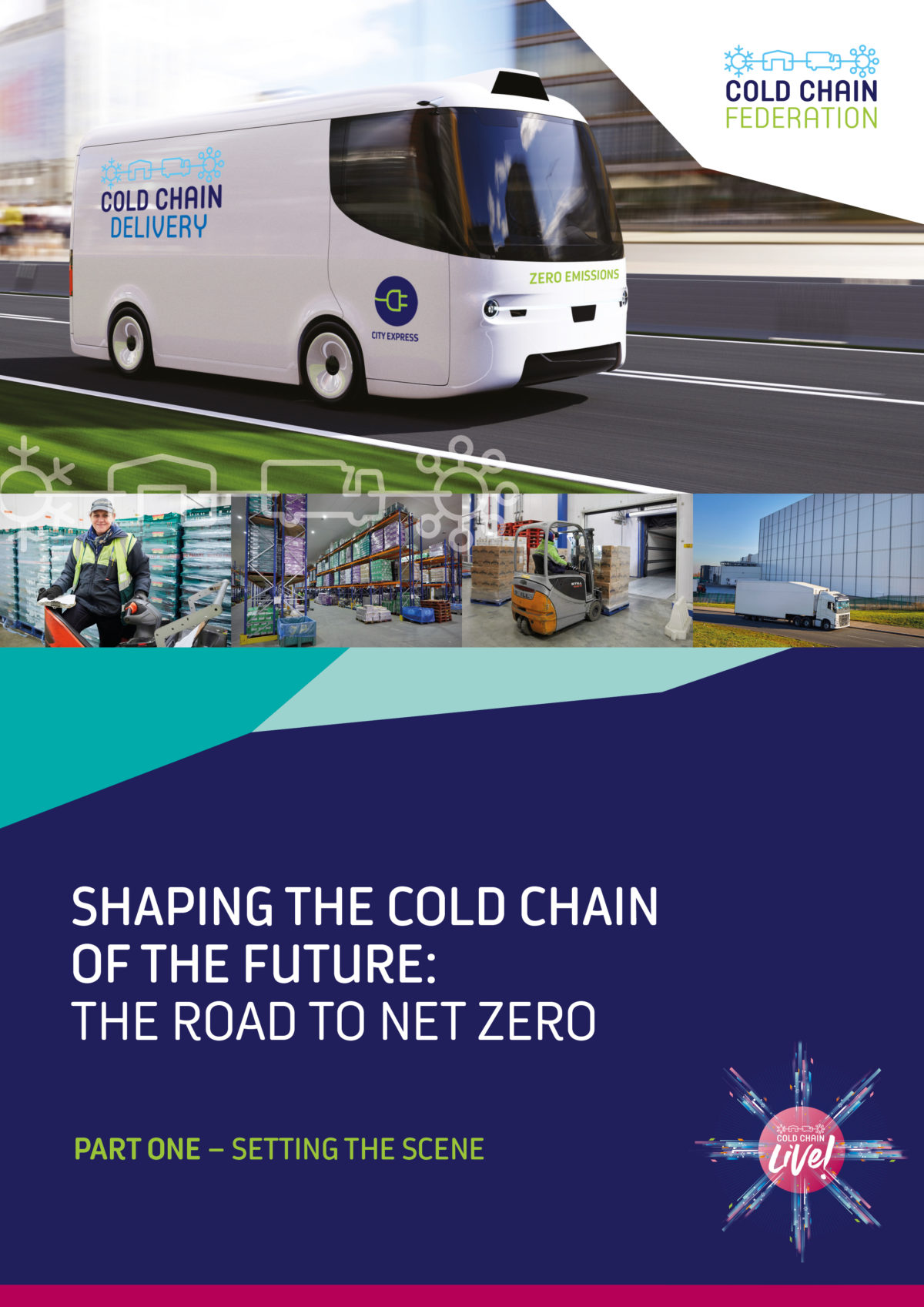 Part One details the four key areas of the challenge:
Defining the challenge: what do we mean by a net zero cold chain?
Improving energy management in cold stores
Reducing emissions in temperature-controlled distribution
Rethinking the supply chain: how will whole supply chains need to adapt to meet the net zero challenge and how can we foster the collaboration between businesses which will be required?

SHAPING THE COLD CHAIN OF THE FUTURE: THE ROAD TO NET ZERO (PART ONE - SETTING THE SCENE)
This document is the basis for the Cold Chain Federation's engagement within and outside our industry; to define what we mean by a net zero cold chain and to ask ourselves where the gaps are in our knowledge and where the potential is for collaboration.
What you can expect from our Net Zero Project
We want all our members to be part of our Net Zero Project. Throughout 2021 and beyond there will be opportunities to get involved and help shape the future of your cold chain. The project aims to give our members the information they need to make an informed choice on how to adapt to the challenge of decarbonising their business. In 2021, you can expect the project to develop in four principal areas:
CCF Publications
2021 will see us build on the issues raised in Part One: Setting the Scene, with additional reports focussing on roadmaps for what temperature-controlled storage and distribution will look like in 2050. This document will be released in two parts, the first, The Road to Net Zero Cold Storage released in spring 2021 and the second The Road to Net Zero Temperature-Controlled Distribution following in autumn. We hope to officially launch both documents together at a reception in Parliament in the autumn.
Cold Chain Conversations
New for 2021, Cold Chain Conversation is a series of debates with eminent cold chain experts discussing the big issues facing the industry in a Question Time style format. Members will be able to listen to the debate live and ask their questions to the panel. On February 10th kicked off the series with a debate on Defining Net Zero – tackling the big questions on what a net zero cold chain might look like and what the key challenges and mandatory obligations might be for individual businesses in the cold chain. Further Cold Chain Conversations can be found here.
Insight
With the UK focussing on a 'green recovery' from the Covid-19 pandemic as well as hosting the COP26 climate change conference in November 2021, we can expect a raft of new pledges and climate change policy to be announced in 2022. The Cold Chain Federation will be on hand to help our members understand what these policies mean and how they might impact cold chain operations and the transition to net zero.
Events
Through our industry leading events programme, we will be on hand throughout 2021 to update you on the latest information from our Net Zero Project. Cold Chain Connect will provide you with regular briefings on the latest policy announcements and key innovations for energy management and carbon reduction and in May, we will be hosting Climate Change Week, two days of content curated to update you on the Net Zero Project and announcements ahead of COP 26. Our events schedule can be found here. Scroll down for recordings of events related to Cold Chain Net Zero Project.
INSIGHT PAPERS
Towards a Net Zero Cold Chain – Setting the Scene – Shane Brennan, Chief Executive, Cold Chain Federation
Shaping the Future of the Cold Chain: The Road to Net Zero – Tom Southall, Policy Director, Cold Chain Federation
Adapting to Change: The Uncertainties Facing the UK Cold Chain – Tom Southall, Policy Director, Cold Chain Federation
Decarbonising and reducing carbon emissions from temperature-controlled distribution – Tom Southall, Policy Director, Cold Chain Federation
Net Zero Cold Chain – Prof Alan McKinnon, Keuhne Logistics University, Hamburg
The Engineering Pathway to Net Zero Cold Chain – Dr Rob Lamb, Sales & Marketing Director, Star Refrigeration
The Changing Face of Food Retailing – Prof Jonathan Reynolds, Academic Director, Oxford Institute of Retail Management
Strategic Transport Planning – Kirsten Tisdale, Principal, Aricia Logistics Consulting
Meeting Sustainability Goals – Gavin Parnell, Director, The Supply Chain Consulting Group
Scope for optimism in times of change – Justin Laney, General Manager Fleet, John Lewis Partnership
The big picture of vehicle decarbonisation – Brian Robinson, Low Carbon Vehicle Partnership
Creating a robust blueprint for sustainable and cost-effective food logistics – Prof Toby Peters, Professor in Cold Economy, University of Birmingham
Zero net carbon – food cold chain challenges – a research perspective – Professor Judith Evans, London South Bank University and Refrigeration Developments and Testing Ltd
Does "what gets measured" really "get managed"? – John Clark, Director, Star Data Analytics
Quantifying the Cold Chain – Kevin Mofid, Head of Logistics & Industrial Research, Savills
PRESENTATIONS
TRANSITIONING TO THE NET ZERO SUPPLY CHAIN
THE ENGINEERING ROAD TO NET ZERO
COLD CHAIN NET ZERO PROJECT
ADAPTING TO CHANGE IN FOOD RETAILING
DESIGNING LOGISTICS FOR NET ZERO
ADAPTING TO CHANGE: THE LOGISTICS CHALLENGE
THE BIG PICTURE OF VEHICLE DECARBONISATION
TOWARDS ZERO EMISSION TEMPERATURE CONTROL
THE FUTURE OF TRAILER TECHNOLOGY
MARKET SIZING THE UK COLD CHAIN
CREATING A ROBUST BLUEPRINT FOR SUSTAINABLE AND COST-EFFECTIVE FOOD LOGISTICS
COLD CHAIN LIVE WEEK ONE – ALL PRESENTATIONS
COLD CHAIN LIVE WEEK TWO – ALL PRESENTATIONS
COLD CHAIN LIVE WEEK THREE – ALL PRESENTATIONS
COLD CHAIN LIVE WEEK FOUR – ALL PRESENTATIONS
FURTHER READING
Net Zero: The UK's contribution to stopping global warming (CCC, 2019)
Reducing UK emissions: 2020 Progress Report to Parliament (CCC, 2020)
Doing Cold Smarter (University of Birmingham, 2015)
Climate Change Agreements scheme extension and reforms for any future scheme (BEIS, 2020)
Rewiring Britain for a net zero future: (Ofgem, 2020)
Last Mile urban freight in the UK: How and why is it changing? (Foresight: Government Office for Science, 2019)
Refrigerated warehouses as intelligent hubs to integrate renewable energy in industrial food refrigeration and to enhance power grid sustainability (LSBU Journal Article, Fikiin et al. 2017)
Energy Efficiency in Cold Stores: a practical guide (Cold Chain Federation, 2020)
Decarbonising Transport: Setting the Scene (Department for Transport, 2020)
Decarbonising road freight (Centre for Sustainable Road Freight, 2019)
White Paper: Decarbonising the UK's Long-Haul Road Freight at Minimum Economic Cost (Centre for Sustainable Road Freight, 2020)
Sustainable Refrigerated Road Transport – Investigating the Scale of Carbon Emissions from Direct- Drive Last Mile Refrigerated Vehicles (LSBU: Judith Evans et al. 2019)
The Future of UK supply chains in a disrupted world: Brexit and Covid-19 (LSE Blog, 2020)
UK Cold Chain Logistics Market by End User: Opportunity Analysis and Industry Forecast, 2019-2026 (Allied Market Research, 2019)
UK Cold Storage Sector (Cold Chain Federation, 2020)
For more information about the Cold Chain Net Zero Project contact tom@coldchainfed.org.uk