Cold Chain Federation provides a unique, non-competitive space where temperature-controlled storage and distribution businesses (and those that supply, advise or regulate them) can meet online or in person, learn, problem-solve, and be inspired together.
This is your home for all our previous online events, you can catch up on them at your time.
REFRIGERATION WEEK 2023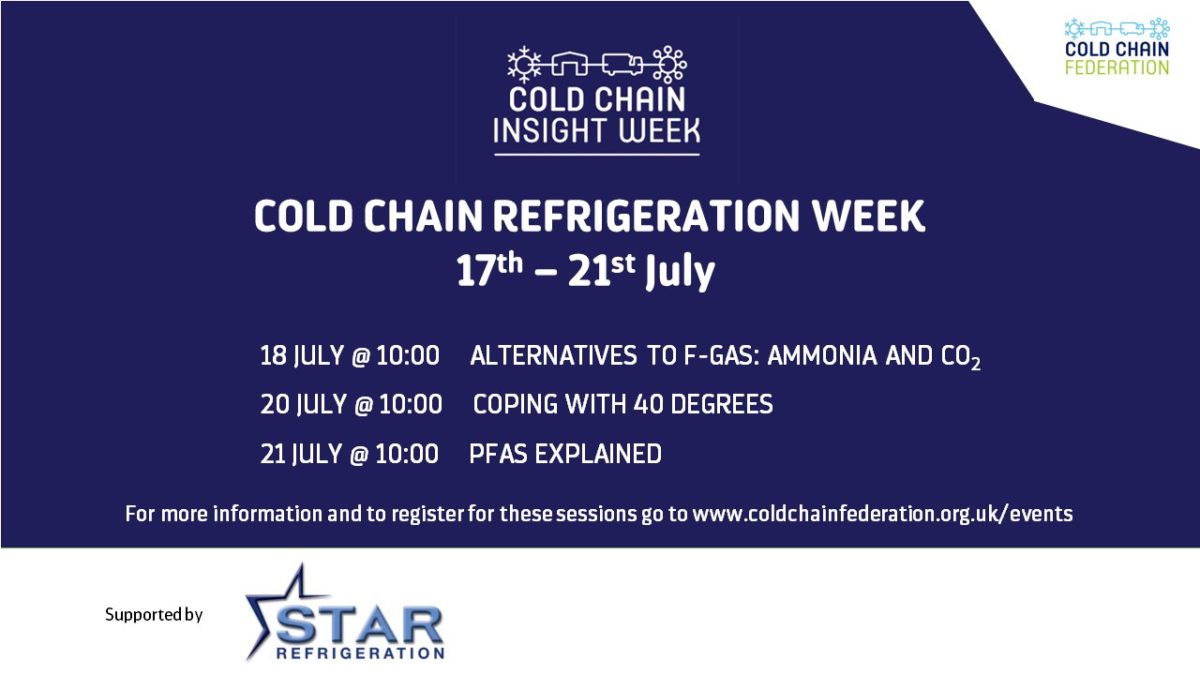 A look at F-Gas alternatives, in particular ammonia vs CO2 , followed by a look at how increasing Summer temperatures are impacting on cold store performance and energy costs and finishing on PFAS, or "Forever Chemicals" – what are they and how could they impact cold chain businesses.
Cold Chain Connect

Cold Chain Connect is our regular webinar series in which we invite our Associate members to join us over lunch to speak to the wider CCF membership on a key topic, or innovation shaping business in the cold chain. Grouped by the different types of industries or services that our members work in.

Cold Store Construction

THE ENERGY EFFICIENT COLD STORE – IS THE FABRIC OF YOUR FACILITY UP TO SCRATCH?

20 June 2023

---

REDUCING ENERGY CONSUMPTION AND CARBON FOOTPRINT IN COLD STORES AND REFRIGERATED VEHICLES

7 February 2023

---

Compliance

WHY YOU SHOULD HAVE A DRUG AND ALCOHOL MANAGEMENT PROCESS IN PLACE

9 May 2023

---

2023 EMPLOYMENT LAW CHANGES – HOW RECENT RULINGS WILL AFFECT YOUR BUSINESS

11 October 2022

---

Energy Consultations

ACCELERATING COST REDUCTIONS WITH YOUR OWN ON-SITE, FULLY FUNDED SOLAR ELECTRICITY GENERATION SCHEME

6 June 2023

---

ENERGY EFFICIENCY & RENEWABLE INVESTMENTS: UNDERSTANDING THE OPTIONS AVAILABLE TO YOUR BUSINESS

28 March 2023

---

THE ENERGY CRISIS: HOW IS THE LANDSCAPE OF THE ENERGY MARKET CHANGING, AND HOW DOES IT AFFECT YOUR BUSINESS?

24 January 2023

---

HOW TO FINANCE BEHIND THE METER ENERGY GENERATION TO REDUCE YOUR COSTS AND MEET NET ZERO TARGETS

18 October 2022

---

Material Handling Equipment

SHINING HAPPY PEOPLE – STAFF RETENTION THROUGH PPE

23 May 2023

---

Professional services

A Look into the Future Tech of Temperature-Controlled Distribution

17 October 2023

---

SHAPING AND ACHIEVING YOUR SUSTAINABILITY GOALS – RESOURCES TO HELP YOU ON YOUR JOURNEY

22 November 2022

This webinar failed to record, however, the slide deck can be downloaded below and we are able to share some useful links to content from BSI which can help you on your sustainability journey.

---

ENHANCING THE ANALYTICAL SKILLS OF YOUR TEAM. HOW THE APPRENTICESHIP LEVY CAN HELP FUND TRAINING

16 November 2022

---

Refrigerated Transport & Services

BioPCM® in Refrigeration: The Lifeline to Decarbonize and Eliminate Product Waste

31 October 2023

---

How choosing the right refrigerant, good practice and taking the long term view can help save costs

4th July 2023

---

ECOGEN 2 – CUTTING COST , CARBON , DPM & NOX

14 March 2023

---

Refrigeration

Increasing reliability in blast freezing while reducing energy.

11 July 2023

---

How pyrolysis can decarbonise the Cold Chain

02 May 2023

---

Transcritical CO2 and Refrigeration for Cold Stores

21 March 2023

---

What does the proposed new F-Gas Regulations revision mean for the users and operators of cooling equipment?

31 January 2023

---

MAKING THE MOST OF EVERY KILOWATT OF ENERGY AVAILABLE TO YOUR BUSINESS

10 January 2023

Renewable Energy

Sunny Side Up: The Feasibility of Sourcing 25% of Your Annual Electricity Needs at 5p-kWh with Rooftop Solar PV

3 October 2023

---

HOW TO TURN YOUR UNUSED ROOFSPACE INTO A REVENUE-GENERATING ASSET USING LIGHTWEIGHT SOLAR

29 November 2022

---
Cold Chain Conversation

Held quarterly, this webinar is for anyone interested in developing their understanding of the UK cold chain

COLD CHAIN INSIGHT- SPRING BUDGET 2023

17 March 2023

LESSONS FROM CRISIS – MANAGING ENERGY TODAY AND IN THE FUTURE OF THE COLD CHAIN

---

16 June 2022

---

COLD STORE OF 2050 – LAUNCH

13 June 2022
Cold Chain Insights Week

A dedicated week of workshops talking about challenges and best practices focused on a specific area of work. and mitigation in the cold chain.