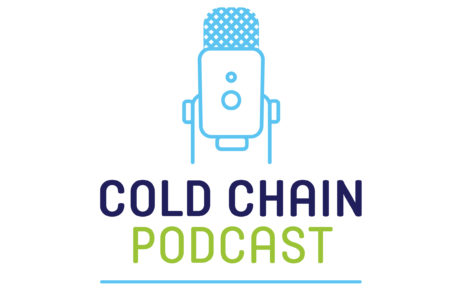 Podcasts are a great way to share the insights and experience of some of the key people that lead, research, advise and regulate the UK cold chain. To listen click play below, or even better, subscribe to the series in your favourite podcast app. If you are interested in being interviewed for the 'pod' get in touch.
---
"You have to take everyone on a journey" how to deliver change across organisations.
In this episode Shane talks to the head of the UK operations for Lineage Logistics Claire Walters, they talk about her extensive and varied experience working in logistics and the fresh perspective she brings to UK cold chain. A year in to her leadership Claire talk about he optimism for the business and our industry and provides great advice to those forging a career in our vital industry
"I deliver and drive forward" – how to stay ahead of the game and thrive in an ever-changing world with Paul Martin
In this episode, Shane is joined by Paul Martin, MD of Ice Co Storage & Logistics. Paul talks about changes in the business, the value-added service they offer to the industry and the recent acquisition.
Paul dives into his history in the industry, how he started, the changes he has seen tho the business and his plans for the future.
"You can be, what you can see" – the ongoing mission of bringing more diversity to the cold chain with Lisa-Jayne Cook
In this episode Shane is joined by the inspirational Lisa-Jayne Cook. Recently selected to be a global ambassador for women in STEM, she has led the way in speaking to young people about the opportunities of working in the refrigeration, heat pump and air conditioning sector.
In this episode they talk about how Lisa-Jayne found her way into refrigeration engineering, her early and ongoing experiences in the job and her passion for making the industry a better more inclusive place for all of us.
Lisa Jayne works for GEA Engineering as a Service Sales Manager, she is a Board Director of the Institute of Refrigeration and a member of the ACRIB industry Board https://www.linkedin.com/in/lisa-jayne-cook-finstr-fwes-99532043
"Delivering resilience, the lessons of the covid crisis for the future of the food supply chain" – with James Bielby – CEO, Federation of Wholesale Distributors
In this episode, Shane talks to fellow trade association CEO James Bielby from the Federation of Wholesale Distributors about how the health of the UK food supply chain. They reflect on how the industry came together to withstand the demand spikes and collapses in the covid years and what lessons that teach us about how to handle the challenges ahead for businesses across wholesale, hospitality and retail.
---
"From the warehouse floor to reshaping the world of cold chain" – Mike McClendon, Global Ambassador Lineage Logistics
Over ten years Lineage Logistics has reshaped the identity of cold chain across the world. Mike McClendon led the global expansion of the business for most of that time, only recently stepping out from being President of International Business in to a new Ambassadorial role, including taking on the role of Chairman of the Global Cold Chain Alliance, the pan-national representative and networking organisation for cold chain businesses.
Mike talks to Shane about the rapid rise of Lineage Logistics, why the business has been able to grow as it has, he shares his optimism about the future and talks candidly about how Lineage is facing in to the major challenges of our time. A unique insight from a man that has, more than most, shaped the modern history of global cold chain.
---
"Changing the World of Cold Chain, One Invention at a Time" – BOB TIPPMAN, Tippman Engineering
Recorded at the international convention for global cold chain in San Diego, Shane talks to inventor and cold chain solutions provider Bob Tippman.
From a multigenerational family that are an institution of US cold chain, Bob is a one of those people that gets out of bed in the morning hungry to find the next big idea that can change the cold chain.
His products like the Quick Freeze blast freezing solution, are interesting twists on long established technology, and he has plenty more ideas to come.
Shane and Bob also talk about the big idea that they both believe needs to be seriously considered. It's simple but could be game changing, turning up the thermostat and storing food at higher temperatures to reduce overall energy use across the cold chain. Is it that simple… listen and find out..
---
COLD CHAIN LIVE! SPECIAL THE COVID 19 VACCINE ROLL OUT WITH PAUL WILKINSON, PRESIDENT, MOVIANTO UK
In this podcast special Shane Brennan talks to Paul Wilkinson the President of Movianto UK. Paul tells the story of how he and the team planned and delivered the logistics that made the covid-19 vaccination programme possible. A thorough and reflective account of an unprecedented cold chain challenge. Not to be missed.
The interview took place before Paul gave the key note address to the Cold Chain Live! Conference in Birmingham on the 8th September 2022.
---
PAUL BENNELL – SAMWORTH BROTHERS SUPPLY CHAIN
Shane Brennan talks to new Vice-President of the Cold Chain Federation Paul Bennell. Paul runs Samworth Brothers Supply Chain one of the leading distributors of chilled foods in the UK. SBSC has a unrivalled reputation for professionalism and reliability and brilliant working culture.
Shane and Paul reflect on the pandemic and its legacy and talk about the crunch policy and regulatory issues facing the transport industry.
---
COLD CHAIN CATCH UP – JULY 2022
CCF CEO Shane Brennan and Policy Director Tom Southall talk you through some of the key issues shaping the cold chain this month. On the agenda is the race to be PM and what that actually means for us, the new consultation on penalties for hauliers caught trafficking illegal migrants, the cold chain report and a BIG ANNOUNCEMENT about the Cold Chain Live! Conference on 8/9 September.
---
COLD CHAIN CONVERSATION – MANAGING THE ENERGY CRISIS
Shane Brennan leads an expert roundtable discussion on how the world energy crisis is impacting on the cold chain.
Joined by Kath Chapman – Managing Director at AMERESCO; Jon Stowe – Managing Director ACS&T; Peter Summerton – Managing Director McCulla Ireland and Neil Stott, Business Development Director, MyPower.
The discussion covers how we have got to where we are, how it is impacting on cold chain operators, the opportunity and role of renewable investment and how businesses navigate the tough energy purchasing market.
---
SORAYA KARIMI-GHOVANLOU – SMITHFIELD FOODS UK
In a first of a series of interviews with up and coming leaders in UK cold chain businesses Shane talks to Soraya Karimi-Ghovanlou, Supply Chain Director at Smithfield Foods UK. A fascinating conversation seeing the recent and current issues facing the cold chain through the eyes of a business that is a customer of cold chain services. As a major importer of protein from EU into UK, Smithfield have navigated Brexit and global supply insecurity.
Shane and Soraya explore what makes up a strong relationship between supply chain operations in an importing business and their transport and storage partners.
---
NIKKI REDHEAD – KEEP IT COOL
Shane talks to the leader of one of the fastest growing cold chain businesses in the UK. Nikki Redhead took over the Keep It Cool business in 2014 after a successful career in cold chain logistics. Striking out on her own she has brought passion for customer service to establishing this refrigerated courier business. For a business that is all about filling in the gaps and stepping in at the last minute, it takes a certain kind of energy and commitment that Nikki delivers in spades.
In this conversation she brings her thoughtful and unique perspectives to the challenges and opportunities ahead for UK cold chain.
---
MATTHEW OTT – GLOBAL COLD CHAIN ALLIANCE
In this episode Shane takes some time at the end of the European Cold Chain Conference in Rotterdam to reflect on how the UK, European and international cold chain is set up to cope with the current economic and regulatory challenges facing the industry.
Matt talks about his background working in non-profit business membership organisations before GCCA and how he sees the future of the organisation he took over leadership, just as the world entered the pandemic.
They also talk about the big announcement of a new partnership between GCCA and CCF that will bring new value to their respective members and new opportunities in the future.
---
CLARE BOTTLE – CHIEF EXECUTIVE – UK WAREHOUSING ASSOCIATION
Shane speaks to colleague and 'new kid on the block' Clare Bottle, who has taken on the leadership of the UK Warehousing Association. Clare, who is an experienced logistics practitioner, gives her perspective on the important role that 'communities' (like UKWA and CCF) play in helping logistics professionals to gain insight, support and practical advice outside of their day job.
She also reflects on stepping for the first time into the world of lobbying and communicates her passion for standing up for warehousing with government and wider politics and the media.
---
ANDREW BALDWIN – REED BOARDALL
Shane talks to the Managing Director at the UK cold chain institution that is Reed Boardall Cold Storage.
Andrew talks about how his business coped with a year of unpredictable events in 21, and came through it stronger. How he invests in the continuous improvement and innovation of their operations and facilities and his optimism about the year ahead for RB and the wider frozen food supply chain.
---
EDDIE GREEN – DFDS
Shane interviews Eddie Green Head of Cold Chain at DFDS. they talk about Eddies long experience in cold chain logistics, rooted in the shipping industry MAERSK, Norfolk Line and DFDS. In recent years overseeing the growth of cold chain operations, the acquisition of HSF and managing the Brexit transition.
He brings his experienced, calm and common sense approach to the discussion and talks in particular about his and DFDS' commitment to sustainability investment.
---
FIRST VIDEO COLD CHAIN PODCAST
CLIVE THORNLEY, MANAGING DIRECTOR, STYNE INDUSTRIAL REFRIGERATION
In the first of our podcasts captured on video, Shane Brennan, CCF CEO visits Clive Thornley at the Norfolk head office of Styne Industrial Refrigeration to find out how their approach to refrigeration solutions can help cold chain businesses on their road to net zero.
---
COLD CHAIN PODCAST LIVE!
Episode 2 – Mark Burrell, Managing Director, Moran Logistics
Whilst at the TCS&D Show 2021 in Peterborough earlier this month, Shane caught up with Mark Burrell MD of Moran Logistics.
Having taken on the role during the pandemic, Mark talks about how he and his colleagues have coped with the operational challenges of the covid pandemic. He also talks about his passion for supporting and nurturing people across his business and his commitment to sustainability.
Relatively new to the cold chain sector and a new member of the Cold Chain Federation Mark brings a new energy and perspective to the role and the Federation.
---
COLD CHAIN PODCAST LIVE!
Episode 1 – Back Together, Lessons from Crisis and Where Now for Net Zero?
The first episode in a a special mini stories of podcasts that include the edited highlights from the debates and interviews run by the Cold Chain Federation at the TCS&D Exhibition in Peterborough on 7th and 8th September.
The session includes CEO Shane Brennan's reflections on 18 months of crisis in the supply chain, Policy Director Tom Southall's overview of the progress in the CCF Road to Net Zero Project and debate between Tom, Shane and Dr Rob Lamb of Star Refrigeration on the opportunities and challenges of net zero in the cold chain.
---
JON STOWE – ACS&T LTD
In this episode Shane talks to one of the newest cold chain leaders in the industry. Jon Stowe took over as MD of UK cold chain institution ACS&T in August 2020.
As Jon tells us in the episode this is the company's centenary year. Jon's optimism and drive shines through explaining how he see's ACS&T's unique offer fitting into a dynamic and growing market.
Jon's views on how he is setting about building a positive team and working culture are particularly insightful.
---
DEAN ATTWELL – OAKLAND INTERNATIONAL
Dean Attwell is the Owner and Chief Executive of Redditch-based Oakland International . Since being forced into cold chain following a radical change of business direction in 1999, Dean and his wife Sallie have never looked back, running one of the most unique and fast growing businesses in UK cold chain.
In this episode Shane and Dean talk about the importance of having the entrepreneurial drive to seize opportunities, how to marry business objectives with environmental and social conscience and the optimism we should all have about the value that people are ascribing to cold chain today.
We also couldn't pass up the opportunity to find out more about Dean's expeditions to both the North and South Poles.
---
COLD CHAIN CONVERSATION – Defining Net Zero
In this special edition of the podcast we share the recording of our Cold Chain Conversation event held on the 10th February 2021.
Chaired by Cold Chain Federation Chief Executive Shane Brennan, the panel discussed what can or should net zero mean for the cold chain.
The discussion forms part of the ongoing road to net zero project launched by the Federation in October 2020 – see report.
Panellists include:
Professor Judith Evans – Southbank University
Professor Alan McKinnon – Kuehne Logistics University
Professor Toby Peters – University of Birmingham
Dr Tim Fox – Institute of Mechanical Engineers
Tim Moran – Regional Vice President – Lineage Logistics
and contribution from Tom Southall Policy Director Cold Chain Federation.
---
BREXIT SPECIAL – ONE MONTH IN
One month into life outside the EU single market Shane Brennan talks to one of worlds leading experts in international food trade. Emily Rees is a Senior Fellow at European Centre for International Political Economy and Managing Director at Trade Strategies, a trade and regulatory advisory consultancy.
In PART ONE Shane and Emily talk about the state of UK to EU trade flows today and in coming weeks and months.
In PART TWO they discuss what Global Britain might actually mean for UK food trade and the cold chain.
ABOUT EMILY REES – An economist by training, Emily's expertise lies at the intersection of trade, sustainability and agriculture. Her areas of interest include "new generation" trade issues including animal welfare, anti-microbial resistance, environmental food standards and values in trade.
PART TWO – GLOBAL BRITAIN
---
PODCAST SPECIAL – Covid Vaccine and the Cold Chain
In this episode Shane Brennan talks to Professor Toby Peters of the University of Birmingham about the role that the cold chain will play in getting covid vaccines into communities across the world.
---
COLD CHAIN LIVE! SPECIAL – Steven Lawrence, Chief Executive Magnavale Group
In our final interview of the Cold Chain Live! series Shane talk to property investor and cold chain disruptor Steven Lawrence. His Magnavale group is one of the fastest growing businesses in UK cold chain and his exciting plans for new developments have the potential to really shake up the UK cold chain.
---
COLD CHAIN LIVE! SPECIAL – Paul Jackson – Managing Director, Chiltern Distribution
In this longer than the filmed version interview Paul Jackson talks about his experience in cold chain haulage, immediate issues of Brexit and covid-19 and the theme of this week's conference the Future of Transport and the road to Net Zero.
---
COLD CHAIN LIVE! SPECIAL – Gavin Williams – Managing Director, Supply Chain UK and Ireland, XPO Logistics
As part of WEEK TWO of our Cold Chain Live! event Shane Brennan talks to the Managing Director for Supply Chain in UK and Ireland, Gavin Williams. they discuss how XPO views the net zero challenge, the company's approach to technology and innovation and the importance of string customer relationships in achieving environmental goals.
---
COLD CHAIN LIVE! SPECIAL – Tim Moran of Lineage Logistics on Net Zero Challenge
Shane talks to UK MD of Lineage Logistics and President of the Cold Chain Federation about Lineage's expansion, the changing structure of the UK market and Lineage's global mission to eliminate waste.
---
BREXIT SPECIAL with Nick Von Westenholz
With the 'B' word back in the news headlines Shane talks to the NFU's EU and International Affairs Director, Nick Von Westenholz about the implications of life outside the EU single market for UK farming and the wider food industry. A thoughtful and considered view from one of the genuine experts in a crowded and noisy debate.
---
Managing the interface with government with Richard Burnett
In the second trade association leader interview Shane talks to Road Haulage Association Chief Executive Richard Burnett. Shane and Richard reflect on the realities of managing the interface between government and the logistics industry in the middle of a crisis. They talk about the challenge of supporting haulage businesses through the immediate challenges of covid-19 and Brexit, whilst trying to keep an eye on the challenges and opportunities coming down the track in the future.
---
Covid-19, Brexit and Food Strategy with Ian Wright
In the first of a mini series, Shane talks to the leader of one of the UK's largest trade federations. Ian Wright has led the Food and Drink Federation from 2015 and in that time has awoken a sleeping giant, ensuring that UK food manufacturing has a seat at the top table of Government. In his candid and typicaly engaging story telling style, Ian reflects on how the industry has coped with covid-19, his concerns about the UK's exit from the EU and his optimism for the UK's new food strategy.
---
Andrew Lawrence on Magnavale's ambitious and innovative plans for the future
Shane talks to latest member of the Cold Chain Federation Board Andrew Lawarence. For 8 years Andrew has been a instrumental part of the Magnavale busines from its first purchase of Via Cold Stores in 2012 has grown to a major UK player with 200,000 pallet places across multiple facilities. He talks about the groups ambitious and innovative plans for the future, not least the developemnt at Thames Enterprise Park, and he and Shane reflect on what modern leadership in the cold chain is all about.
---
Jon Miles on automation and building new cold stores
Originally broadcast 23rd June 2020
In the week NewCold unveiled its plans to build Europe's largest automated cold store in Corby, Northamptonshire Shane Brennan asks Jon about the plans. How NewCold has navigated through covid-19, why he believes automated stores are the future of cold chain and why he thinks businesses are continuing to invest in new warehousing inspite of economic downturn.
---
Reducing energy costs with Dr Rob Lamb
Originally broadcast 15th June 2020
To mark the start of Cold Chain Energy Week, Shane is joined by Dr Rob Lamb from Star Refrigeration – in this interview Rob's passion for supporting cold chain businesses to reduce costs and improve energy efficiency comes through. They talk about the balance between the opportunities of technology and systems reform, and above all the importance of measurement and monitoring.
---
Nick Hay on coping with Covid-19
Originally broadcast 27th May
For ten years Nick Hay has run one of the largest temperature controlled supply chain businesses in the UK. In this episode he provides a view from the front line of coping with covid-19, talking candidly about how operational and customer relationships have adapted to cope. He also reflects on where industry has come from and where it is heading.
---
PODCAST SPECIAL: Covid 19 and the Cold Chain
Originally broadcast 13th May 2020
Shane Brennan talks to fellow cold chain association leaders about how covid-19 pandemic has impacted on the cold chain. Together they tell the story of how the industry has met the challenges of the crisis head on and reflect on what we might learn that will stay with us once this crisis is over.
Includes contributions from
Marcos Badenes – Secretario General ALDEFE (SPAIN)
Debbie Corado – Director, GCCA (LATIN AMERICA)
Megan Costello – President and CEO – Global Cold Chain Alliance (USA)
Davey Gerlings – Secretary General of NEKOVRI (THE NETHERLANDS)
Julie Hanson – Director, GCCA (EUROPE)
Marianne Kintzel – Executive Officer, Refrigerated Warehouse and Transport Association (AUSTRALIA)
Valerie Leserre – Deleguee Generale – La Chaine Logistique Du Froid (FRANCE)
Lizelle Van De Berg – Director, GCCA (SOUTH AFRICA)
---
Gavin Parnell discusses strategic planning and client relations
Originally broadcast 16th April
In this episode Shane Brennan (CEO, Cold Chain Federation) talks to Gavin Parnell (Director, The Supply Chain Consulting Group) about what lessons we might learn about supply chain planning from Covid-19, ways to use data well in strategic decision making and how to establish a strong relationship between client and consultants.
Check out the Supply Chain Consulting Group at https://www.sccgltd.com/
---
Ruth Edwards on developing people in logistics
Originally broadcast 7th April 2020
Ruth is the driving force behind Talent in Logistics, a business that provides conferences, awards and research in recruiting and developing logistics people. Shane and Ruth discuss what makes logistics people distinctive, what we are getting right and wrong in developing people and how we develop more female leaders across the cold chain.
---
James Woodward on customer service and family values
Originally broadcast 28th February 2020
This time I talk to James Woodward Owner and Managing Director of ColdMove about running a small family business in a time of consolidation and acquisition in the cold chain.
---
Talking Awards with Martyn Cogan
Originally broadcast 21st February 2020
In this episode I talk to Martyn Cogan of TCS&D Magazine, Exhibition and Awards about the value and importance of networking for our industry – and in particular this year's awards.
---
Tim Moran shares his thoughts on the cold chain
Originally broadcast 17th February 2020
Shane talks to Tim Moran the President of the Federation and UK MD of Lineage Logistics, a fascinating business setting the pace of change in cold chain.
---