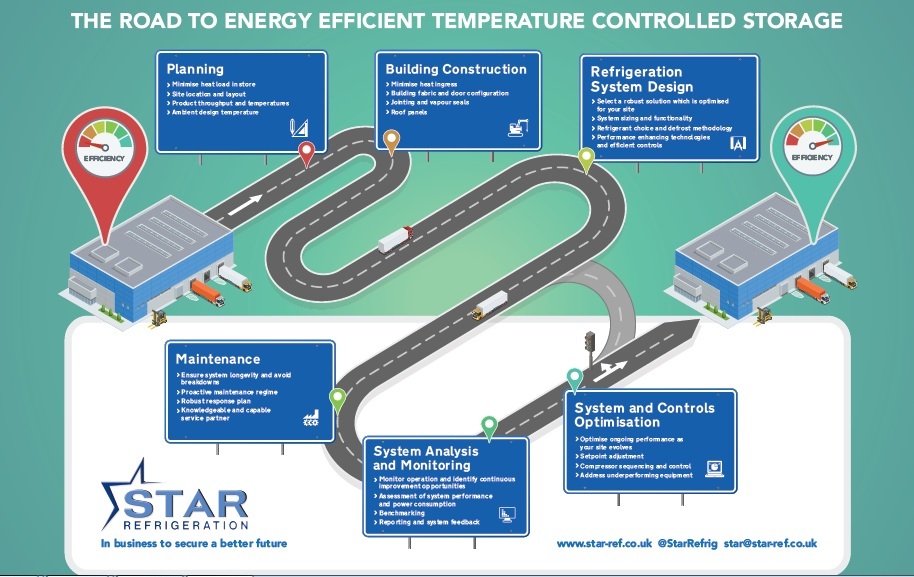 Star Refrigeration experts discuss energy reduction and natural refrigerants at TCS&D Show
Published on June 14 2019
Cold Chain Federation member Star Refrigeration experts will be hosting two CPD Certified seminars as part of the conference programme at the TCS&D Show on 25 and 26 June 2019. The convention at the East of England arena, which coincides with World Refrigeration Day, is expected to attract thousands of industry professionals from the UK and beyond to network and share industry knowledge.
Now in its 5th year, the TCS&D Show is the only dedicated UK event for the temperature controlled storage and distribution industry. In addition to sponsoring World Refrigeration Day, Star will be exhibiting at stand B24 and showcasing its ground-breaking Azanechiller 2.0, Azanefreezer 2.0 and CO2 Envi range. Representatives from the company will also be delivering two presentations on hot topics –minimising energy costs in temperature controlled storage and low charge ammonia and CO2 options. Attendees of the presentations are eligible to receive a diploma certificate for taking part in continued professional development (CPD) which can be collected from Star's exhibition stand.
David Wallace on behalf of Star Refrigeration said, "We are well positioned to share our decades of industry experience and knowledge in sustainable refrigeration, and representatives from Star have presented papers at conferences and events all over the world. We're really looking forward to being at the TCS&D Show and meeting like-minded businesses. Our focus as ever is energy efficiency and sustainability; we hope to show delegates that it's not difficult or expensive to improve energy efficiency, and huge savings can be made in terms of both carbon emissions and electricity bills."
Star will be raising awareness of the most common issues affecting the temperature controlled storage and distribution industry and presenting cost-friendly, effective solutions. Aiden Perks, Regional Sales Manager will deliver a paper highlighting the benefits of low charge ammonia and CO2 systems. He will explain the difference between the two refrigerants and suitability for this type of plant, focusing on a financial and efficiency point of view.
The second presentation hones in on the running costs of cooling plants in temperature controlled storage, and how energy costs can be minimised. Energy is the largest cost over the life of a refrigeration system and in the cold storage sector it typically accounts for 90% of the total cost of ownership. Therefore, the efficiency of a refrigeration system has a direct effect on the environmental and financial performance of a business. Presented by Star Refrigeration's Sales Director, David Wallace, the paper will help businesses assess and understand the elements involved in the development, implementation and sustained evaluation of customised programmes that reduce energy and carbon emissions at every stage – from conceptual to existing refrigeration plants.
Mr Wallace said, "Operating costs are already a huge expenditure for any temperature controlled storage and distribution business, so it's in every business' interest to try and improve energy efficiency. With a rise in energy costs and the price of certain refrigerants, businesses need to take measures now to prevent these hikes eating into profits. My presentation will explain how to easily measure and benchmark the efficiency of a temperature controlled store, and gives practical examples of improvement actions with specific, time sensitive, measurable targets at every stage of the process, including planning, building and construction, refrigeration system design, controls, maintenance, monitoring and system optimisation – all of which can make a big difference to the annual energy consumption."
Find out more about the TCS&D Show and register to attend at: www.tcsdshow.com
To find more about Star Refrigeration visit www.star-ref.co.uk