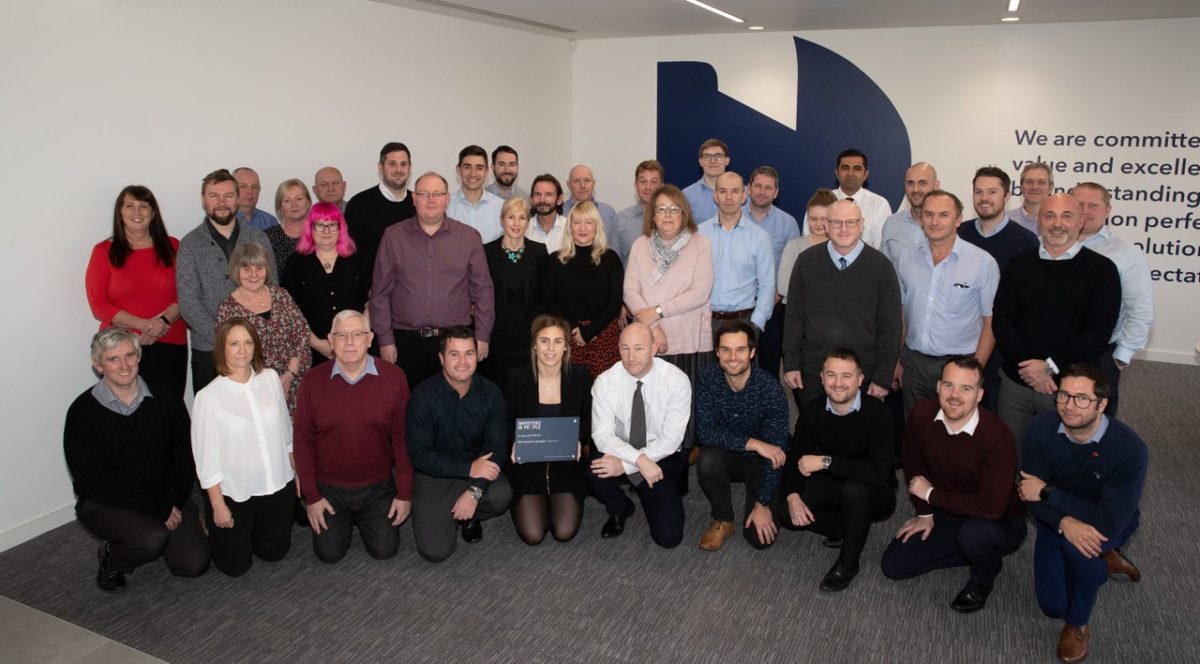 Platinum IIP accreditation for Russell WBHO
Published on November 18 2021
Cold Chain Federation member & Manchester main contractor Russell WBHO has achieved the highest accreditation possible for supporting its employees' wellbeing, engagement, training, career progression and job satisfaction, particularly throughout the pandemic.
The business, which employs around 200 people and is currently on site with projects such as the 32-storey Oxygen Towers in Manchester and the £40m Municipal Buildings scheme in Liverpool, has been awarded the We Invest In People Platinum Accreditation by Investors in People.
The company secured a benchmark result of 766, well above the 726 average construction industry result.
IIP, the national work improvement framework, awards Platinum to less than 2% of the 15,000 companies it works with, and praised Russell WBHO for going ahead with the assessment during the pandemic, noting other organisations had withdrawn due to its potential impact on their results.
Paul Devoy, CEO of Investors in People, said the award means policies and practices around supporting people are embedded in every corner of the organisation.
He said: "In a platinum company, everyone – from the managing directors to the apprentices – know they have a part to play in the company doing well, and are always looking for ways to improve.
"We'd like to congratulate Russell WBHO for achieving the highest level of accreditation possible, something only 2% of organisations achieve.
"Platinum accreditation on We Invest In People is a remarkable effort for any organisation, and places Russell WBHO in fine company with a host of organisations that understand and recognise the value of their people."
Commenting on the award, joint managing director Gareth Russell said: "We're obviously thrilled to be recognised for our commitment to our employees with this Platinum accreditation from Investors In People. I must thank the team who worked so hard to show the assessors all the great things happening within the business, and every employee who took part in the questionnaires and presentations.

"We firmly believe our people are our company's biggest asset; investing in them is vital for the future success of the business and the quality of work delivered for our clients. This became even more important during the pandemic.
"We put in place numerous measures to ensure the safetyof our teams with updated guidance and regular engagement, that they were supported professionally and personally, and we have maintained our commitment to their training and professional development. To have this highlighted by IIP is especially satisfying for everyone."
In its assessment, IIP recognised the firm's commitment to high standards and best practice not only in client project delivery – despite the challenges of the pandemic – but also its support for staff through regular two-way communication, updated safety practices, ongoing training and career development.
It highlighted efforts made during the pandemic such as maintaining commitment to corporate values, the sustained excellent financial results, and the continuation of the award-winning professional apprenticeship training programme. The report stated:
"Even through the pandemic your commitment to best practice has not waivered and everyone who works for you is expected to meet high standards and are encouraged to contribute to these standards by sharing their own views and experiences – and they confirmed this.
…your people are committed to delivering successes within a nurturing environment, underpinned with trust and empowerment – something that other businesses in your sector fail to achieve."