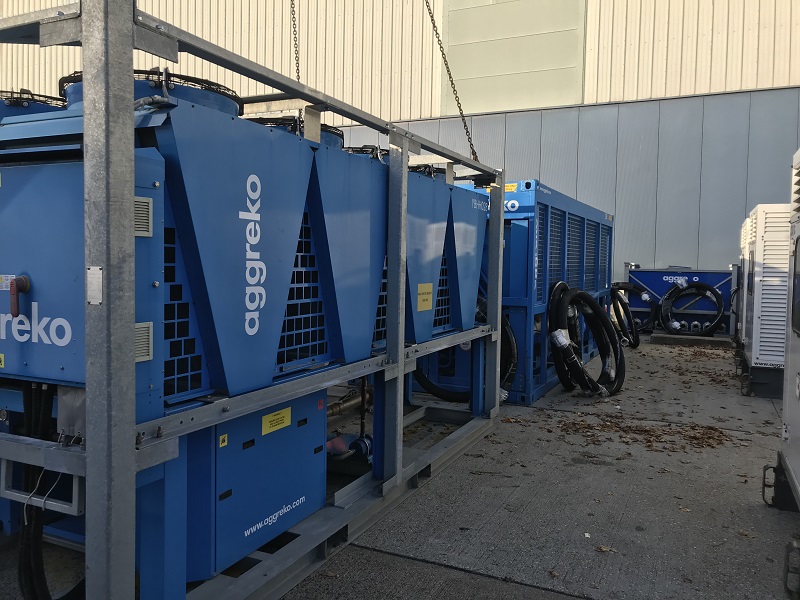 New Role Enhances Aggreko's Cold Storage and Distribution Services
Published on January 11 2022
Leading supplier of temporary power, temperature and moisture control solutions, Cold Chain Federation member Aggreko, has announced a new appointment for employee Owen Taylor as Storage, Warehouse & Distribution Sector Lead.
Owen brings an extensive knowledge of temperature and humidity to his new role, which has been created to enhance Aggreko's storage, warehouse and distribution services. As part of the existing manufacturing team since 2018, Owen has considerable experience within the temperature control hire industry. His most recent project was working with a leading supermarket to provide a 4 MW temporary chill store at their distribution centre. The turnkey package – which includes 51 low temperature air handlers, 11 chillers and 13 generators – acted as backup during the busy Christmas period and continues to run throughout January whilst maintenance is being carried out.
Aggreko's services are widely used in the cold storage and distribution industry, from ensuring a stable energy supply and providing supplementary cooling for shutdowns or periods of increased demand, to incorporating battery storage technology to meet fluctuating needs and sustainability targets.
Owen says of his new role "I'm looking forward to meeting with customers to understand how we can tailor our support to their individual challenges. Although pandemic-induced disruptions are still prominent, ongoing pressures around maintaining efficiency and productivity remain. We know that increased expenditure restrictions caused by COVID-19 means that companies with cold storage are having to do more with less to improve process efficiency, limiting obvious opportunities for improvement at a time they can ill-afford to make losses."
By approaching equipment hire differently, companies can put themselves in a better place to react to short-term pressures such as those presented by COVID-19, temporary contracts, and seasonal produce cycles, as well as negating longer-term issues such as stranded, inefficient or outdated assets.
Owen adds: "Site owners and operators can better futureproof their business by taking a strategic, outcome-based project approach to equipment specification. As well as allowing companies to circumvent capex restrictions and access up-to-date, efficient power and cooling systems, hiring solutions lets businesses build a degree of flexibility into their cold storage operations."