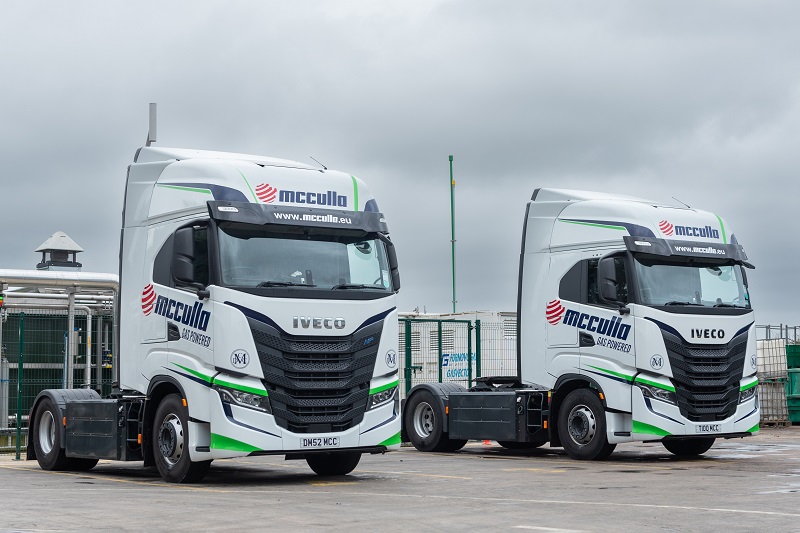 McCulla Ireland Launches Sustainable Transport Fleet
Published on March 15 2022
Cold Chain Federation member McCulla Ireland, one of the UK and Ireland's leading storage and logistics companies, has launched its circular economy waste-to-energy transport fleet at an event at its Lisburn headquarters.
This new sustainable transport fleet is the first of its kind in Northern Ireland and has been many years in development. The company has long been conscious of its environmental impact but some years ago set out a long-term strategy to make environmental protection a core part of the business.
McCulla Ireland now has its own energy division, called Alternity Biogas Energy (ABE). This includes an anaerobic digester plant which enables the company to produce all of its own energy.
The company is now using food waste as feedstock for the biofuel plant, which has been powering its offices and cold stores since 2017 and has now started producing bio-methane for use as fuel in the company's fleet of gas-powered trucks.
The new sustainable transport fleet delivers improved efficiencies and reduces the haulier's carbon emissions by 93% in comparison to diesel.
At the event, Ashley McCulla, Chairman of McCulla Ireland said:
"We are extremely proud to introduce Northern Ireland's first circular economy waste-to-energy transport fleet.
Through collaborative partnerships we collect food waste from our customers and process it through our anaerobic digester plant to produce energy. This includes electricity for our cold stores and bio-methane gas for our trucks. These trucks reduce CO2 emissions by 93% in comparison to diesel. We also supply bio-fertiliser to local farms to grow more food. It really is a full circle process that reduces waste to an absolute minimum right across our supply chain.
The decision to embark on this project started in 2012 and was primarily driven by my desire to be in control of my own destiny. The logistics industry is very energy intensive with over 40% of our costs coming from electricity and diesel, both of which fluctuate wildly from year to year. With this plant we are now able to manage our biggest costs.
Northern Ireland has the technical expertise and resources to become energy secure and less dependent on outside influences. If this model was adopted by more companies, the people of Northern Ireland would ultimately benefit."
Speaking at the event, Environment Minister Edwin Poots said:
"I welcome this innovative and exciting initiative by McCulla Transport to power its fleet which is also very timely this Food Waste Action Week. This is a prime example of the circular economy at work. In this case, compressed bio-methane produced from waste food is being used to power the vehicles that deliver food to the very supermarkets whose waste was used to produce the bio-fuel in the first place."
The Minister added: "This waste to energy recovery makes a very positive contribution to society. This initiative demonstrates how business needs and environmental needs can complement each other for mutual benefit. Northern Ireland's transition to a circular economy will undoubtedly be a cornerstone of achieving reductions in carbon emissions as well as contributing to our net zero ambitions. This will help us deliver a greener, low carbon and circular economy for Northern Ireland and contribute towards my Green Growth Strategy and our new climate legislation."
As a business, McCulla says that it has always sought to develop mutually beneficial partnerships with its customers and suppliers and this project has been the ultimate display of this in practice.  At the event, Ashley thanked all of those that have played a role in the company's "green journey". 
Comments are closed.