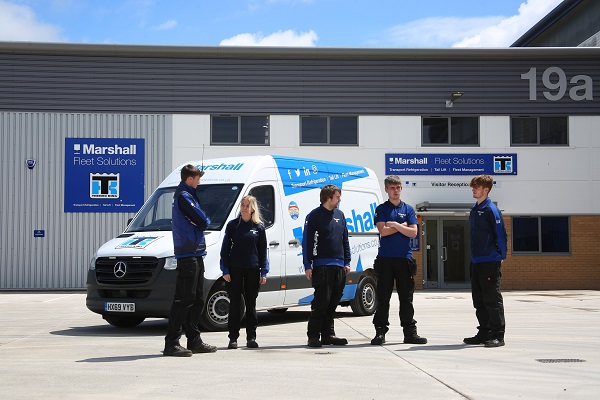 Marshall Fleet Solutions launches 2020 Apprenticeship Programme
Published on October 20 2020
Part of the management ethos at Cambridge company & Cold Chain Federation member Marshall Fleet Solutions (MFS) is investing in its people. MFS has recently announced an expansion in its current Apprenticeship Programme for 2020, with 10 new apprentices soon to be joining this scheme, working at their local MFS regional depots around the UK, as part of a 3-year Apprenticeship Development Programme.
MFS will now have 15 engineering apprentices employed on a full-time basis within the business, which includes both male and female apprentice engineers, which is unusual in the commercial vehicle industry.
"At Marshall Fleet Solutions, we believe it's not just about the front-end capital sale and, as a conscious and passionate player within this industry, it's equally about what we, as a business, can put back into the industry we all work within. By building on the success of our existing industry-leading Apprenticeship Programme, we are looking forward to our new recruits joining us over the coming weeks and starting their new lives as 'Marshall Engineers'. They will undoubtedly play an integral and important part of our future development." said Mark Howell, managing director, Marshall Fleet Solutions.
Later this month, the 10 new apprentice interns will join the successful MFS Apprenticeship Programme that is run through the established Marshall Centre in Cambridge, the dedicated Marshall Group training arm that has successfully developed over 20,000 apprentices since its inception over 100 years ago.
Each MFS apprentice will be working towards their Level 3 qualification within the City & Guilds Refrigeration, Air Conditioning and Heat Pump – Engineering Technician Standard and will gain a real-world, hands-on experience of working within the cold chain logistics environment with the MFS branch network, backed up by regular classroom training and coursework.
As an MFS refrigeration engineering apprentice, they will be exposed to a range of knowledge, skills and behaviours required to meet this engineering technician standard, which will ultimately lead to a long-term career development programme within the MFS organisation.
"Within the commercial vehicle sector, there is a growing need to bring new fresh young talent into the industry, and at MFS we are playing our part with the provision of this approved apprenticeship scheme, which hopefully the marketplace and customers alike will acknowledge. Nobody in our industry sector does apprenticeships quite like we do, and today we are recruiting, and developing, the MFS refrigeration engineers of the future, whilst also looking to add Tail Lift Apprentices to this programme in the coming months and years," commented Mark Howell.
Further information about the range of Training and Apprenticeship Programmes provided by Marshall Fleet Solutions can be viewed on  https://marshallfleetsolutions.co.uk/knowledge/