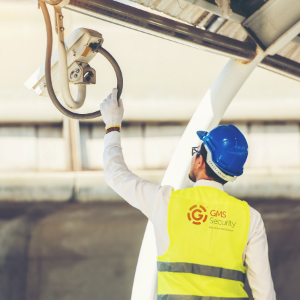 Leading Midlands security services provider GMS retains top industry accreditation
Published on March 26 2021
High-performing, Cold Chain Federation member GMS Security Services Ltd has retained accreditation from a leading industry body for its high standard of detection and alarm systems after delivering innovative work during the Covid-19 pandemic.
Following a recent audit, GMS Security Services Ltd has again received Security Systems and Alarms Inspection Board (SSAIB) certification for the design, installation and maintenance of CCTV, access control and intruder alarms.
The official recognition of their continued high standards comes on the back of a year of significant progress amid the Covid restrictions. Currently based at Aston Fields Industrial Estate, Bromsgrove, with imminent plans to move to Oldbury, GMS Security Services is part of the GMS Group, an innovative group of security specialist companies delivering practical solutions for leading brands across the UK.
GMS are proud to work alongside internationally recognised companies as a trusted partner helping protect their premises, assets and personnel. Leading customers include Jaguar Land Rover, Aston Martin, CEMEX UK, Kerry Foods, Neovia, AF Blakemore & Son, Triumph Motorcycles, Vax, Lineage, Avison Young and KPMG.
With business site usage changing rapidly across the UK over the past year due to successive Covid lockdowns and ongoing social distancing restrictions, GMS worked with each client to provide technology solutions and manned support to meet their shifting needs.
GMS Operations Director Ben Neate said the recent successful audit had shown how the company met SSAIB levels despite the challenging environment. He said: "I'm always incredibly proud when we retain or pass an accreditation because the team work extremely hard but, given the challenges of the last year, the SSAIB recognition is particularly pleasing.

"Working with GMS has benefitted customers as we provide a blend of security personnel services and technology to protect their sites. The pressures of Covid have meant we have had to ensure every client has had the most appropriate security level. With some sites emptied during lockdown we installed temporary CCTV and intruder alarms which have been monitored to provide coverage and to reduce call outs due to false alarms.
"As employers were tasked with making their workplaces Covid-secure at beginning of the pandemic, we leveraged our relationship with distributors to be quick off the mark in supplying and installing thermal cameras. This service was provided to our biggest customers, who needed effective solutions organised at pace, which we consider to be one of our strengths."
GMS remain flexible around installing systems not from one preferred supplier but to meet the needs of each client individually, said Ben. He added: "Rather than recommending one security system manufacturer we work to achieve each client's brief and can work with leading brands, in turn meeting each customer's budget.
"The easing of the Covid lockdown will mean further change for our clients. We will work side by side with all customers to ensure security remains a priority as the nation embarks on the journey back from the pandemic."
Among those to benefit from support was Stewart Constable, General Manager at AF Blakemore & Son, based in Willenhall. Stewart has run a logistics operation throughout the pandemic which was reliant upon being able to distribute stock to Spar stores nationwide.
He said: "We have expanded our operation during the last 12 months and as a result, have required additional CCTV systems to maintain a consistent level of security. GMS have worked with us throughout this period to ensure our security systems are installed safely in good time and have been able to work effectively with our existing cameras. I cannot fault their service and ability to respond to our ever-changing business needs."
The SSAIB is the leading certification body for organisations providing security systems and services, fire detection and alarm systems, telecare systems and services, manned security services and monitoring services. Its certification is held up by the SSAIB as "a mark of excellence", as it recognises a high standard of service by accredited firms enabling recipients to promote their work and gain access to market sectors which require independent, third-party accreditation.
The SSAIB accreditation is one of many industry standards achieved by GMS. It builds upon the company's accreditations for the SIA Approved Contractor Scheme for Manned Guarding and Key-holding, as well as four ISO standards (9001, 14001, 27001, 45001). GMS is also accredited as a Safe Contractor, as well as Contractors Health and Safety Assessment Scheme (CHAS) accreditation, along with accreditation from Cyber Essentials and Secured by Design, a police-approved scheme for key holding services. This suite of industry standards enables GMS to demonstrate their commitment to quality. For more information, please visit www.gms-group.co.uk