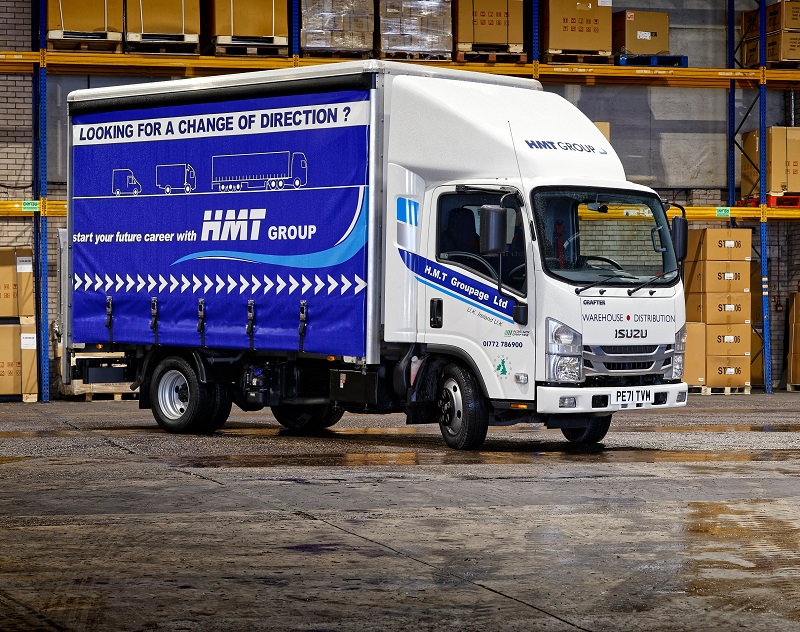 Isuzu Grafter Delivers the Goods Perfectly for HMT's Pallet Work
Published on May 5 2022
Northwest warehouse and logistics business HMT Group is the latest company to operate the Cold Chain Federation member Isuzu Grafter 3.5 tonne truck as a driver training vehicle to encourage non-HGV drivers to make the step up to Class I and 2 driving levels within the overall HMT organisation.
This is the first Isuzu truck in the HMT Group fleet and is being used within the company's Palletline pallet network business, not only to train new drivers but also to work on local urban delivery schedules.
Mark Gallagher, general manager UK & Ireland, HMT Group, enthuses about the impact made by the new Grafter in their fleet, "Whilst we bought the truck initially purely for driver training purposes, we have subsequently found that the Grafter has provided a major operational benefit to the business. Like most pallet networks, we are currently experiencing a growing number of pallet deliveries to residential and domestic properties, and this is where the Isuzu Grafter really does come into its own. It can get to places that other trucks simply cannot deliver to."
Mark continues, "Quite simply, buying the Grafter is one of the best things we have done recently. It really does tick all the boxes for driver training with its heavy truck-like cab position, not forgetting its capacity for intense delivery work. And literally anyone in our business can drive it, even myself and some fellow directors have taken our turn behind the wheel to appreciate at first-hand the practical driving experience."
The Isuzu Grafter N35.125 curtainsided rigid was supplied by local Isuzu Truck dealer JDS Trucks in Salford and is operating from the company's Preston head office for a minimum of a three-to-four-year period after which it will then go to work at one of the company's other depots. As part of HMT's pallet network distribution, the Isuzu Grafter is making between three and four delivery journeys per day within the company's allotted postcodes in West Lancashire.
"I cannot say anything but positive things about the arrival of the Grafter in our fleet as it has already proved itself to be both cost-effective and flexible, whilst performing at the highest level. Not only that but the professionalism of Isuzu dealer JDS Trucks was equally as outstanding, with excellent communication throughout the build programme, led by their experienced account manager," added Mark.
Established over 30 years ago, HMT Group provides full load transport, distribution, and warehouse services from depots in Preston, Heysham, Warrenpoint and Dublin, whist it became a member of the Palletline pallet distribution network in 2010.
"I am delighted that Mark and the team at HMT Group are experiencing the benefits of adding a Grafter N35 to their fleet and it's great to hear about the professional level of service they received from our dealer, JDS Trucks. Isuzu's Grafter 3.5 tonne Truck range has really had an impact upon the current driver shortage situation that faces the transport and distribution industry today. Its flexibility and drivability make it the perfect vehicle not just for driver training but also for daily operational purposes, which is why so many companies are now specifying the Grafter for this application," said Stuart Beeton, head of sales, product & marketing, Isuzu Truck (UK) Ltd.
Further information about the full range of Isuzu Grafter 3.5 tonne rigids can be obtained by viewing the company's website on:  https://www.isuzutruck.co.uk/products/?size=3-5-tonne
Comments are closed.