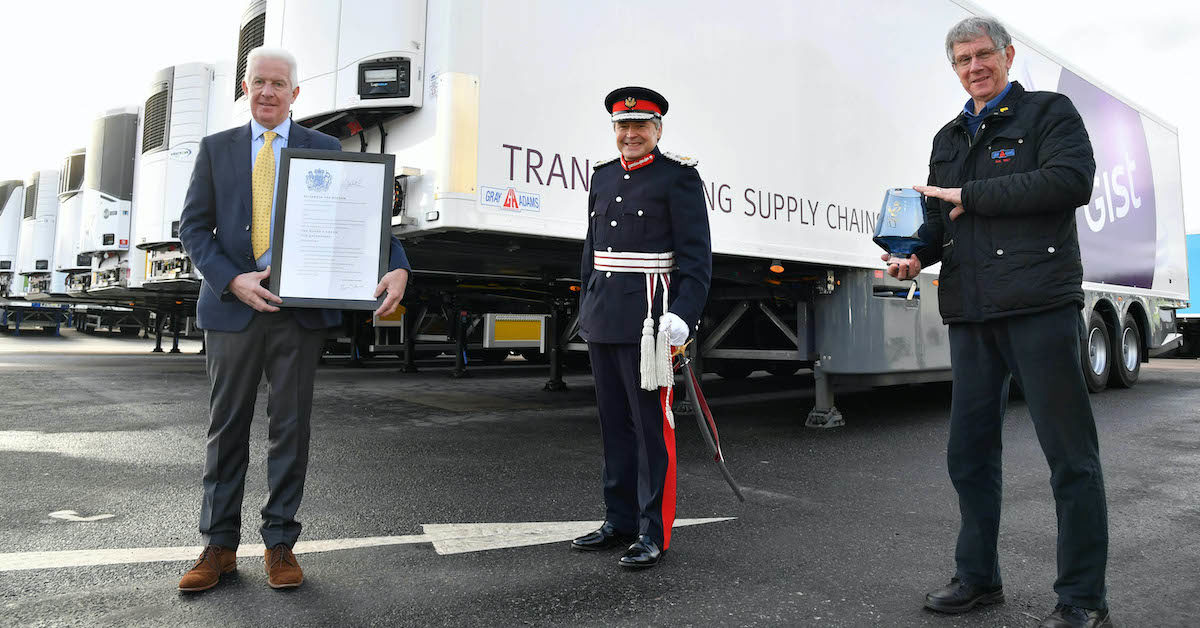 Gray & Adams Receives Prestigious Queen's Award for Enterprise from Lord-Lieutenant of Aberdeenshire
Published on December 2 2020
Cold Chain Federation member Gray & Adams was delighted to receive Royal recognition in 2020, in winning the Queen's Award for Enterprise for Innovation in its double deck trailer design. Yesterday (1 Dec 2020), Mr Sandy Manson, Her Majesty's Lord-Lieutenant of Aberdeenshire, visited Gray & Adams to formally present the award on behalf of Her Majesty The Queen.
Conceived in 1965, the Queen's Awards for Enterprise are the most prestigious awards in UK business. This year, 220 UK businesses were recognised by the Queen's Awards for Enterprise including 66 for innovation.
During his visit, Mr Manson said.
"I am delighted, on behalf of Her Majesty The Queen, to present Gray & Adams with the Queen's Award for Enterprise in respect of their outstanding contribution to innovation. In a very competitive market, Gray & Adams have been committed to constant innovation over many years, including developing new techniques and methods of panel manufacture and assembly."
Founded in 1957 in Fraserburgh by Jim Gray and Jim Adams, Gray & Adams has grown from humble beginnings to become the UK market leader in temperature-controlled manufacturing, with an annual turnover in excess of 150 million pounds and employing over 700 people across the Group. Gray & Adams remains a family-owned business to this day, with Joint Managing Director James Gray having achieved 50 years of service this year and sharing leadership of the company with his brother, Peter Gray.
With over 60 years' experience in manufacturing and working from its now world-class facility in Fraserburgh, Gray & Adams has a unique understanding of its customers' needs and recognises the real commercial pressures in the UK cold chain supply. Having pioneered temperature-controlled lifting deck trailer technology in the nineties, the company continues to be at the cutting edge of innovation, delivering practical commercial solutions for its customers, as well as understanding the impact of its activities on the environment.
Mr Manson added,
"Though it has been in business for decades, Gray & Adams is committed to investing in continuous improvement and leading-edge technologies to ensure it can compete effectively in the market. Their commitment to innovation and quality in everything they do makes them such worthy winners of this prestigious award and is thoroughly deserved recognition for one of the UK's most successful and respected family-owned manufacturing companies."
James and Peter Gray, Joint Managing Directors, commented,
"It was a pleasure to welcome the Lord-Lieutenant of Aberdeenshire to our Fraserburgh factory today and we were honoured to receive from him The Queen's Award for Enterprise and to be able to talk to him about our growth ambitions, our focus on developing local talent and about how we give back to the communities in which we live and operate.
We are very appreciative of our highly skilled engineering teams and manufacturing operatives that allow us to produce our world-class products. We would also like to thank our very loyal customers and partners, without whose assistance and support we would be unable to enjoy such highly respected recognition."