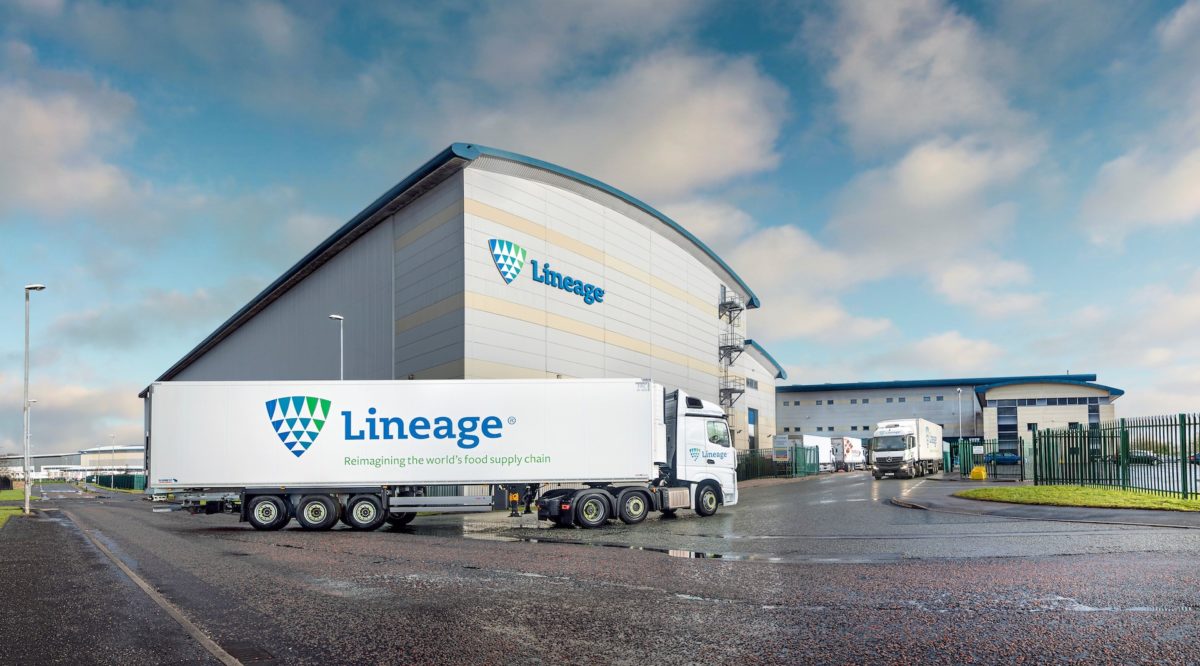 Duo of projects for Lineage Logistics
Published on October 2 2020
Russell WBHO to deliver over 350,000 sq ft temperature-controlled storage for logistics giant
Manchester main contractor Russell WBHO is to deliver more than 350,000 sq ft of cold storage capacity for Lineage Logistics at two UK sites this year.
The team has broken ground on a new 230,000 sq ft / 92,000-pallet fully-automated facility at Great Haddon near Peterborough. The third phase of a project to create a South East Superhub, it will feature some of the world's most sophisticated automation and refrigeration technology, helping to reduce energy consumption and overall environmental impact
Russell WBHO has also just completed the second phase of the project, a 46,000 sq ft space housing up to 15,000 pallets, having built the first phase in 2018. All three phases together will bring the South East Super Hub storage capacity to 118,000 pallets.
Work has also commenced on an 80,000 sq ft / 22,000-pallet cold storage unit at the firm's Northern Superhub at Heywood in Greater Manchester. The project is the culmination of a multi-phase expansion of capacity at the site that Russells has supported over the last decade. In total, the team will have built 260,000 sq ft of space, housing upwards of 57,000 pallets, at Heywood since 2004.
Russell WBHO has worked with Lineage Logistics for more than 15 years and has already delivered in excess of 1million sq ft of cold storage space across its national network of 14 sites. The team takes on every aspect of the project, from design and planning right through the build, handing over the completed scheme just prior to temperature pull down.
Andrew Russell, joint managing director of Russell WBHO, said: "The seamless working relationship developed over the last 15 years means we operate as a genuine extension of the Lineage team. Working together from the early concept stage, ensures the buildability aligns directly with the client's requirements, budget and timescales.
"We are very proud to support the expansion of the UK's largest cold storage and distribution operator, and will continue to deliver the high quality, state-of-the art facilities that their customers expect."
Lineage Logistics is continuing a planned programme of expansion across the UK, responding to demand for cold storage facilities from manufacturers, retailers and food service providers. This significant investment brings Lineage's total automated warehouse count in the UK to six, with a total of 525,000 pallet positions, of which 330,000 are automated.
Jonathan Baker, executive director, from Lineage Logistics said: "The value of the cold chain has never been so apparent as it is today, with pressure on food manufacturers and retailers resulting in increased demand for temperature-controlled storage and distribution facilities.
"The expansion of our storage capacity was already in progress due to existing demand, though the current situation has highlighted the need for an extensive and enlarged cold chain provision throughout the world.
"Having Russell WBHO on board significantly reduces the time it takes to deliver that additional capacity, thanks to their familiarity with our requirements and the strength of relationships within the project team. Together with their specialist suppliers, they will help us bring these new facilities on-line over the next two years, providing our customers with some of the most up-to-date systems and resources available."
Russell WBHO is working on two projects for Lineage Logistics, including the 230,000sq ft Phase 3 at Great Haddon (CGI) and an extension to its distribution facility at Heywood in Greater Manchester (pictured)