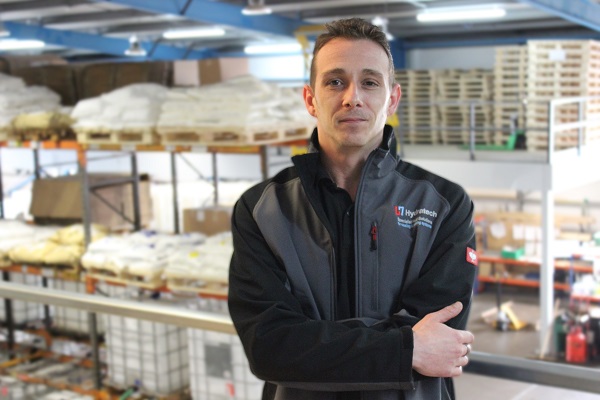 5 Minutes with Cold Chain Federation Member Hydratech
Published on April 1 2021
Hydratech joined us in August 2020 and are a manufacture specialist in High Efficiency Glycol antifreeze, and inhibited heat transfer fluids for use in chilled and cold storage RAC applications. These help with improving Refrigeration System Performance for the CCAs. Here we find out a little more about them.
Q. Who is the main person for members to contact?
The main contact for Hydratech is Sam Hickson, Sales Director.
Q. What do they do and contact details?
As Sales Director at Hydratech – formulator of hybrid glycols and inhibited heat transfer fluids for the RAC and Renewable Energy Sectors, Sam is responsible for UK Sales, Product Development and Key Account Management.
E: sam@hydratech.co.uk T: 01792 586800
Sam and his team provide specialist fluid solutions for all aspects of glycol or secondary refrigerant selection, specification and associated system design for food, beverage or industrial refrigeration and cold storage.
Q. Why is it important to be a part of the Cold Chain Federation?
Hydratech have been heavily involved with the Cold Chain, supplying specialist products and solutions for nearly 25 years. Being a member of The Cold Chain Federation enables us to build key relationships, provide support and share our expertise.
Our association with the Federation and its network of industry stakeholders, also provides us with an opportunity to build greater awareness for high efficiency glycols and future-proof secondary refrigerants – for new or legacy systems.
Q. What are Hydrtech's aspirations for the industry?
Our aspirations are to help create more efficient refrigeration & temperature control systems in the cold chain, reducing energy consumption and CO2 emissions – through improved COP and design stage CAPEX savings.
When specified early, often at the design stage, Hydratech's DTX (Non-Toxic) glycol technology facilitates the downsizing (cost and physical size) of all plant equipment including, compressors, heat exchangers, chillers, pipework and circulation pumps. When converting or extending older legacy systems, DTX glycol technology is proven to reduce Energy Costs by >10%.
DTX adopters such as Arla have also seen a noticeable reduction in running time and load on their primary refrigerant compressors, which they believe will considerably prolong the life span of their system.
To find out more Hyratech's website can be found HERE.