Featured Members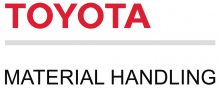 Toyota offers a complete range of solutions to cover any application requirements; a comprehensive range of quality new and used forklifts, warehouse equipment and automation solutions, plus national service support, short and long-term rental solutions, truck management, genuine parts, as well as tailored product and safety training.
Founded in 1972, Marshall Fleet Solutions is the U.K.'s largest independent refrigeration (including installation), tail lift and commercial vehicle fleet service and support organisation. Marshall Fleet Solutions is a long established dealer of Thermo King equipment as well as being main dealers for most manufacturers of tail lifts sold in the UK.

Europe's leading manufacturer of roller shutter doors for commercial vehicles with an extensive range of doors including insulated shutters, aluminium and wooden dry freight shutters, narrow slat aluminium shutters, flush fit doors and our lightweight shutter range. Our products are made to order to your bespoke requirements. We also have a range of lightweight, flexible bulkheads for use in refrigerated bodies to separate temperature compartments. The bulkhead system can be designed to fit all configurations, from double deck trailers to delivery vans.
Alphabetical Listings