REFRIGERATION WEEK 2023 – WEEK COMMENCING 17 JULY
Supported by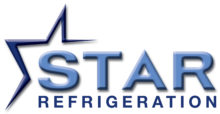 Tuesday 18th July 10AM
ALTERNATIVES TO F-GAS: AMMONIA vs CO2
In the wake of tightening F-gas Regulations, it has become crucial for refrigerant plant owners to evaluate sustainable refrigeration alternatives such as CO2 and ammonia. In this webinar, Stuart Webb, Sales Manager at Star Refrigeration, will provide guidance on navigating this complex landscape, ensuring businesses make informed decisions that align with operational needs. This session will also include example installations.
He will also explore the benefits and challenges of using CO2 and ammonia as natural refrigerants across various applications and offer advice on balancing compliance, competitiveness, and long-term efficiency.
Don't miss this opportunity to stay ahead of legislative requirements and explore sustainable cooling solutions to help your business on the path to net zero.
To find out more information, please visit Long Term Refrigerants – Ammonia vs. CO2: Find your optimal refrigerant and balance your business needs for competitiveness, compliance and cooling efficiency | Star Refrigeration (star-ref.co.uk)
You can watch this webinar below
---
Thursday 20th July 10AM
COPING WITH 40oC: MINIMISING ENERGY USAGE AND MINIMISING BREAKDOWNS IN HOT WEATHER
As we reach the height of summer, our refrigeration systems are under constant pressure to keep our buildings and vehicles cool. With average UK summer temperatures on the rise, this pressure is only set to increase with potentially serious implications for breakdowns and poor performance. In this webinar, we will look at the projections for summer temperatures in the UK and give top tips on minimising your energy usage and minimising interruptions during the summer. There will also be a chance to put your questions to our experts.
Technical Sales Engineers Tom Woolston and Josh Collins will jointly present this fascinating session.
You can watch this webinar below
---
Friday 21st July 10AM
PFA's EXPLAINED: HOW THEY COULD IMPACT FUTURE REFRIGERANT REGULATION AND CORPORATE SUSTAINABILITY POLICIES
With significant and increasing coverage of 'Forever Chemicals' or PFAS and their climate impacts, we look at how greater understanding of the impact of PFAS in refrigerants and future regulations could impact cold chain businesses. With Neil Roberts, Senior Technical Sales Manager at Climalife (https://www.acrjournal.uk/news/pfas-what-is-it-really-about/)
You can watch this webinar below
---