Latest Coronavirus Information
Published on June 5 2020
BUSINESS SUPPORT & HAULLAGE UPDATE 5 JUNE
This week's summary includes an update on support measures for businesses affected by Covid-19 and also a recap on the key relaxations for road haulage operators.
The Cold Chain Federation continues to represent your industry in discussions with Ministers and officials across Government and on the 4th June, our Policy Director, Tom Southall, represented the cold chain in a meeting with the Minister for Small Businesses, Paul Scully MP. During the call we were able to describe the impact of Covid-19 on cold chain businesses to the Minister and call for further support for our businesses, most notably the extension of business rate relief to include warehouses supplying the food service and to raise our concern that ending furlough support in October could have serious implications on our businesses in the likely event that certain food premises have not been able to fully reopen due to continuing social distancing measures.
As ever if you have any ongoing issues, or concerns, during the Covid-19 disruption, get in touch with Shane or Tom.
BUSINESS SUPPORT UPDATE
Job Retention Scheme
In May, the Chancellor confirmed that the Coronavirus Job Retention Scheme will continue until end of October, but with changes being introduced from July:
From July 1st businesses will be given flexibility to bring furloughed employees back part time. Businesses will be responsible for deciding the hours worked and paying their wages while in work.
From August, the Job Retention Scheme will be slowly tapered to reflect people returning to work. Confirmed changes include:

August: Employers will be asked to pay National Insurance and pension contributions for their employees
September: The Government's contribution will drop to 70% and the cap reduced to £2,187.50. Employers will be asked to make up the 10% up to £2,500.
October: The Government's contribution will drop to 60% and the cap reduced to £1,875. Employers will be asked to make up the 20% up to £2,500.

Further information is available here.
2. Trade Credit Insurance
Following repeated pressure from trade bodies including the Cold Chain Federation, the Government have finally announced that Trade Credit Insurance schemes will receive up to £10 billion of government guarantees. The Trade Credit Reinsurance scheme, which has been agreed following extensive discussions with the insurance sector, will see the vast majority of Trade Credit Insurance coverage maintained across the UK. The scheme is available on a temporary basis for nine months, backdated to 1 April 2020, and running until 31 December 2020, with the potential for extension if required. The press release can be found here.
3. Test and Trace
In May, the Government introduced the 'Test and Trace' system to try and track the spread of Covid-19. Whilst EMPLOYERS DO NOT HAVE A DIRECT ROLE IN THE SYSTEM, you should:
communicate info about the system
support any employee required to self-isolate
Support employees to get tested
offer sick pay for all days or offer leave as alternative
accept evidence presented by employee from nhs track and trace
support employees in contacting colleagues but you shouldn't share personal contact details
ROAD HAULAGE UPDATE & RECAP
1. Quarantine measures
On the 4th June, the Government announced their long awaiting and controversial legislation for requiring individuals returning to the UK from overseas (not including Ireland, IOM and the Channel Islands) to isolate for 14 days on their return (Health Protection (Coronavirus, International Travel) (England) Regulations 2020).
The regulations will come into force in England from 8 June, but crucially Drivers of goods vehicles or public service vehicles and other employees of community licence holders for the international carriage of goods or passengers by coach and bus are exempt. Employees will however be required to:
provide journey and contact details, but will not need to self-isolate for 14 days.
Show that your travel is part of their job, for example a letter from their employer, a consignment note or operator's licence. Attached to this email is a letter produced by the Department for Business, Energy and Industrial Strategy (BEIS), intended to help employers support employees who qualify for exemptions from quarantine, including a suggested letter template.
The Regulations and exemptions will be reviewed every 21 days, with the first review taking place on 29 June. The Government is working closely with the Devolved Administrations, who will be introducing similar provisions in the coming days, to build a four nations approach. More information is available at: https://www.gov.uk/uk-border-control
2. Drivers hours
The EU drivers' hours relaxations has not been extended and ended on the 31st May. Therefore, applicable operations must revert back to the EU driver's hours rules.
The GB drivers' hours relaxation, however, has been extended until Sunday 14 June 2020. More info here.
3. HGV MOTs
In March the Government suspended MOTs for HGVs for 3 months. These extensions are due to begin to expire on Monday 15th June and it is not currently clear if test centres will be able to cope with the extra demand. Industry bodies are working with Government to ensure MOT test centres are able to cope with this backlog. Further information on the relaxation rules for HGV MOTs can be found here.
4. Driver's Medicals
The 12 month waiver on the D4 Medical Report for HGV licences was introduced in April, with the DVLA will now issuing a temporary one year (12 months) licence extensions if the following conditions are met:
the waiver only applies to drivers whose licences are due to expire or have expired since 1 January 2020; and
the driver must declare they are fit to drive when they apply for the one year licence and, like any other driver, must not drive if unfit and report any medical condition to DVLA in the usual way.
5. Driver CPD
In March, the DfT announced temporary changes to professional driver qualification requirements meaning that drivers whose CPC card expires between 1 March 2020 and 30 September can continue driving. The requirements are currently due to be reinstated on the 1st October, although this date will be reviewed. Driver's will need to ensure their CPC is up to date by this date.
---
CORONAVIRUS BUSINESS GUIDANCE UPDATE
Following the release of the safe working during coronavirus guidance for businesses last week, which we discussed on the Cold Chain Federation's Covid-19 briefing on the 15th May (available to watch back here), the Government has published some further FAQs on face coverings in the workplace which you can find attached. Section B looks specifically at food production/handling and whilst the guidance that face coverings are not legally required has not changed, there is some useful advice on undertaking Covid-19 risk assessments and managing employees who wish to wear a face covering in the workplace.
The Government (BEIS) are also running free webinars to talk through the workplace guidance published last week aimed at workplaces in England if you require further guidance on this.
The webinars cover a range of different types of workplace settings which are allowed to be open. Many businesses operate more than one type of workplace, such as an office, factory and fleet of vehicles. You may need to use more than one of the guides/webinars as you think through what you need to do to keep people safe.
CLICK HERE TO VIEW THE GOVERNMENT FACE COVERINGS FAQ'S
As always if you have any queries on this, or any other issues you continue to face during the Covid-19 outbreak, please get in touch with the team.
---
MOVING TO PHASE 2: 'SMARTER CONTROLS' & THE ROAD MAP TO RECOVERY
In his speech on the 10th May, the Prime Minister outlined the cautious progress which has been made in battling Covid-19, most significantly falling infection and death rates and fewer critical care patients in hospitals. The Government and their advisors therefore see fit to begin to gradually relax certain restrictions put in place at the start of the outbreak and have outlined a roadmap for greater relaxing in the coming months. These will remain flexible and subject to change based on the 5 tests for easing, most notably avoiding a second peak and keeping the 'R value' of infection below 1.
Today the Government launched its Covid-19 recovery strategy. Detailing the progress of the virus and the entry into Phase 2 of the Government's response (and eventually Phase 3 – vaccination and treatment), the following outlines the key points for cold chain businesses and our workforce. Phase 2 is described as 'smarter controls', allowing flexibility in the relaxation of social distancing, workplace closures and other restrictions. The roadmap for Phase 2 is in 3 Steps which include:
Step 1.
As well as other measures easing the lockdown outlined in the updated social distancing and 'Staying safe outside your home' guidelines, people should now go to work if they cannot work from home. They are advised to avoid public transport where possible when travelling to work and businesses will be required to follow the new 'Covid 19 secure' guidelines for workplaces coming later this week. This is likely to include measures such as no hot desking and greater spacing between workers. We do not currently expect this to result in significant changes to how we in the cold chain have been conducting business and protecting our staff over the last couple of months.
People are now being advised to wear face coverings in crowded places. This could escalate the debate about face coverings in the workplace – there could be similar recommendations in the workplace guidance where employees work in close proximity.
14 days of home quarantine is likely to be shortly introduced from those coming into the UK from overseas. We understand HGV drivers will be exempt (unclear on seasonal workers) but this requires official confirmation.
There are 8 sectoral guides that are all available to download here – https://www.gov.uk/guidance/working-safely-during-coronavirus-covid-19
I draw your attention in particular to
Step 2.
The timing of entering Step 2 will depend on the progress of the virus after Step 1, but will include:
Some opening of non-essential retail workplaces no earlier than June 1st
Phased reopening of schools from June 1st
More social and family contact (likely to still require social distancing measures) no earlier than June 1st
Step 3.
The timing of entering Step 3 will depend on the progress of the virus after Step 2, but will include:
Remaining businesses (inc. hospitality) opening no earlier than July 4th
FURLOUGH
We are expecting an update on financial support from the Government to businesses during the Covid-19 outbreak later this week. Crucially we expect this to include detail on how the Government will end furlough payments. It is expected this could include measures such as reducing the rate of Government subsidy from 80% to 60% (likely to be from July onwards) and allowing part time work to 'top up' furlough payments. It is expected furlough payments will be further phased out throughout the summer, with some support until September. Some sectors may be wholly, or partially, exempt from this phase down – especially those unable to recover because of ongoing restrictions. The Cold Chain Federation will continue to ensure the Government understands the ongoing impacts of restrictions on the cold chain and push for our members to be included in any exemption.
We will continue to update you as new information becomes available, but if you have any questions in the meantime, please continue to get in touch with Shane or Tom.
---
ESSENTIAL WORKERS TESTING UPDATE 27/04/2020
The government has now issued some clearer and simpler guidance on how to access a Covid-19 test for your employees. Please see links to documents below.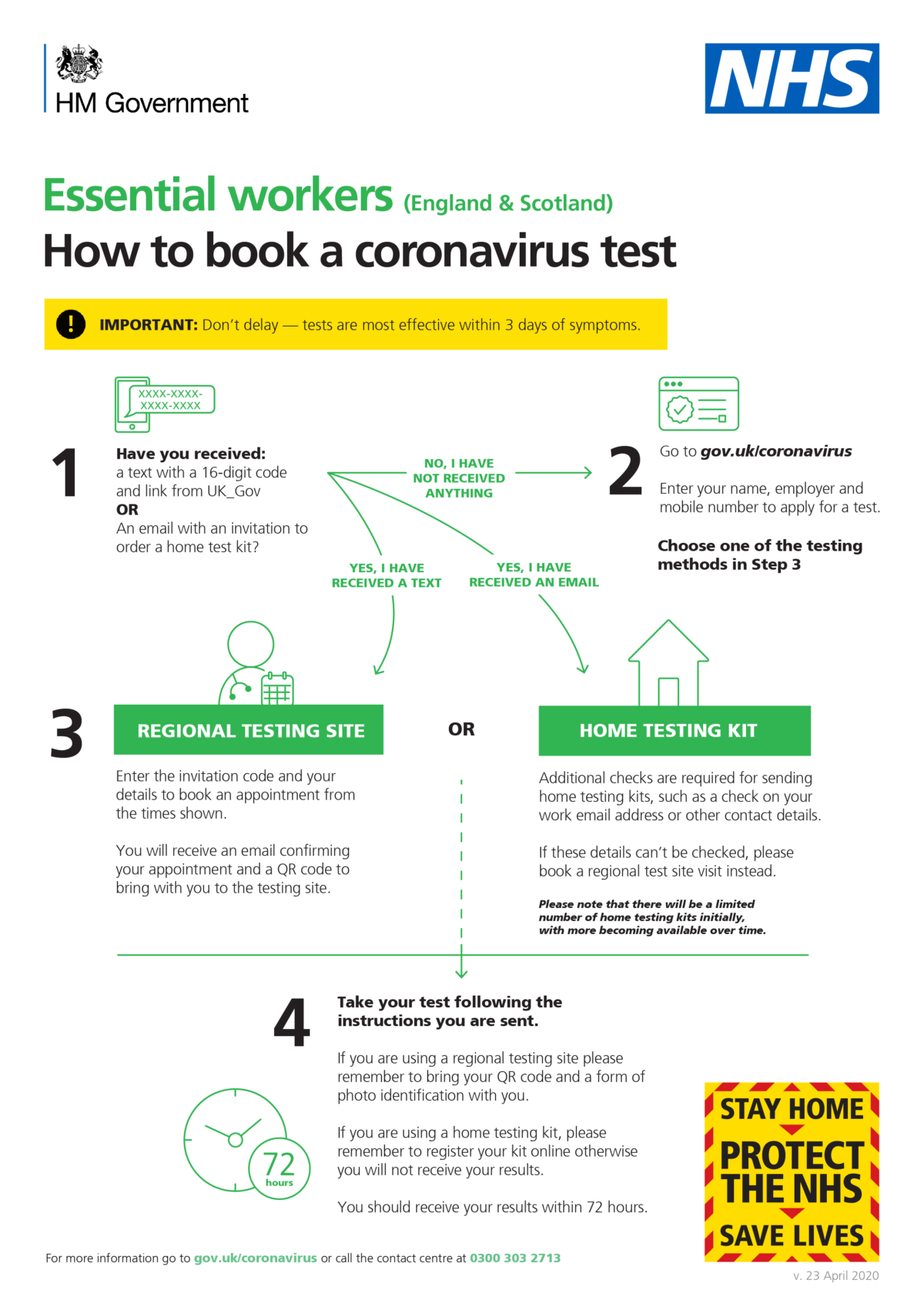 FAQ's for EMPLOYERS of essential workers
Essential worker testing information pack for EMPLOYERS
Letter from DHSC to Essential Worker EMPLOYERS
Employer Referral Portal User Guide – Essential Worker
Coronavirus testing of key workers in SCOTLAND FAQ's
Introductory Note – UK Government testing in SCOTLAND
Guidance on the UK Testing programme in SCOTLAND
---
COVID-19 UPDATE 23/04/2020
Key Worker Testing
Testing for COVID-19 is being extended to include additional frontline workers who are symptomatic, and members of their household who are symptomatic. This will allow frontline workers to return to work if they, or members of their household, test negative for coronavirus.
You can find further information on who is eligible for testing on the Gov.UK page Coronavirus (COVID-19): getting tested. https://www.gov.uk/guidance/coronavirus-covid-19-getting-tested#list-of-people-being-tested
Referral for testing will be soon available through a digital portal which will allow employers to refer their staff. Eligible individuals will also be able to use the portal to self-refer for a test.
---
CCF COVID-19 GUIDANCE UPDATE 20/04/2020
Please find below a comprehensive summary of the latest guidance and advice. We also recommend you tune in to our latest Covid-19 briefing from Friday 17th for more in depth discussion on the current situation if you weren't able to join us on the day.
Areas covered in this update include driver's licencing and hours, Covid-19 testing, business support measure updates (including the Job Retention Scheme), PPE, social distancing, food safety, health and safety updates and information for those with an upcoming BRCGS audit.
As ever, if you have any feedback, questions, or any other ways you feel we can support you during this time, please get in touch.
DRIVERS
Medicals for licence renewal
After repeated calls from the Cold Chain Federation and other industry associations, the DfT have finally announced the temporary removal of the routine D4 medical for HGV and bus drivers to enable swift renewal of driving licences. As long as they are fit to drive, applicants will be able to apply for a 1-year licence without the need to provide further medical evidence. More info here
Relaxation of driver's hours
The relaxation of driver's hours rules has been extended until the 31st May 2020. More info here.
COVID-19 TESTING
To try and meet their target of 100,000 coronavirus tests by the end of April, the Government has announced that key workers are able to request testing for Covid-19 for their employees at regional testing sites. This includes 'critical personnel in food and drink production'. Details here. The Cold Chain Federation is seeking clarity on the meaning of this loose definition. This issue is likely to feature heavily in the No10 briefing this afternoon. While we await confirmation, members are encouraged to contact their local resilience forum, their associated national government department/agency, or the Department of Health and Social Care at opshub@dhsc.gov.uk. We would appreciate any feedback you receive from any application for testing.
BUSINESS SUPPORT MEASURES
Loans for businesses with a £45m+ turnover
On Friday, the Government announced a new Coronavirus Large Business Interruption Loan Scheme. Supporting businesses with a turnover of £45m+ who are not eligible for previously announced packages (Covid Corporate Financing Facility and the Coronavirus Business Interruption Loan Scheme) it offers loans of up to £50m, also 80% guaranteed with a 3-year term. More info here.
Job Retention Scheme
The scheme is now live. employers can now go online to claim cash grants worth up to 80% of wages, capped at £2,500 a month per worker. Employers can apply for direct cash grants through HMRC's new online portal – with the money expected to land in their bank accounts within six working days. More info here.
The scheme will be extended for an additional month to the end of June and the eligibility cut-off date for the scheme has been extended from 28th February to 19th March.
FOOD SAFETY
Bulk Freezing of chilled food
The Food Standards Agency have release guidance is for food businesses who wish to freeze food which was originally intended to be supplied and sold as ambient or chilled products. This guidance focuses on food safety and provides the main legislative requirements that must be met when freezing food. It is intended to outline general provisions that can be applied to individual circumstances. More info here.
The British Frozen Food Federation (BFFF) also have produced similar guidance with their Primary Authority partner, available here.
PPE
Last week, Public Health England launched guidance and advice as part of their 'PPE Hub'. The advice for industries outside of health care and social care remains the same – based on current evidence, there is very little scientific evidence of widespread benefit from PPE. Instead, practising good hand hygiene and social distancing is key to minimising the risk of infection.
The Cold Chain Federation will continue to monitor the situation on PPE closely – we discussed this topic in detail in our Covid-19 briefing on the 17th April.
SOCIAL DISTANCING
The Health and Safety Executive (HSE) has produced guidelines on how businesses must maintain social distancing and protect workers during the coronavirus outbreak. The guidance explains what employers must do in order to protect their workers and keep their businesses open. It covers:
social distancing (employers who have people in their offices or onsite should ensure that employees are able, where possible, to follow the appropriate regulations and/or guidance for England, Scotland and Wales on social distancing)
essential and non-essential work
safe in-work activity
Individual sector guidance has also been published by BEIS. Including a section for Logistics businesses, the guidance includes some additional suggestions for social distancing measures. More info here. This guidance was also discussed in the Cold Chain Federation's last 2 Covid-19 briefings, available to watch back on our website.
EXAMINATION AND TESTING OF LIFTING AND PRESSURE EQUIPMENT DURING THE CORONAVIRUS OUTBREAK
HSE has published advice to help dutyholders ensure their work plant and equipment remain safe to use during the coronavirus outbreak and businesses continue to adhere to LOLER and PSSR regulations. View the guidance here.
RIDDOR REPORTING
The HSE have announced more comprehensive guidance on RIDDOR reporting of Covid-19. The overall advice remains the same however and reports should only be made if:
an unintended incident at work has led to someone's possible or actual exposure to coronavirus. This must be reported as a dangerous occurrence.
a worker has been diagnosed as having COVID 19 and there is reasonable evidence that it was caused by exposure at work. This must be reported as a case of disease.
a worker dies as a result of occupational exposure to coronavirus.
BRCGS SITE AUDITS
BRCGS have announced changes to their audit processes during the Covid-19 outbreak, removing the self-assessment and remote audit element from the certificate extension process. For sites with restricted access during the outbreak, BRCGS will now allow the extension of certificate dates of sites up to a period of 6 months. The extension will be based on a risk assessment by the site's current certification body and will be validated and verified through the exchange of relevant documents and an interview process. Once the site becomes accessible, the full onsite audit will take place as normal and a new certificate will be issued for a further 12 months. More info here.
FOR MORE INFORMATION
See CCF website for our latest Covid-19 webinar briefings or contact Tom Southall or Shane Brennan.
---
Government Advice
Your first port of call for up to the minute information on coronavirus should be the government's website pages
Coronavirus (COVID-19): UK government response
---
9th April: Driving in France
We have had some clarification of the forms required for drivers travelling in France.
The new form announced for use from Monday 6th April (18.00) replaces the former one which was filled by the driver – but the second form: the professional travel waiver certificate (justificatif de déplacement professionnel) still has to be filled in and signed by the employer (i.e. the driver's manager).
Original form in ENGLISH to be completed by the DRIVER
New form in ENGLISH to be completed by the EMPLOYER
The two documents must be carried by the driver and shown if requested by the French Police (PAF).
Some additional questions and answers:
How will people travelling get hold of these forms? Do they just print a copy off the web or do the operators have to provide them with one?
Port of Dover now have stocks, as do the ferry operators. Eurotunnel are contacting their customer base. The SE customs agents also have stocks. Normally, as for the previous form, a print out or even a hand written one (rewriting the sentences as the template) is sufficient.
Will the PAF hand out blank forms at the border if the people travelling do not have it already? Reason for asking is that most of the people who travel with the ferries at the moment have not booked in advance but are "turn-up-and-go" traffic who buy a ticket in the port i.e. they have no prior contact with them before travelling.
I'm not sure PAF will be distributing anything… but as mentioned above it can be done by writing on a blank document and there are stocks of them available.
For "goods carriers" – Will all freight drivers have to be stopped to show this document, and would the form be valid for a period of time or do they have to fill this in every time?
No compulsory stop but if they are stopped, then they will have to show the document. And to avoid any problem, the French think it's better to have one (with the correct date) for each crossing.
---
Covid-19 – Drivers and Haulage Update
Here is an update of key information
DRIVER CPC – any driver whose DQC expires in the period from 1 March 2020 to 30 September 2020 can continue driving, but has to complete their 35 hours mandated training by 1st October 2020. However the government have said they will keep this under advisement. The Government is considering allowing drivers who have never had a CPC; or have an expired one; to drive in this period.
See details https://www.gov.uk/guidance/coronavirus-covid-19-temporary-changes-to-driver-cpc-requirements
DRIVER MEDICALS – Shane Brennan CEO, Cold Chain Federation has spoken to Baroness Vere this afternoon and alongside colleagues stressed the importance of a suspension of the requirement for drivers to have up to date medicals. She assured us that the government is looking to do this, but they do not have the legal powers to just do so and can only say that they are looking for a solution but can't be sure they will get to one or not.
Essential Workers clarification – the DfT have written to the transport industry providing further clarification that the government considers all those working in transport, drivers and those in ancillary roles as essential workers that should be allowed to carry out their work freely.
CCF continues to seek clarity on key issues of regulation and pressing for relaxations that make it possible for you to keep operations going.
We are also working in co-ordination with the main haulage and logistics bodies to seek better targeted financial support to logistics businesses. Our top priorities are business rates relief on warehouses and transport depots and some form of instructed or underwritten deferral of leasing costs. We are acutely aware that time is of the essence with many businesses on the brink of running out of cash.
---
Covid-19 Cold Chain Briefing
Here are the slides from today's Covid-19 Cold Chain Briefing
An open session in which Cold Chain Federation Chief Executive updates on the latest advice, guidance and developments related to the Covid-19 outbreak as it affects the UK Cold Chain. This is a session of relevance to any business interested in the cold chain.
---
Covid-19 Guidance for Food Businesses
Yesterday the Government published new guidance aimed at supporting food businesses to manage risks from Covid-19 whilst continuing to carry out their critical roles.
The Guidance can be found here – https://www.gov.uk/government/publications/covid-19-guidance-for-food-businesses/guidance-for-food-businesses-on-coronavirus-covid-19
In summary:
– There is no current requirements for significant additional measures to ensure food safety, beyond the existing high standards maintained by UK food businesses (eg. HACCP).
– Enhanced handwashing procedures should be implemented as per previous Government advice to all businesses.
– The guidance also includes information on how to manage sick employees and implement social distancing measures in the workplace.
The full guidance can be found here: https://www.gov.uk/government/publications/covid-19-guidance-for-food-businesses/guidance-for-food-businesses-on-coronavirus-covid-19
---
25 March: Recent Covid-19 Policy Updates
NEW MEASURES INTRODUCED SO FAR THIS WEEK
From the 25th March (today) companies have been granted the ability to apply for a 3 month extension for filing accounts during Covid-19. Guidance on how to apply for the extension can be found here.
Extension to MOT testing for 6 months for cars and light vans (up to 3,000kg) from the 30th March– it remains the vehicle owners duty to ensure the vehicle is 'roadworthy', garages are permitted to stay open for repairs during this time. More information is available here.
Further guidance released on business support grant funding to businesses – setting out details of eligibility and delivery of the Small Business Grants Fund (SBGF) and Retail, Hospitality and Leisure Grant Fund (RHLGF). More information here.
Updates to the existing guidance for businesses and employers on managing Covid-19, including added details about protection from eviction for commercial tenants and further guidance added about commercial insurance policies. See the suite of guidance here
NEW COLD CHAIN FEDERATION GUIDANCE NOTE FOR MANAGING VISITING DRIVERS
In response to recent reports of unsatisfactory treatment of drivers delivering critical consignments to warehouses due to the risk Covid-19 transmission, the Cold Chain Federation has worked with its members to produce guidelines on measures businesses can take to minimise the transmission risk to their staff whilst maintaining welfare standards for drivers. Please share with your staff/customers as appropriate.
UPCOMING EXPECTED ANNOUNCEMENTS
Temporary changes to driver CPC requirements to minimise transmission risk during tuition and to free drivers up to fulfil deliveries.
Temporary changes to driver medical requirements.
Further information on how businesses can designate workers as 'furloughed' and a new support package for the self-employed.
Relaxation of competition laws across food supply chains (not just for retailers).
We will send details through of these and any further announcements as they are released.
As ever, please get in touch with Tom or Shane if you have any queries on the above, or new issues we can seek answers to.
---
24 March: BBC Radio 5 Live
Hear Shane's interview at this link its a 02:08 to 02:11 in the programme.
https://www.bbc.co.uk/sounds/play/m000gmqk
---
23 March: Covid-19 Intelligence Exchange for the Cold Chain #2
Here are the slides from today's Intelligence Exchange
Any business that operates temperature controlled storage or fleet in the UK, whether you are a member or not, is welcome to take part in our weekly sessions at 4pm every Monday for the duration of the interruption to normal business.
We are vetting the participants that register, so if you are not working in a company that operates cold chain haulage or storage, please do not attempt to register. We will do this because we want participants to know that our briefings are a safe space to share intelligence between operating businesses.
If you do not meet this criteria but have a question related to cold chain operations please message me and I will do what I can to help you. We are in this together and we must help each other wherever we can.
---
21 March: Transport & Driver Related Rules
Some further announcements have been made throughout today on transport and driver related rules.
DRIVERS HOURS
The derestriction of driver hours has been extended to drivers serving ALL sectors, removing any potential confusion over whether the goods you are carrying are covered in full or in part,
https://www.gov.uk/government/publications/temporary-relaxation-of-the-enforcement-of-the-drivers-hours-rules-all-sectors-carriage-of-goods-by-road
The Department for Transport has also published guidance on how to use this derestriction The point is use it responsibly – which we all agree with I'm sure.
MOTS
DfT have also today announced a three month suspension of MOT testing and all HGVs will be granted a three month temporary exemption from the need to have a valid MOT.
https://www.gov.uk/government/news/driving-tests-and-mots-for-heavy-vehicles-suspended-for-up-to-3-months-to-help-tackle-spread-of-coronavirus
DRIVING TESTS
Driving tests are suspended but DVSA will make provision to continue tests for critical workers (same list as schools)
https://www.gov.uk/guidance/coronavirus-covid-19-driving-tests-and-theory-tests#book-an-emergency-test-if-youre-a-critical-worker
OPERATOR LICENSING AND OTHER MATTERS
An important advice note from the traffic commissioner on how it will handle issues or pressures on operators related to covid 19
https://assets.publishing.service.gov.uk/government/uploads/system/uploads/attachment_data/file/874026/200320_Advice_note.pdf
---
20 March: Key Workers List Published
Communication to members from Shane
The Government have published the following guidance on 'critical' workers over night. See links:
It confirms that people working in food industry will be prioritised for education provision it defines this as:
Food and other necessary goods – This includes those involved in food production, processing, distribution, sale and delivery as well as those essential to the provision of other key goods (for example hygienic and veterinary medicines)
This is a broad definition in line with what we asked for. However it is not explicitly clear that it covers those contractors employed in essential maintenance functions that support the food industry. Government also clarifies in these documents that families qualify if only one parent or carer in the house is working in the industry.
It does not set out a process for individuals or schools on how to secure the provision (including how you prove you need it) or how schools can decide to accept the claim or not. We will press to see if further clarification will be provided on this in meetings today.
As the advice makes clear parents are asked to use this only if they absolutely need to and only on the days they absolutely need it. There are a lot of people working in the industries in this list, if evidence comes through from schools that the numbers of children are too high for them to cope, then (a) headteachers/local authorities can close the schools that can't cope themselves or (b) government will take action to limit the list.
As ever please let me have any questions or feedback
---
17 March: Temporary Relaxation of Drivers Hours Delivery of Essential Items to Retailers
Notification issued this afternoon by Department for Transport following industry representations We will follow up on issue of deliveries to hospitals, care homes and other priority needs.
---
16 March: Covid-19 Intelligence Exchange for the Cold Chain #1
Here are the slides and notes from that session.
Any business that operates temperature controlled storage or fleet in the UK, whether you are a member or not, is welcome to take part in our weekly sessions at 4pm every Monday for the duration of the interruption to normal business.
We will be vetting the participants that register, so if you are not working in a company that operates cold chain haulage or storage, please do not attempt to register. We will do this because we want participants to know that our briefings are a safe space to share intelligence between operating businesses.
If you do not meet this criteria but have a question related to cold chain operations please message me and I will do what I can to help you. We are in this together and we must help each other wherever we can.