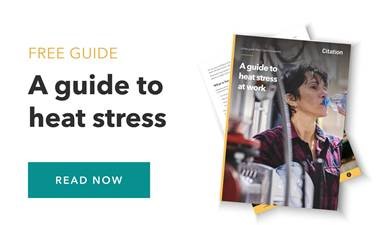 Your handy free guide to heat stress at work
Published on July 12 2022
When the temperature soars and the mercury starts rising, it's very easy for you and your people to get flustered and frustrated with the rising heat.
Whether you work outside in the heat or you're an office-based business, the heat can get to all of us. And as an employer, you have a legal obligation to look after the Health & Safety of everyone on your business' premises.
In this exclusive free guide, the experts of Cold Chain Federation Associate Member, Citation, have put together a beginners' guide to heat stress in the workplace for employers.
DOWNLOAD: https://tinyurl.com/4pecepys
Some key areas the guide covers include what is heat stress, spotting the signs and symptoms, conducting proper risk assessments, and how to limit heat-based risk in 8 simple steps.
Your CCF member benefit
If you'd like to chat about how Citation can help with the HR and Health & Safety side of your business, just give them a call on 0345 844 1111, or fill in their call-back form, and they'll get right back to you. Please quote 'Cold Chain Federation' when enquiring to access your member benefit.
Comments are closed.