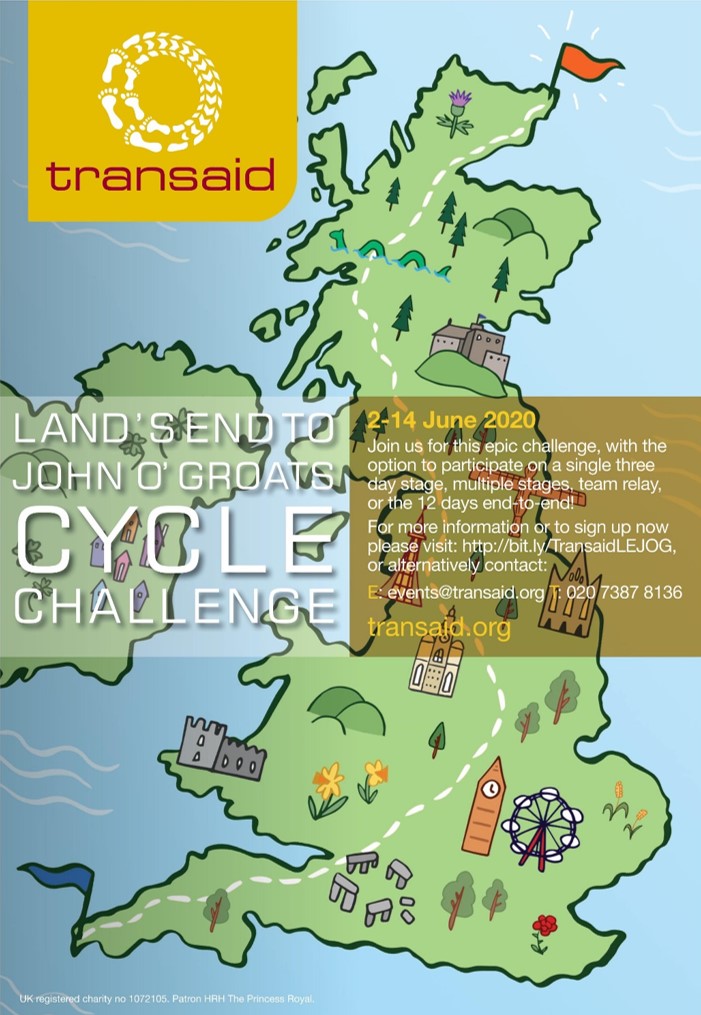 Transaid's 2020 Land's End to John o' Groats Cycle Challenge Launched!
Published on January 28 2020
Transaid has launched its biggest ever cycle challenge, Land's End to John o' Groats, and is throwing down the gauntlet to riders from across the industry to saddle up and take on an epic 993-mile journey.
The 12-day adventure will commence on 2 June and will mark Transaid's 20th anniversary. Transaid is inviting the transport & logistics industry to get involved, raise funds and help celebrate its 20th birthday!
The challenge will take riders through some of the UK's most beautiful scenery, covering the length of the British Isles; from the leafy lanes of Cornwall, through the dramatic scenery of Dartmoor, The Cotswolds, The Lake District and ending in the stunning hills and glens of the Scottish Highlands.
This is truly a 'bucket list' challenge and there are multiple options for signing up, including a single 3 day stage, the full 12 day 'End to End', two stages or a team relay. As a result challenge is open cyclists of varying abilities, and we encourage you to set yourself a New Year's challenge by signing up today to support Transaid!
Florence Bearman, Head of Fundraising at Transaid says: "Our cycle challenges have been taking place since 2006 and continue to grow in popularity each time. The plan was always to do something special to mark our 20th anniversary, and we hope holding the event here in the UK will mean as many supporters as possible can saddle up and join us for what is going to be something really special."
REGISTER TODAY
Please find the Information Pack below with further details regarding the challenge, or alternatively click the 'register now' link to sign up straight away! We hope you'll support Transaid's 20th Anniversary challenge and join us on what promises to be an unforgettable experience – thank you in advance for your support!
If you'd like to talk about the challenge in detail before registering or have questions, please contact Florence Bearman, Head of Fundraising, on 020 7387 8136 or email florence@transaid.org.