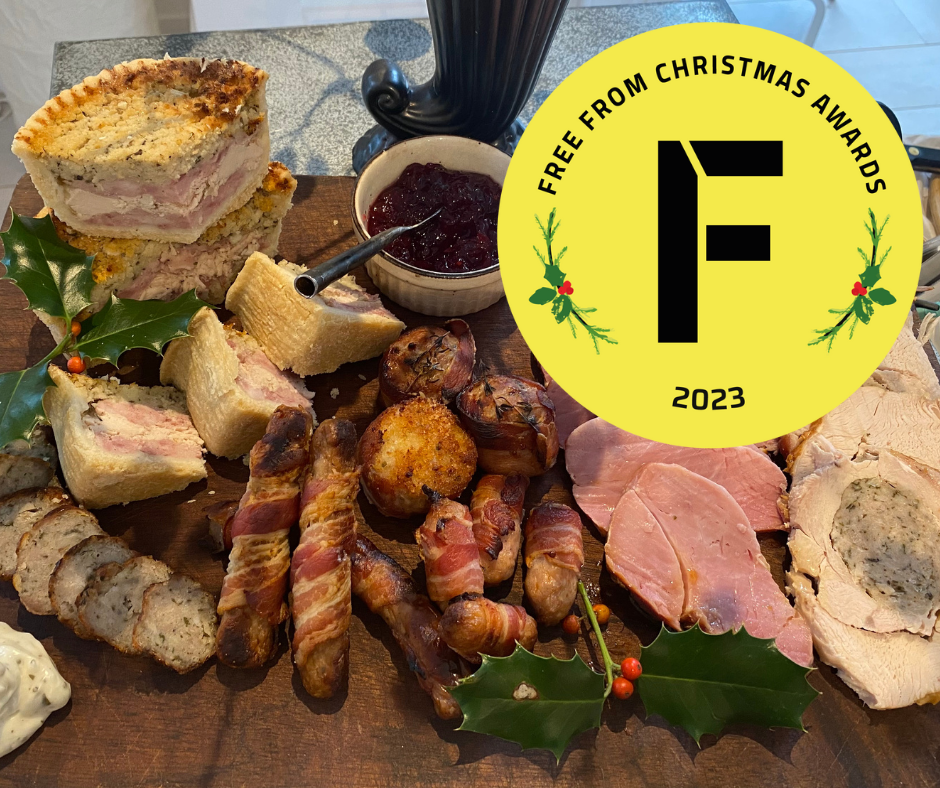 Tesco 'Christmas Range of the Year' Winner in Free From Christmas Awards
Published on November 3 2023
Tesco retain crown as category winners of the 'Christmas Range of the Year' award in the 2023 Free From Christmas Awards.
The Free From Christmas Awards champion Christmas or seasonally relevant free from food and drink products and are part of the annual Free From Food Awards, with free from companies large and small returning to compete in the Free From Christmas Awards 2023, with NOMO and Mindful Brands taking the top honours, securing Free From Christmas Food of the Year and Free From Christmas Drink of the Year respectively.
Tesco retained the coveted Christmas Range of the Year for the third year running with awards CEO Cressida Langlands commenting: "The results of the Christmas Range 2023, one of our additional awards, sponsored for us again by Oakland International goes to Tesco, exhibiting a range that addresses needs both in and outside of its Free From range ensuring a broad and delicious offer, addressing a wide range of festive occasions and free from requirements.
"They haven't simply delivered a 'rinse and repeat' but instead curated an offer that includes traditional favourites alongside new and improved products. At Tesco, you can do your whole Christmas family shop, and cater extremely well for those with food allergies, be they vegans, vegetarians or omnivores!"
NOMO who won Best Independent Brand for the third year running, as well as taking the top prize for their Mint Sharing Box, Cressida added: "A real contender for the classic after dinner mint that dominates the market!"
'Christmas Range of the Year' category sponsor Oakland International has been supporting the Free From Food Awards for a decade, and as a business which provides consolidation, contract packing, and distribution, have witnessed significant retail growth in the free from food sector across all service platforms, with major supermarkets recognising the need for innovation and the Free From Food Awards reflecting the mounting appetite for free from foods.
Category sponsor Oakland International Co-Founder, Sallie Attwell, said: "Our congratulations to Tesco, NOMO, Mindful Brands, and to all Free From Christmas Awards 2023 category winners."
A leading D2C/B2C/B2B specialist in contract packing, storage, picking, food distribution, Oakland International is BRCGS AA rated and operates 24-hours/7 days a week and a brand development support provider for ambient, chilled and frozen food to the retail, convenience, discount, wholesale and food service markets in the UK, Ireland and via their partner in Spain. The company has also taken the first step to becoming B Corp certified, joining the fast-growing movement of using business as a force for good, and working towards becoming the first business within their sector to achieve net-zero.
Free From Award judges include chefs, developers, manufacturers, health professionals, bloggers and influencers, many of whom are coeliac or managing complex food allergies.
"Not only were entry numbers up 50% on last year," said Free From Awards' CEO, Cressida Langlands. "We also saw a great deal of innovation across free from, and not all of it mimicking what's available in the main category offer."
All Gold, Silver and Bronze winners in all categories, which included 'Christmas Dinner', 'Party Foods', 'Drinks' and others, can be found on their website www.freefromfoodawards.co.uk
Entry to the Free From Christmas Awards will re-open in July 2024. Meanwhile entry to the Free From Food Awards 2024 (for non-seasonal food and drink), and their much-loved Easter Award, will open on Tuesday 2nd January 2024.
Comments are closed.