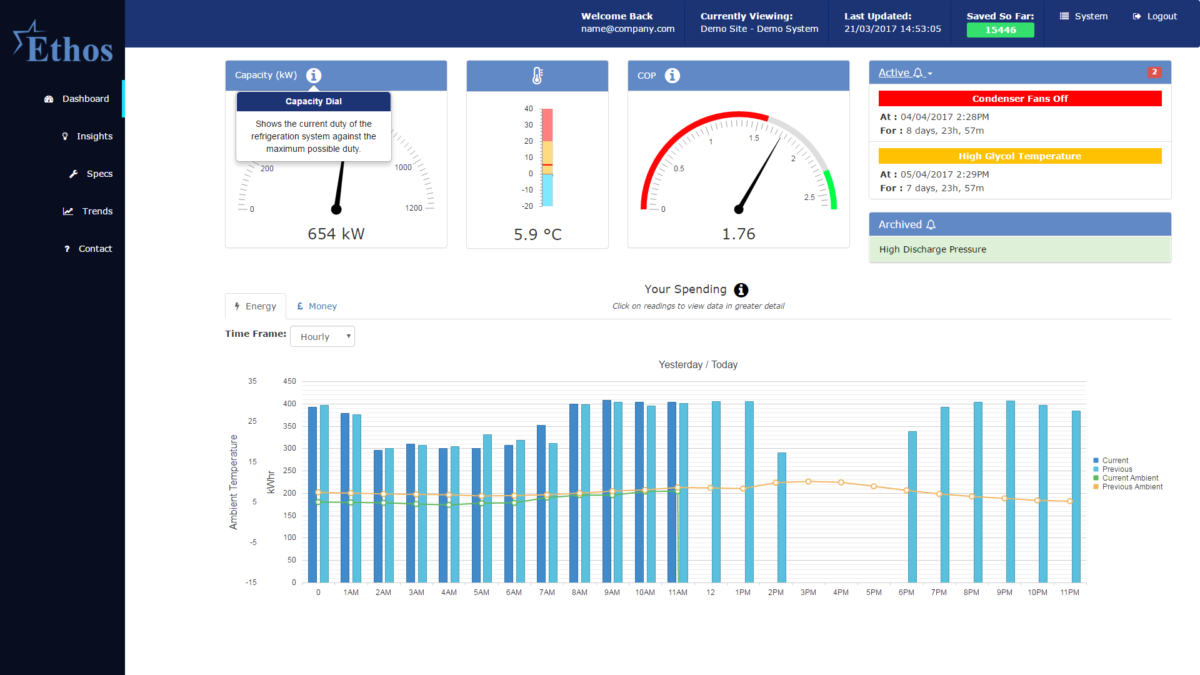 Star's exclusive energy management system Ethos saves The Ice Co Storage & Logistics £100,000 a year
Published on June 19 2019
Shortlisted for the TCS&D Awards for Partnership of the Year, The Ice Co Storage & Logistics and Star Technical Solutions teamed up to install energy management software, Ethos, at the distribution centre's refrigeration plant in Wakefield, with significant results.
Cold Chain Federation member The Ice Co Storage & Logistics temperature controlled distribution centre in Wakefield has taken advantage of ground breaking technology from Cold Chain Federation member Star Technical Solutions to reduce its carbon footprint and annual energy spend.
Ethos performance optimisation and energy management remotely monitors and analyses data from refrigeration plants and makes recommendations to help it become more energy efficient. With the advice and insights provided by Ethos, the distribution centre was able to condense its carbon emissions substantially by 310 tonnes of CO2 per year, and has saved over £100,000 annually on energy bills.
Malcolm Dufton, The Ice Co Group Property and Energy Director said "We knew there were savings to be had but Ethos has allowed us to identify where those savings could be made and how. The result over £100,000 saving per annum on electricity, so now we are going to incorporate more plant into the network and roll out the program to our other plants and cold stores."
The energy management and optimisation consultancy led service helped The Ice Co understand energy consumption of different sections of their plant, alter plant settings to optimise that consumption and look out for, and anticipate, plant maintenance issues. Ethos proposed immediate changes to the maintenance regime including changes to condenser fan sequencing and fan control which required no capital investment, along with savings of £68,000 from corrective actions such as replacing an inefficient compressor.
Targeted maintenance and simple control changes. The new system quickly identified that changes to condenser fan sequencing, condenser fan control, low-stage compressor sequencing and system purging would contribute to a cumulative energy saving of around 14%.
Ethos, which was awarded 2018 Refrigeration Product of the Year, is unique because it allows, both Star consultants and the client continuous access to an online dashboard with an overview of the plant's performance. With built-in 4G connectivity, there is no requirement for the system to be connected to the existing IT network, therefore decreasing the workload involved in the installation.
Anne Flanagan, Business Development Manager at Star Technical Solutions said, "Ethos was designed and developed by STS to identify inefficient operation and help customers save money – which has been the extraordinary outcome for The Ice Co. The system gives an unparalleled level of visibility, analytics and insight to recommend energy saving actions, identify and visualise plant issues as they arise to avoid costly, unplanned maintenance visits as well as accurately assess spare capacity of refrigeration plant and load requirements to help in the specification of new plant."
"Ethos is like a digital commissioning engineer that is watching over the customer's refrigeration equipment night and day so that energy inefficiencies can be highlighted and avoided through early intervention to rectify poor system performance."
For a national company which exports temperature controlled products, the potential for companywide energy related savings using Ethos is huge. By closely monitoring system performance, The Ice Co Storage & Logistics have been able to make modifications –most at minimal or no cost – to reduce overall annual energy consumption.
Recognising the potential savings, the Ethos installation at the Wakefield site has led to a roll out of the energy management system across all of the company's cold storage as well as ice manufacturing facilities UK-wide.
Star Technical Solutions, the consultancy arm of Star Refrigeration, will be sharing details of the project at the TCS&D Show which will take place on 25th and 26th June in Peterborough. Now in its 5th year, the TC&D Show is a two-day long conference and exhibition at the East of England Arena. In addition to sponsoring World Refrigeration Day, Star will be exhibiting at stand B24 and speaking to delegates sharing industry knowledge with two CPD certified presentations as part of the conference programme.
Find out more about the TCS&D Show and register to attend at: https://www.tcsdshow.com
To find out in more detail how Star Technical Solutions award winning Ethos helped The Ice Co Storage & Logistics, go to https://www.star-ref.co.uk/case-studies/bysector/temperature-controlled-storage-and-distribution.aspx