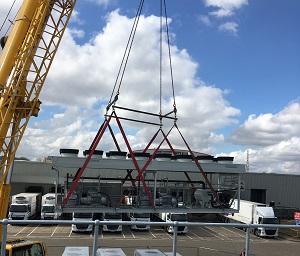 Star Refrigeration COVID-19 Update – Manufacturing and Installation Continues
Published on April 21 2020
Cold Chain Federation member Star Refrigeration is continuing to manufacture and install equipment to support essential industries and supply chains during the Coronavirus (COVID-19) pandemic.
In line with government guidance, Star is continuing to operate its UK manufacturing facilities in Glasgow, providing critical support to the cold chain and other key industries. Star is continuing to manufacture and install new refrigeration equipment to meet the demand for increased capacity and help feed the nation.
In early March, Star instigated a strict COVID-19 health and safety plan to protect manufacturing personnel and minimise risk on installation projects at customer sites nationwide. Production has continued throughout the UK lockdown at Star's manufacturing facilities in Thornliebank and Westway, where shifts are currently operating around the clock, five days a week.
Star Refrigeration Contracts Director Lewis Brown says: "We are supporting essential industries by continuing to manufacture and install new refrigeration plant, to bring much needed additional capacity. We are also continuing installation work to improve the reliability of existing refrigeration equipment at customer facilities. This will help to ensure temperature compliance as we approach the summer months, providing the cold chain and other key industries with greater resilience."
The government recently highlighted the importance of keeping supply chains moving to protect the economy during the COVID-19 pandemic. In an open letter to manufacturers, the Secretary of State for Business, Energy & Industrial Strategy emphasised that manufacturing is critical to the UK economy, with no restriction to its continuation under current rules.
Star Refrigeration Contracts Director Lewis Brown adds: "All manufacturing and installation work is being carried out in line with government guidelines surrounding COVID-19. The health and safety of our staff, site personnel and the wider community is our top priority. We are working in conjunction with each customer to ensure installation projects are completed safely and with minimal risk to those on site."
Star is the UK's largest refrigeration engineering company, working with market leaders in a variety of industries including temperature controlled storage, food and drink processing, pharmaceutical, HVAC and leisure. The company specialises in the design, manufacture and installation of chiller packages, which can be fully commissioned and tested in-house, before direct delivery to site.