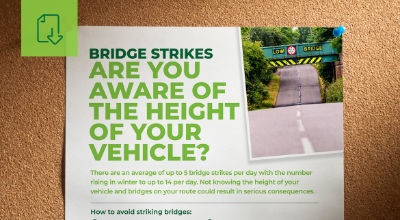 Solving The Bridge Strike Conundrum
Published on January 10 2022
Innovative e-learning business offers UK Transport a way ahead; and it's FREE!
Cold Chain Federation member Road Skills Online has taken the challenge presented by Senior Traffic Commissioner Richard Turfitt to heart. David Somers, 'The Operators Friend' and Managing Director of Road Skills Online takes up the story.
"It has been clear for some time that the Traffic Commissioners office has got frustrated with the lack of progress that hauliers, in particular, are making in reducing the incidence of bridge strikes. We have a methodology and approach, which is proven to make a difference in awareness and professional development, so I felt it was incumbent on us to step in"
The industry recognises that negligence and poor training are often cited as the main cause of bridge strikes. Traffic commissioners now expect drivers, operators, and transport managers to make use of the guidance that is publicly available on how to avoid bridge strikes.
Rather than just leave things to chance Road Skills Online have made their Bridge Strike Toolbox Talk a stand-alone module that any driver can register for, qualify on and then through a quiz prove they are up to date on the latest learning.
The team have set it up so that either as an operator or driver, there is 24/7 access by any driver from any PC or mobile device. RSO delivers a fully proven educational solution, and this module, is available from today fully free of charge.
Why this is important to Operators? When incidences of bridge strikes are brought to the attention of a traffic commissioner the driver can expect to be called to a hearing and may face a period of suspension. The traffic commissioner will also consider the culpability of the operator and transport manager and they may be called to attend a public inquiry.
Traffic commissioners meet regularly with all stakeholders concerned with bridge strikes. Network Rail, whose customers are impacted most by bridge strikes (closures, delays, and repairs cost Network Rail in excess of £20M p.a.), are keen to see all operators minimise the risk to the public, improve driver safety and reduce insurance claims.
Traffic commissioners welcome the use of high-quality educational material, provided either by public or private organisations, as a positive way that operators can make a difference in reducing the number of bridge strikes.
The long-term benefits of continual professional development for drivers
David Somers developed PDP for his drivers as an owner operator and over the last 20 years has been a champion for their use across all transport sectors and disciplines.
"Personal Development Programmes utilising 'bite sized learning' are now recognised by training professionals to have the biggest impact on retained learning[i] and delivering clear changes in driving behaviour"
"I felt so strongly that all of our sector needed a better set of tools to support both driver development and give operators a way of both developing and retaining key teams members that I created Road Skills Online and I am delighted today that we can offer something back to an industry that has given me so much"
Industry Comments
Sir Peter Hendy, Chair, Network Rail, "Network Rail is delighted to support this course, which aims to reduce bridge strikes; better trained drivers and operators will improve both road and rail safety."
Lesley O'Brien OBE FCILT, Freightlink Europe, Freight People, Freight Train
"Bridge strikes continue to be an industry wide problem, which vehicle Operators cannot ignore. We need every tool possible in our toolbox to ensure drivers and operational staff are aware and regularly reminded of the risk to safety, business, and procedures to follow.
Memos, safe working practices and posters are all well and good, but drivers need training. This is why, in addition to face-to-face training Freightlink Europe subscribes to the Road Skills Online continuous professional development plan for office staff and drivers alike.
The FREE Bridge Strike Toolbox Talk currently offered by Road Skills Online is a not to be missed offer and one which we shall be promoting throughout the Freight People Community and at the Freight People forum, live at this year's TiP-Ex |Tank-Ex, hosted by Road Transport Media – why wouldn't you take advantage of this amazing offer?"
Dean Clamp, Group HSEQ Director, Wincanton plc
"At Wincanton, safety is our number one priority. We are a learning organisation, always improving and innovating to achieve pioneering standards which go above and beyond compliance.
We consider safety as a joint responsibility between our company and our professional colleagues. Between us, we work hard to ensure our colleagues and every other road user is safe for every mile we operate – through training, technology, equipment, and metrics.
We are strong supporters of Network Rail's initiative to raise awareness of bridge strikes and their work with the transport industry to reduce incidents. As accidents are by their nature unplanned, a bridge strike can always be avoided and innovative tools, such as the RSO Toolbox Talk for Bridge Strikes, are a welcome intervention to support us all on our road to continuous improvement."
Landing Page
Sign up for the free e-learning based Bridge Strikes Toolbox Talk https://www.roadskillsonline.com/bridge-strikes