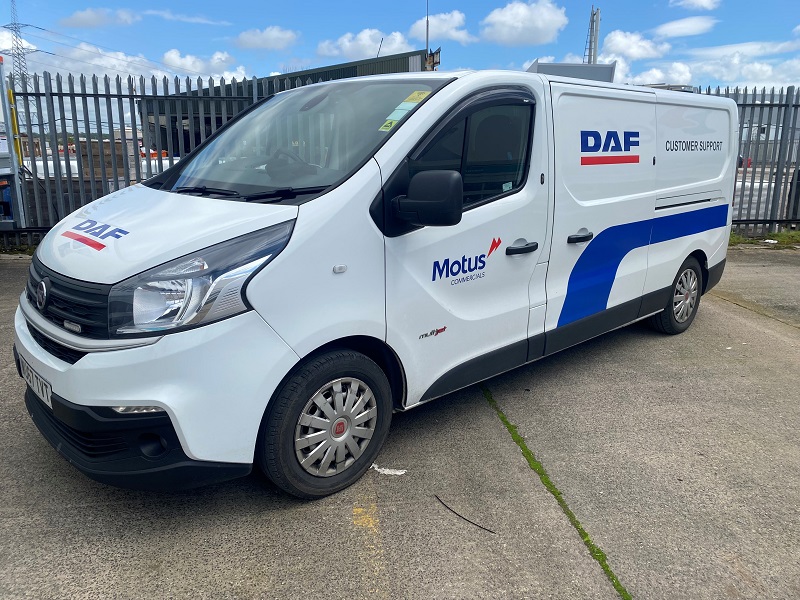 Simplicity and service make Durite trackers the right choice for DAF dealers
Published on June 5 2023
A major truck dealer says simplicity and service levels have led it to switch some of its fleet to Cold Chain Federation member Durite telematics.
Motus Commercials is the largest DAF Trucks dealer group in Europe, with 29 dealerships across the UK, employing more than 1,500 people. In South-West England it has installed 30 Smart Nano Trackers from Durite on its service vans and courtesy cars, replacing telematics units from another UK provider. Motus procured the trackers through DAF, whom Durite supplies, which has a direct relationship with Durite.
Mark Price, head of aftersales for the south-west region, covering Motus depots in Avonmouth, Swindon, Frome, Gloucester and Hereford, said: "The trackers are great, they only take 20 minutes to fit. It is a very simple and reliable solution that provides precisely the functionality we need.
"If we change vans, all we have to do is email Durite and they will update the vehicle information on the system for us. The simplicity of the system and the quality of the support from Durite is what sold it to me. In our business it is not just about dealing with a problem but how you deal with it. So, what puts Durite head and shoulders above other telematics providers is they are always responsive. They always jump on an issue and if they can't fix it remotely, they will replace the tracker. It means I don't have to worry about the telematics at all. With Durite we also have the flexibility to upgrade in the future.
"For our delivery vehicles the track and trace functionality is the most important element, but we've also been able to do more with it. We are able to set up geofencing around Clean Air Zones so if one of our vehicles enters a zone in Bristol or Bath, we are instantly notified and can pay the fees in good time. It helps us to avoid issues further downstream and that makes us more efficient."
The Durite Smart Nano Telematics Tracker is an affordable fleet management solution that enables users to locate their fleet in real time. Installation is extremely simple, as it simply connects to any power source on the vehicle. The fleet manager can view vehicle location and historical journeys in the Durite telematics portal as well as generate over 80 valuable reports, so fleet operators can select the most suitable ones based on their business needs.
"Our courtesy cars are a complementary service and goodwill gesture to our clients so we're not trying to monitor everything they do with the vehicles," added Mark. "We just need telematics to keep track of our assets – for example we might deliver a vehicle at one end of the region but have to collect it from the other end, so location data is critical. The tracker can also deter drivers from using those cars for personal trips as they know we know where the vehicles are at all times."
Durite offers a range of telematics products for trucks and vans, including hardwired and OBD plug-in units, plus integrated telematics cameras. Durite is the UK's leading brand in vehicle safety, lighting and auto electrical parts for commercial vehicles and the general automotive aftermarket. For further details, visit www.durite.co.uk

Comments are closed.