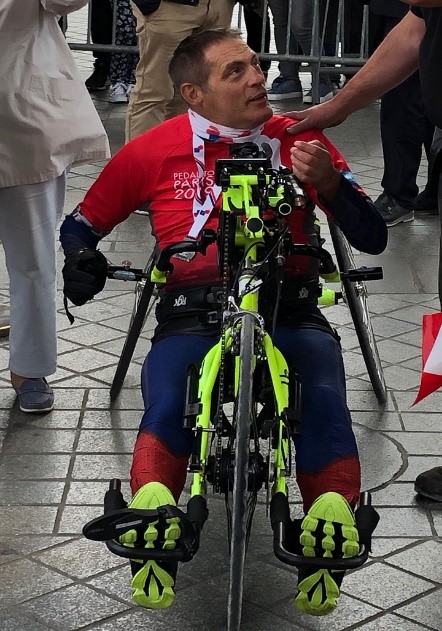 Pedal to Paris
Published on September 16 2019
Pedal to Paris is a four-day ride starting from Eltham, London (5th September) ending at Arc de Triomphe, in Paris (9th September).
It's an exciting experience for competitive cyclists and enthusiastic recreational riders alike.
It's the only cycling event – apart from the Tour de France – that the Arc de Triomphe closes for, covering 300 miles, with a daily service at each night stop.
This year, Cold Chain Federation member SCCG sponsored the determined cyclist, and valued client Brian Fisher – Distribution Manager at British Gypsum, helping him reach the £1000 target.
Being 'more than just a ride with remembrance', this is the second time that Brian has completed this event for the Royal British Legion (also a client); first completing this event back in 2017.
The Royal British Legion (RBL) supports ex-serving and serving personnel. The Legion has been helping members of the Royal Navy, British Army, Royal Air Force, and veterans ever since 1921. The Legion provides lifelong support to the servants and their families, from expert advice and guidance to recovery and rehabilitation.
A fantastic example of what RBL support can provide is Harry. Harry lost both legs and the use of his left arm below the elbow in Afghanistan. But, with support from the Legion, the assistance of a support crew and a push up a couple of hills, he completed the full ride using the dayglo hand bike!
Brian Fisher covered the event costs himself, therefore all donations and sponsorship went directly to the Royal British Legion to support the fantastic work they do.