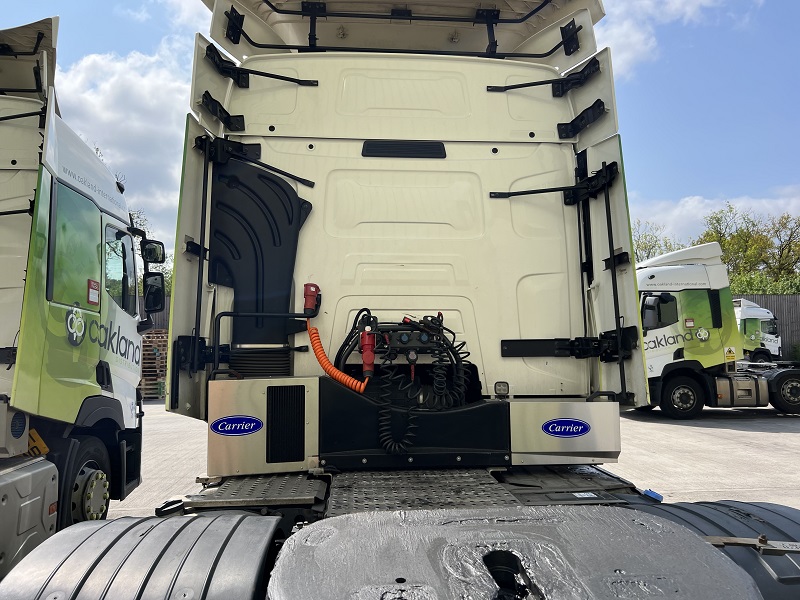 Oakland Distribution Trailer Fleet 100% Electric
Published on May 19 2023
Total supply chain solutions specialist and Cold Chain Federation member Oakland International now has 100% fully electric trailers having invested in Cold Chain Federation member Carrier Transicold's innovative Eco-Drive technology, fitting the system to the tractor units operating in the Oakland Distribution transport fleet.
Through ongoing investment in sustainable technologies, energy efficient solutions and working towards becoming the first business within their sector to achieve net-zero, Oakland International has undertaken a major investment in Carrier's Eco-Drive technology, which converts power from the truck's own engine into electricity, which is used to run the Carrier Transicold Vector refrigeration units mounted to the company's temperature-controlled trailers.
Oakland International Distribution Director Martin Pearson said: "Oakland's investment in Carrier's Eco-Drive technology is just one of a range of initiatives which will ensure our continued growth and is in addition to the long-term investment in our fleet. Having carried out several trials with Carrier Transicold, it offered a real benefit to move in this direction, not simply for fuel savings, but it also delivered sustainability benefits through further reductions in our carbon footprint.
"As of March 2023 we are now 100% electric when operating our refrigerated trailers to deliver customers' chilled and frozen goods. This underpins our goal to become 100% carbon neutral, with Oakland Distribution amongst the first in the industry to operate a fully electric refrigerated trailer fleet."
Carrier Transicold's Eco-Drive units have both been retrofitted to the company's existing Renault tractor units, as well as mounted to new vehicles entering the fleet. The system uses a hydraulic pump connected to the truck engine's power take-off, this drives a generator that delivers the electrical power required to run Oakland Distribution's Vector refrigeration units, improving sustainability through reduced emissions and lower fuel requirements.
Scott Dargan, Managing Director UK & Northern Europe, Carrier Transicold said: "Improving sustainability through innovation sits at the heart of what we do at Carrier Transicold. We are delighted that Oakland Distribution have invested in our Eco-Drive technology, which allows the business to both retrofit their existing vehicles, and fit new tractor units entering service with the system. The electrification of its trailer fleet will provide instant fuel and emissions savings and we look forward to seeing the results!"
Oakland International is a leading D2C/B2C/B2B specialist in contract packing, storage, picking, food distribution and brand development support covering ambient, chilled, and frozen food, and services retail, convenience, discount, wholesale and food service markets in the UK and Ireland. They are also BRCGS AA accredited and have taken the first step to becoming B Corp certified. Oakland Distribution specialises in transportation of temperature-controlled goods and offers complete supply chain control at several delivery destinations.
Comments are closed.