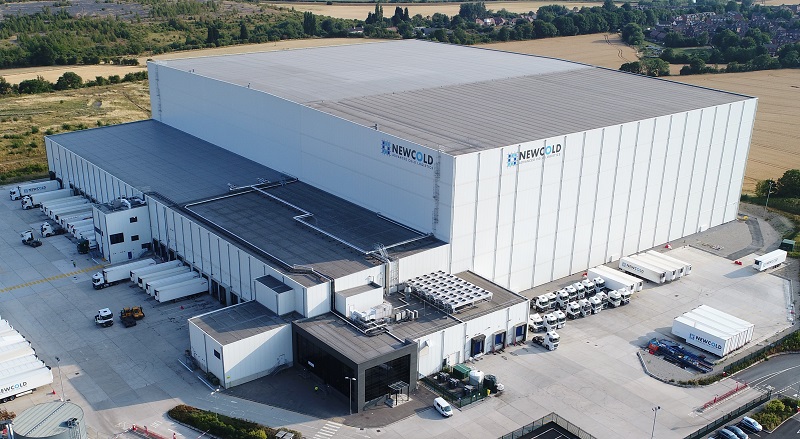 NewCold: Sustainable Development of a Global Deep Freeze Phenomenon
Published on October 12 2021
Cold Chain Federation member NewCold Advanced Cold Logistics strives to increase global food security by providing leading food companies with the most innovative cold storage and transportation services. The company has an international network with 11 locations on three continents with over 927,000 pallet positions worldwide. 
Always striving to reduce the impact of their operations on the environment and local communities, NewCold optimise existing and new innovative concepts in the cold chain to achieve the best for their customers and the industry at large. The company believes that the efficient usage of natural resources together with healthy local community and employee relations are key elements which lead to outstanding financial results and business prosperity.
In keeping with this philosophy, NewCold incorporates a Triple Bottom Line framework in its core operations which enables the evaluation of company performance from different perspectives while creating greater overall transparency.
The company's unique Triple Bottom Line approach embraces three distinct criteria: Planet, People and Profit. Firstly, NewCold recognise that all their facilities consume energy and use air and water for cooling purposes and so employ sustainable solutions wherever possible.
Then, in regarding their people as their greatest strength and most valuable asset, NewCold encourages all employees to focus on creating customer satisfaction, to promote long term customer relationships and sustainable revenues.
Thirdly, NewCold employ the simple formula whereby efficient operations combined with satisfied customers contribute to a competitive advantage, which in turn leads to commercial success.
This sustainable methodology is the driving force behind the success of NewCold's existing Wakefield site and already is providing the operational foundations for a new deep-freeze facility due to open in Corby later next year.
"As with each of our sites world-wide, our focus at the new Corby facility will be on sustainability" says NewCold. "Both the Wakefield and Corby sites are fashioned on our unique cold store design and use around 50% less energy than conventional stores. This, coupled with our ability to reduce food miles by using high-volume trailers, will greatly reduce CO2 emissions and energy use."
The new Corby facility sits on a 23-acre plot which, says NewCold, is a prime location in the logistics 'golden triangle'. The site is in proximity with frozen distribution centres of retail and food service customers and perfectly located to help minimise consignment handling and logistics costs.
Key to the delivery of NewCold's energy efficiency is the company's state of the art warehouse management systems and fully automated handling equipment. These include FEFO handling (First Expired, First Out); shipment buffer zones to minimise truck waiting times; automated storage and racking; bespoke picking floors with automated replenishment and pallet discharge. All of which combine to increase efficiency and reduce energy consumption.
For example, the Wakefield facility, with a footprint of 129m x 170m and storage height of 41m., handles 4,000,000 pallets annually and in one, 24-hour, day can receive and dispatch up to 18,000 deep frozen pallets.
To help control this colossal, non-stop operation NewCold uses a proprietary WMS which is produced by daughter company Davanti Warehousing. Working in the company's eleven facilities around the world, the cloud-based system, called CORAX, employs Saas (Software as a Service) to control all movements in the operation, while providing constant real-time information regarding consignments and equipment performance.