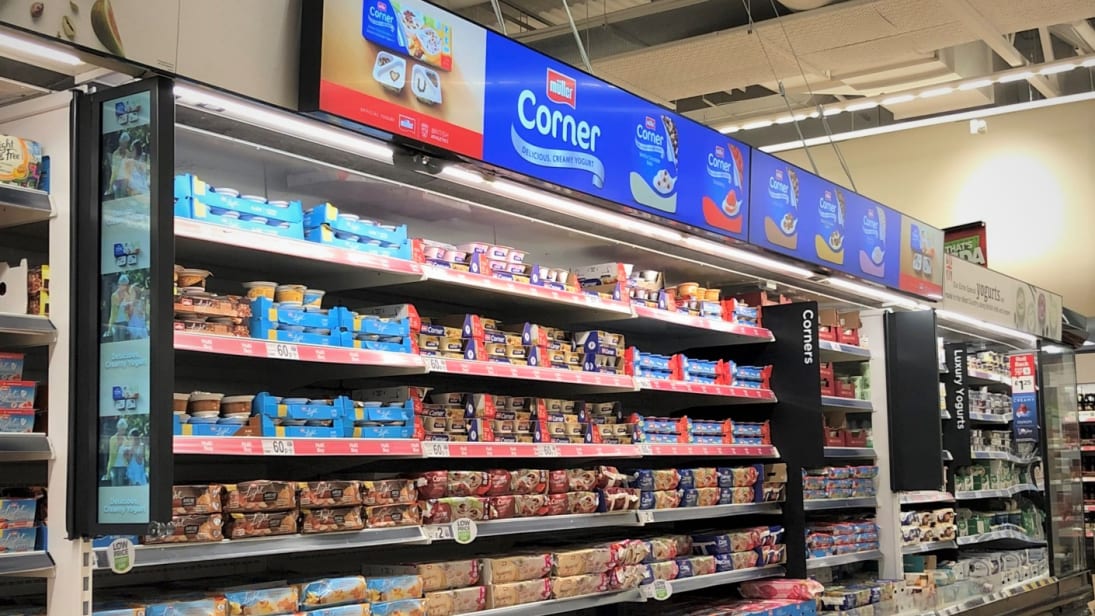 Müller and Asda Team up for Game Changing Digital Aisle Takeover
Published on December 15 2020
Cold Chain Federation member Müller, Britain's favourite dairy brand, has entered an innovative partnership with another Cold Chain Federation member Asda to engage shoppers digitally instore and online, driving new category value. The year-long partnership includes digital instore take-overs, online activations and Müller static point of sale creative.
The move is in line with Müller's strategy to add further inspiration to its core range of branded yogurts and desserts.
The digital partnership with Asda will drive category value and tap into increased demand for Müller Corner yogurts, building on a strong year which saw more sold during the first lockdown than in any period in the last three years.
Stores will see multiple screens above the yogurt aisle showing the latest Müller Corner TV advert. This content will be regularly updated to also feature core brands like Müllerlight and Müller Rice.
In addition, Asda Wakefield has larger screens and changing imagery which currently highlight the variety of Müller Corner variants available.
Seen in 35 stores across England, Scotland and Wales, the takeover launched at the end of November.
On www.asda.com, the partnership allows full page marketing takeovers and targeted shopper advertising. Performance will be analysed and then tweaked throughout 2021 to maximise potential.
A year-long static point of sale aisle takeover also went live across 233 Asda stores in England, Scotland and Wales in October. This includes Müller branded header boards, aisle fins and shelf stripping featuring Müller brand ambassadors Katarina Johnson-Thompson and Dina Asher-Smith.
Carol Hand, head of category at Müller Yogurt & Desserts said:
"Creating an impactful display at point of sale in UK retail is traditionally cardboard based. While this approach is cost effective, space is restricted, it can't be edited and it's increasingly hard to stand out from the crowd.
"Discussions started in January 2020 and by working closely to bring this to life, we have created a game changer in an area which has been in desperate need for innovation for years.
"Our digital fixture execution gives us the ability to constantly refresh the content, while linking back to our above the line marketing campaigns. It's eye catching, attention grabbing and will inspire shoppers to explore what the entire category has to offer.
"When Müller grows, so does the category, so we're confident this innovative partnership will drive overall category value. We look forward to continuing this partnership to maximise both impact and performance."