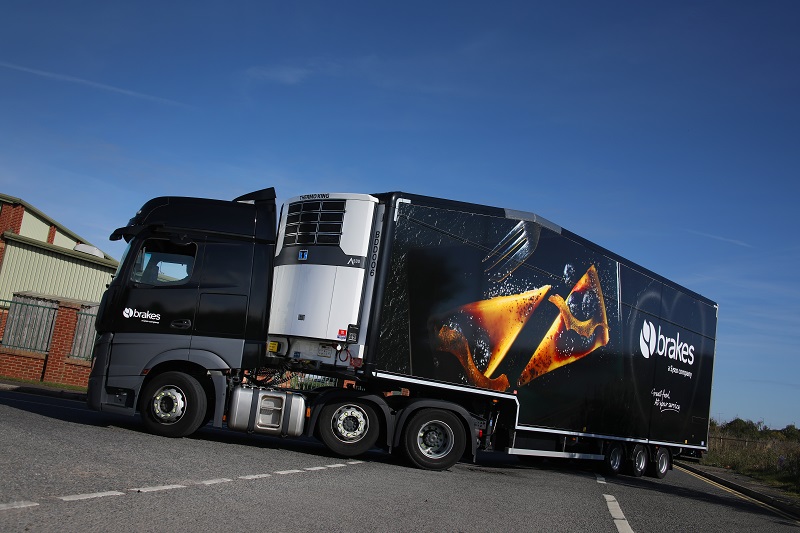 Marshall Fleet Solutions supply Thermo King Advancer Refrigeration Systems to Brakes.
Published on April 27 2023
As part of its long-term decarbonisation strategy, Cold Chain Federation member and Britain's leading foodservice provider Brakes has introduced 30 new Gray & Adams (G&A) double deck trailers into its primary distribution fleet featuring Thermo King Advancer A500 refrigeration systems. Supplied and installed by TK dealer & Cold Chain Federation Marshall Fleet Solutions (MFS), the new trailers are operational within the Brakes fleet, working out of its national distribution centre in Grantham, Lincolnshire.
"At Brakes, we are taking a long-term view about the development and expansion of our primary trailer fleet. The decision to incorporate the latest innovative technology offered by the Advancer A500 refrigeration systems into our fleet for the first time is based on the significant advantages that the Advancer generates. Over their expected 10-year lifetime, these trailers will save more than 600,000 litres of fuel meaning that we will remove 150 tonnes of carbon," said Paul Vernon, Head of Fleet at Brakes.
Currently, Brakes operates a dedicated primary distribution fleet consisting of 150 trailers, of which Thermo King units are the preferred and majority brand, all supplied through long established TK dealer Marshall Fleet Solutions.
"Generally, we run our double deck trailers for at least 10 years, and sometimes even longer. The combination of Gray & Adams trailers specified with Thermo King trailer refrigeration systems really works for us over this time period, where the trailers are covering at least 225,000 km per annum. With such highly intensive usage, the new TK Advancer A500 systems will not only be generating significant fuel savings, the units will enable us to benefit from additional major carbon savings," continued Paul Vernon.
"We are delighted that our relationship with Brakes continues to grow and that we are able to support its decarbonisation strategy through the supply and maintenance of these new units. By switching to the more sustainable Advancer units, it is a complete package of benefits from day one. Brakes will automatically benefit from its refrigeration systems using fuel in a much more efficient way, burning less of it, which is turn has a positive impact of reduced greenhouse gas emissions." said Maria D'Andrea, National Sales Manager, Marshall Fleet Solutions.
Further information about the full range of Thermo King Advancer transport refrigeration systems from Marshall Fleet Solutions can be viewed on the MFS website at www.marshallfleetsolutions.co.uk
Comments are closed.