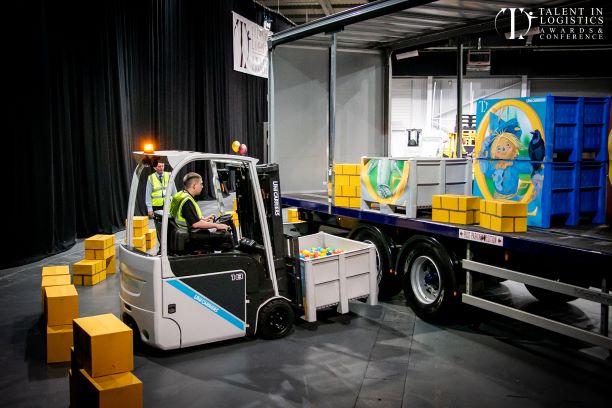 It's time to register for the IMHX 2019 Forklift Operator Challenge
Published on August 14 2019
Talent in Logistics working in partnership with Cold Chain Federation member UniCarriers UK are calling for Britain's most skilled operators to take part in this year's Forklift Operator Challenge at IMHX 2019 from 24-27 September.
Visitors to stand 6B190 will have the opportunity to demonstrate a high level of skill and accuracy by operating the UniCarriers award winning TX3 Electric Counterbalance Truck . Before the challenge, the UniCarriers team will familiarise each entrant with the truck. To take part, one has to be a qualified counterbalance lift truck operator and provide proof of that on-site. Each entrant, having completed the challenge, will leave with a Talent in Logistics/UniCarriers giveaway.
Ruth Edwards, Business Manager at Talent in Logistics says: "Forklift operators have a challenging role and don't tend to get highly recognised for their hard work, which is why we want to celebrate these individuals and encourage them to continue their efforts.
"With UniCarriers as the official 2019 sponsors of the Forklift Operator category at the Talent in Logistics Awards, it seemed a perfect fit to continue our partnership by working together to host this unique challenge, which will also encourage future operators to enter our 2020 competition."
Chris Bates, Sales Director at UniCarriers UK, comments "The Talent in Logistics team always creates visually intriguing driver challenges. Our event at IMHX will not only test the participants skills from the very start but will also provide the audience with a vibrant spectacle. UniCarriers will provide each entrant with a truck familiarisation session before they take part, so they have every chance of performing at their best." Booking has now opened for the challenge, and those wishing to partake are urged to register for their 30-minute slot prior to the event by visiting https://go.oncehub.com/TestDrivetheTX3CounterbalanceTruck. Participants will also need to register for their free place at IMHX 2019 by visiting https://www.imhx.net/en/visiting/register.html