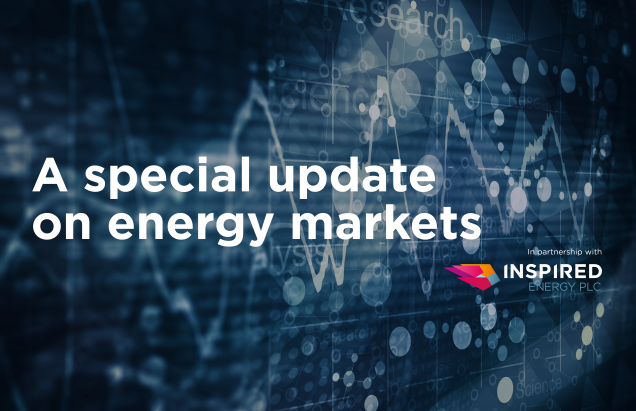 Impact on the Energy Market: Russian Invasion of Ukraine
Published on February 25 2022
Energy procurement has been fraught with risk in the past year, and 2022 looks to remain challenging. Gas and power prices reached all-time highs in 2021 and supported energy prices have continued into the first quarter of 2022. On Thursday 24th February, the market shifted further due to the news that Ukraine had been invaded by Russia. Here's what Cold Chain Federation member Inspired Energy know:
Situation background
Russia invaded Ukraine on Thursday morning, with key targets being airports and military infrastructure. Attacks have been specifically targeted and initial sentiment is that energy infrastructure will remain intact.
US, UK and EU have imposed severe sanctions on Russia. These are focused on freezing the assets of major Russian banks and exclusions from Western financial systems, freezing assets of individuals close to the Russian government and restricting Russia's access to high-tech imports. The UK has also introduced laws to stop major Russian companies and the state raising finance or borrowing money on UK markets and Russia's Aeroflot airline will be banned from the UK. EU nations have targeted the energy sector with an export ban on materials Russia uses for oil refineries. German chancellor Olaf Scholz has also put on hold permission for the Nord Stream 2 gas pipeline from Russia to Germany to open.
Russian gas flows to Europe have continued, with the initial invasion having little impact to gas exports from Russia to Europe. However, now sanctions have been imposed on Russia it is a possibility that they would respond with countersanctions which could see Russian gas exports to Europe severely restricted.
The ability for Europe to get its natural gas supplies from other countries is limited, with an ongoing conflict between Algeria and Morocco limiting Algerian pipeline exports. Meanwhile, demand for Liquefied Natural Gas (LNG) in the Asian region is rising which could see Europe's much-needed LNG either sent to Asia or having to be bought at higher prices.
Impact of Russian gas on UK energy markets
The UK only receives around 5% of its gas supply from Russia, which means that restrictions to Russian gas do have a direct impact on UK energy markets. However, the real impact of a restriction in Russian gas supplies is an indirect one: it causes stronger competition for gas supplies from other sources. A key importer of gas to both the UK and to the EU is Norway, who supply around 1/3 of the UK's gas supply. Other key suppliers are Belgium and the Netherlands.
If gas supplies from Russia are restricted then European nations are forced to turn to other gas suppliers e.g., Norway, with this increased competition for gas supplies providing a corresponding bullish signal to UK gas markets, and by extension power markets. Furthermore, it exacerbates competition for Liquefied Natural Gas (LNG) cargoes and providing upside risk to global LNG pricing as well.
UK gas storage is also of a low capacity, with the Netherlands and Germany having 9 and 16 times the storage capacity of the UK respectively. This low capacity leaves the UK more exposed to spot market dynamics, meaning that a restriction of Russian gas into Europe could provide strong bullish pressure to UK energy markets.
What options do organisations have?
Whilst we are still in somewhat uncertain times, it's always best to ensure that you're comfortable with your own strategy and position.
UK organisations should be thinking about energy contract renewals at least 12-18 months in advance of your contract ending. Typically, longer term contracts are beneficial to spread risk and avoid any spikes in energy pricing.
Work with a trusted energy expert
To ensure you have the best energy procurement strategy for your business, consider working with a trusted energy expert who can help you navigate the current price turbulence and provide a fully PCR2015-compliant route to market. Inspired Energy PLC has the expert insight and knowledge to support you.
Please contact Wayne Brown on 01772 689250 or email wayne.brown@inspiredenergy.co.uk for more information.
Comments are closed.