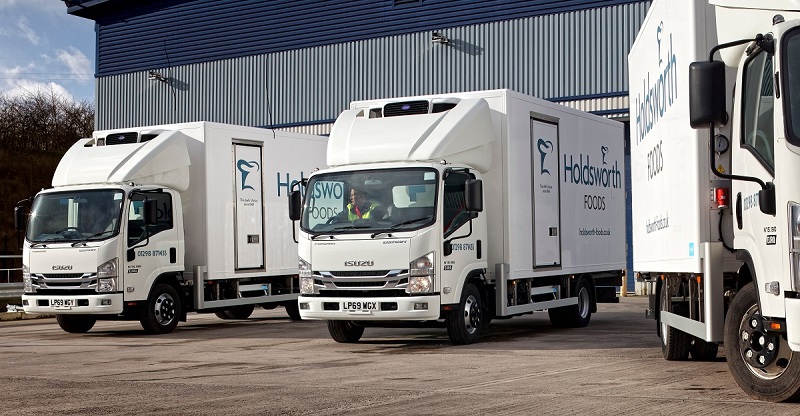 Holdsworth Foods continues to grow its Isuzu fleet
Published on May 27 2020
The recent addition of a further six new Isuzu 7.5 tonne rigids within its all-refrigerated transport fleet means that Cold Chain Federation member Holdsworth Foods now currently operates over 45 Isuzus in total, having taken its first Isuzu back in 2015.
All six of the latest Isuzus have also been specified with the brand-new Holdsworth Foods livery that celebrates the company's 50th anniversary.
"With an excellent payload and proven reliability within our fleet, the Isuzus have become a hugely successful fixture within our transport distribution operation. Not only are they good all-round performing vehicles, but also, most importantly, we have had extraordinarily little down time in the five years since we took our first one," said John Hudd, operations manager at Holdsworth Foods.
All six of the new trucks are Isuzu N75.190 rigids specified with the popular Easyshift automatic transmission and featuring Solomon dual compartment bodies with Carrier Pulsar 600MT refrigeration units. The trucks are carrying chilled products in the front compartment that features a nearside door for ease of access, whilst the frozen produce is in the rear compartment with access through triple rear doors. Air curtains are fitted to both doors, whilst there are thermal curtains fitted to the middle rear door.
The latest Isuzu rigids have been supplied on a five-year deal with repair and maintenance included and the vehicles are anticipated to cover 50,000 km per annum, working out of the company's depots in Evesham and South Wales.
With a current fleet size of 140 refrigerated vehicles at Holdsworth Foods, ranging from 3.5 tonne to 26 tonne rigids, Isuzu is now the predominant manufacturer for the refrigerated dual compartment 7.5 tonne distribution vehicles within the Holdsworth fleet.