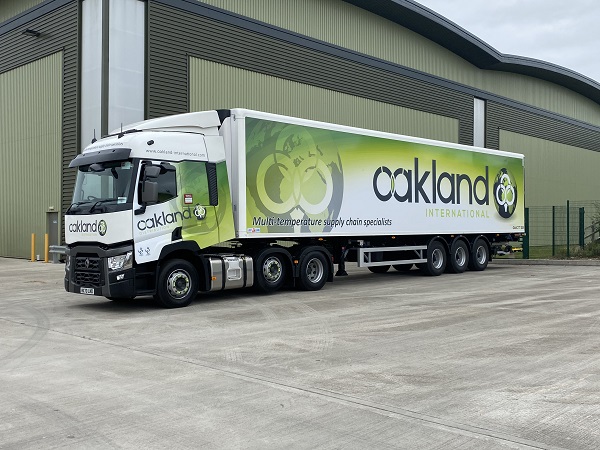 Fleet Investment Extends Reach for Oakland Distribution
Published on September 25 2020
Cold Chain Federation member Oakland Distribution has launched its new fleet of Renault trucks and Cold Chain Federation member Gray & Adams trailers, taking an initial delivery of 20 trailers and 10 tractor units and more than doubling capacity.
Bringing the Oakland fleet to a total of 48 trucks and 55 trailers, Oakland Distribution is the wholly owned subsidiary of supply chain solutions specialist Oakland International.
Oakland's Group MD Shaun Foley commented: "Extending our offer to include Oakland's own fleet has been in response to the needs of customers who wish to see supply chain resilience and control at a time when the market is quite tumultuous.
"We are delighted to be working with Salford Van Hire who provided the Renault tractor units and Gray & Adams for providing us with great products. Our fleet is primarily focussed on delivering a fully tracked customer solution placed across our network of hubs and partner hubs. We already have great partners working with us providing primary transport solutions into many retailers and supplying general distribution support to destinations across the UK in retail and foodservice and we see a long-term need for collaboration with the right partners alongside operating our own core fleet."
Oakland Distribution's new trailers are twin evaporator, multi-compartment units with tail lifts across all kit and satellite controlled with monitored temperature recordings. In keeping with Oakland's constant drive towards carbon neutrality, the new fridge units are amongst the most efficient in the market.
Gray & Adams Sales Manager Ryan Mazgaj commented: "With a shared drive for high-quality, sustainable solutions, Gray & Adams is proud to work with Oakland Distribution and delighted to have supplied 20 single deck, twin evaporator, 13.6m trailers with a host of innovative technical features, such as satellite temperature monitoring. The temperature-controlled trailers also include the latest Carrier Vector HE19 multi-temp refrigeration unit, which offers greater fuel efficiency and longer service intervals. We are delighted to be working with such a progressive company which shares our ethos and look forward to building on this partnership in the future."
Salford Van Hire Contracts and Fleet Engineering Director Steve McNally stated: "In the current climate of so much uncertainty it's good to see a customer being positive and expanding. Salford Van Hire look forward to supporting Oakland International Ltd and creating a long-lasting working relationship with them."
To publicise the company's support for its two local and national charities close to Oakland's heart, the rear doors of the new vehicles include the logos of children's charities the Oakland Foundation and Molly Olly's Wishes.
The fleet, which is expected to grow to 100 prime-movers within the next 12 months, is split between Oakland's three core UK operating sites based in Redditch, Corby, and Bardon.