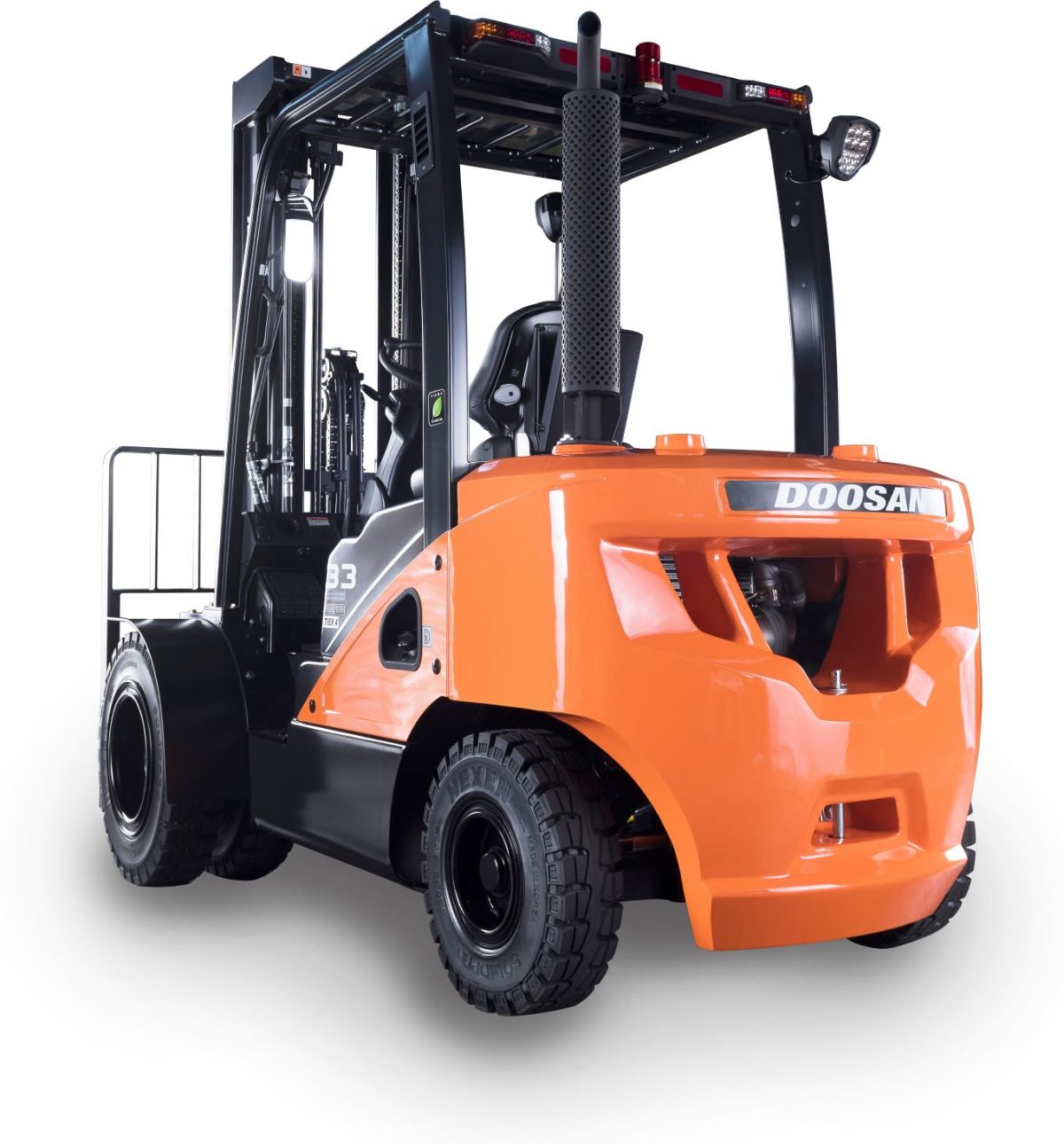 Doosan brings versatility and performance to farmers at BP 2019
Published on October 22 2019
Cold Chain Federation member Doosan, the leading manufacturer of robust high performance forklift trucks, will be assembling a broad range of versatile handling equipment suited to the needs of farming's specialist root crop sector at BP 2019 – the UK's leading potato industry event, 20th – 21st November, Yorkshire Event Centre, Harrogate (Hall 1, Stand 185).
Everything potato farmers require for handling and loading produce will be displayed on the Doosan stand. Alongside three of Doosan's powerful ic engine and electric counterbalance trucks, will be a multi-purpose Telehandler and a compact Skid-Steer loader from Bobcat – part of the Doosan Group and supplied by Bobcat dealership, Grays Machinery. Also on the stand will be a wide range of specialist truck-mounted box rotators and tippers from leading agricultural attachments supplier Broadwater Machinery. All in all, the complete solution to handling root crops will be available to see on one stand.
Counterbalance forklift trucks offer reliable, heavy lifting in sheds and outside in the yard. Doosan's D33S-7 fuel-efficient diesel powered 3.25 tonne capacity counterbalance is built on a compact chassis, enabling it to work in more confined spaces and making it attractive to farmers looking to maximise storage capacity on site. Fitted with a 6.5m mast, this model will allow for block stacking of potato boxes two higher than competitive models – further boosting storage density. The compact design format offers extra manoeuvrability and uniquely has a residual capacity sufficient for lifting two loaded potato boxes. Due to its popularity with farmers, this model is readily available within Doosan's short-term rental fleet for flexible hire during peak periods.
Also on the stand will be Doosan's G30P-7 gas powered 3.0 tonne capacity counterbalance truck. This model has all the advantages of a compact chassis but being gas powered has cleaner emissions, making it suitable for heavy handling tasks within closed spaces, such as potato washing and grading facilities.
Another vehicle well suited to grading and processing environments, is Doosan's B20T-7 3-wheel 48 volt electric counterbalance truck. This tough, versatile three-wheeler has a tight turning circle and being electric, has no emissions. Doosan will also be displaying a new lithium-ion powered pallet truck – useful for moving pallet boxes within a shed – along with one of its standard hand pallet trucks.
All counterbalance models will be displayed fitted with specialist potato box handling attachments from Broadwater Machinery – box rotator, as well as forward and sideways tipping machines. The attachments are fully interchangeable between counterbalance and rough terrain vehicles.
Complementing the Doosan counterbalance vehicles on the stand will be a Bobcat TL38.70 HF Telehandler. This 3.8 tonne capacity telescopic truck can reach up to 7m, making it an attractive option for farmers requiring a heavy lifting yard vehicle for loading lorries. Being a telescopic handler the truck is particularly useful for loading trailers from the side. Also on the stand will be a Bobcat Skid-Steer loader. Useful for a range of duties, this versatile machine can be fitted with a sweeper for keeping the workplace tidy.
David Clarkson, CEO, Doosan Industrial Vehicle UK, says: "Once again, for the 8th consecutive year, Doosan is delighted to demonstrate our commitment to the potato farming sector by being a Silver Sponsor of this event.
"Potatoes and root crops are a vital part of our food supply chain and handling huge quantities of these heavy crops, particularly at peak, is punishing work for both man and machine. We design and build our vehicles to make that task more comfortable and less arduous for the driver, and we engineer in strength and durability to create reliable trucks capable of performing under the toughest of conditions. We're pleased to be at this important potato industry event and we look forward to meeting and discussing with farmers ways in which we can help them drive productivity," he says.
Visit Doosan in Hall 1, Stand 185 to take advantage of Doosan's special show offers, with promotional prices for all trucks ordered on the stand during the event.
More on Doosan at www.doosanforklifts.co.uk