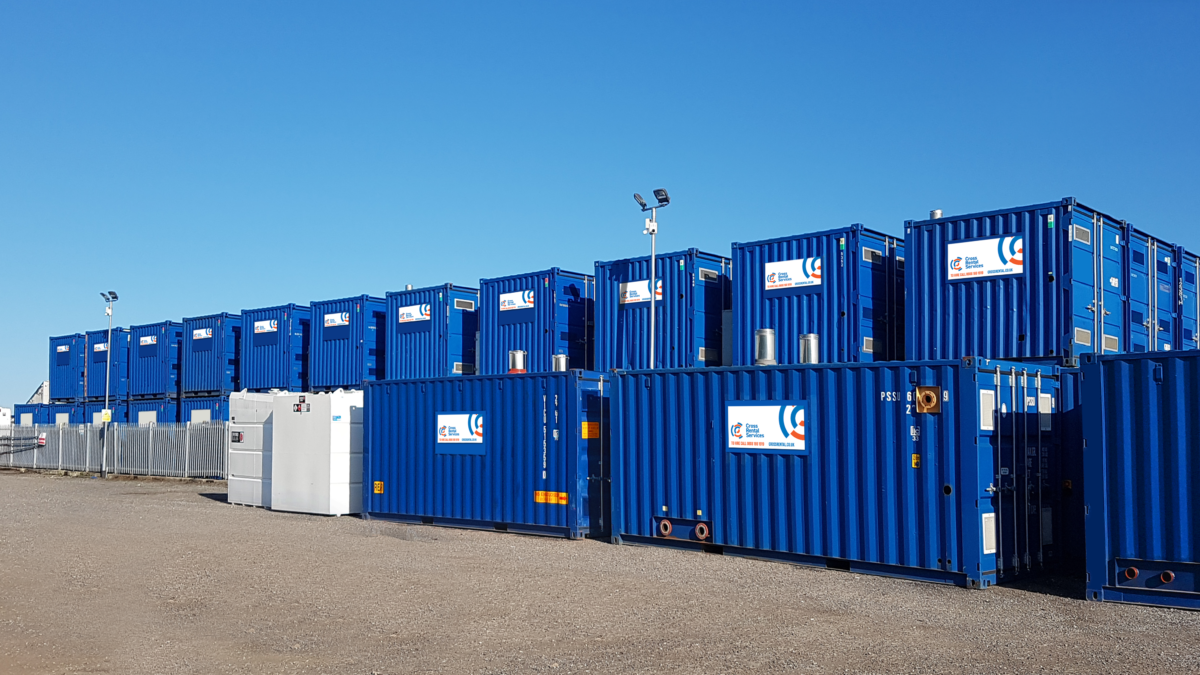 Cross Rental Services Commits to Growth with Strategic Investments into Business Operations and Hire Fleet Expansion
Published on October 30 2023
Andover, Hampshire – Since launching into the UK market in 2018, Cross Rental Services' growth story is nothing short of spectacular. Following initial start-up the Andover based business now has nationwide delivery and service capability, with distribution depots in; Andover, Birmingham, Stoke-on Trent, Haydock, Kent, and Glasgow.
Originating from the long-established Cross Refrigeration business, Cross Rental Services is now supported by private equity, however the senior management continues to lead the company and focus on delivering continued growth through its customer focused strategy. In addition to the UK Temperature Control business Cross Rental Services Group also manages the market leading HVAC hire business in Ireland and the refrigeration focused "equipment as a service business" based out of Dublin, Cork and Warrington.
Focussing on the UK Temperature Control hire business, growth has been achieved both organically and through a structured approach to acquiring synergistic companies. This has given them the ability to serve a comprehensive range of business sectors with all aspects of temporary heating, cooling, and ventilation. Over the past five years the experienced management team has successfully integrated Swegon Hire, Acclimatise, All Seasons Hire, and most recently Hire Heat.
Whilst building the UK business, and integrating the acquisitions, the team have focused on delivering first in class customer service. Developing quality products, people, processes and support systems has been at the heart of the growth story. The available rental fleet has been grown significantly in line with demand and this continues with further investment as the business moves into the 2023/2024 winter season. The boiler fleet now comprises over 700 temporary boilers and represents the largest UK boiler hire fleet. Continued investment has created a diverse fleet, ranging from 22kW to 3MW and available in various formats including; containerised, mobile trailers, and small footprint packaged boilers.
Significant focus has also been given to emerging technologies, particularly those that support customer sustainability goals. This has seen the adoption of modern parts installed during an ongoing boiler refurbishment programme as well as the introduction of condensing boilers. These energy efficient condensing boilers offer the benefit of lower emissions, including NOx emissions, as well as cost saving efficiency gains. Supply chain relationships have also been invested in to offer the reliable supply of renewable fuel options, including the nationwide availability of HVO (hydrotreated vegetable oil.)
To enhance the customer experience the centralised customer support team manages all transactions through a fully integrated ERP system; the dedicated repair and refurbishment engineering team ensures that quality product is always available, the highly skilled field service team ensures high installation quality standards, 24/7/365 call out & regular maintenance activity. Supported by a senior management team that is constantly available for both colleagues and customers with a "never say no" approach to delivering customer service.
As the business has grown it has developed innovative systems and processes that help differentiate it in the markets that it serves. Fully functional remote telemetry systems are built into all boilers and chillers; this enables the team to manage the equipment on-hire in real-time and assess the performance including; running temperatures, fault alerts, power supply status, fuel usage in line with demand and much more. The system enables the engineering team to triage and fix potential problems remotely and seamlessly. In support of this a much-improved service management system is being implemented. This will give real time data for all customer facing engineering colleagues and provides visibility for covering available skills to match demand, product availability, service logistics, field service activity, parts supply and ancillary management.
Investment in all aspects of the business is planned for 2024 and beyond to support continued growth, in both the current team of 150+ colleagues, to the HVAC rental fleet – now the UK's biggest. Alongside people, process and rental equipment; Cross Rental Services will continue to develop technology capable of delivering consistent improvement in the customer experience, to put the customer firmly at the heart of everything it does.
Comments are closed.