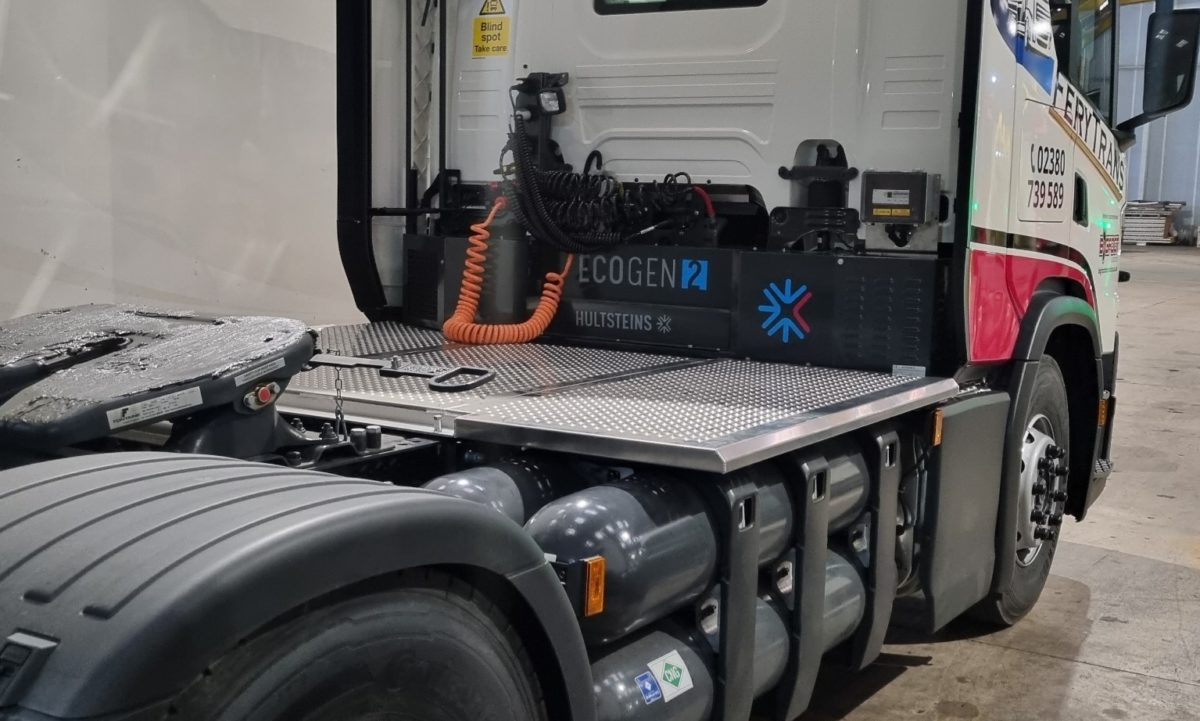 Cooling on gas – cool operator cuts carbon and cost with Ecogen
Published on June 2 2023
Ferytrans has returned to Cold Chain Federation member Hultsteins for a repeat order of Ecogen systems which, connected to 6 new Scania CNG tractors, will power its current trailer refrigeration units and cut carbon emissions.
Managing Director, Feri Lazar said, "Sustainability and carbon reduction are key drivers for our customers. These gas-powered tractors will reduce our carbon emissions by around 80%. Plus, by fitting Ecogen to run the trailer fridges on electric, we will further reduce carbon emissions by around 17 tonnes per vehicle combination per year."
Ferytrans is a dedicated provider of temperature-controlled transport and owner of BigFoot Logistics. Based in Southampton, the two companies operate 40 modern Scania tractor units and 65 high-specification dual temperature trailers. They work for major retailers and brands including Amazon, Tesco, and Pork Farms. The new CNG Scanias will be put to work for their customer, Lidl.
"Ecogen Cost Saver is a sustainable and retrofittable refrigeration solution," says Graham Usher, Managing Director, Hultsteins, UK and Ireland. "It allows operators to run their trailer fridge units on electric, thereby cutting carbon emissions by around 80%, DPM by 98% and NOx by 400%. It also reduces R&M on the fridge diesel engine and cuts running costs."
Ecogen is an electric-hydraulic drive system that transforms diesel fridge units into electric operation when coupled to the tractor. It uses an engine PTO from the tractor engine to generate a constant 400V of electric to run the built-in electric motor in the fridge during transit. Hultsteins also provide a bespoke battery pack to keep the trailer fridge running when parked.
"By running the fridge on electric," adds Feri Lazar, "Ecogen also helps minimise noise during deliveries, which is particularly beneficial in residential areas. The combination of Scania CNG tractors and Hultsteins Ecogen provide the optimum sustainable solution for refrigerated transport."
Ferytrans have purchased the Ecogen systems and calculate ROI to be around 18 months per system.
Hultsteins UK also offers Ecogen Cost Saver on an operating lease for as little as £10 a day. To find out more about Ecogen CostSaver, visit https://www.hultsteins.co.uk/

Comments are closed.