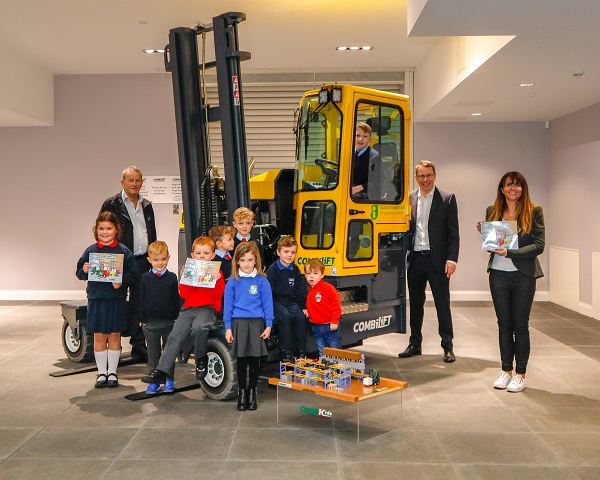 CombiKids Children's' Book Now Published
Published on December 1 2020
Award winning company and author join forces for a successful "Combi'nation"

An exciting new children's book has been launched just in time for Christmas. Collaboration between forklift manufacturer Combilift and award-winning Irish author Emer Conlon has resulted in "The Forklifts and their Secret Superpowers", which depicts the main Combilift products as cartoon characters. Innovation has been a hallmark of Combilift and this has now been extended to capture children's imaginations.
The combination of a children's book and one of the largest indigenous companies in Ireland may not seem a likely fit, but according to Emer this is a novel way to communicate with existing and potential customers, as well as being involved in the education of the next generation. "I also wanted to use it as a marketing tool for the adults and so I used the USPs of the actual forklifts and turned them into the superpowers of the characters. That way both adults and children would get something from the book. Martin McVicar (Combilift MD) really liked the idea – especially the educational aspect for children and as a result, CombiKids was created. So Combilift is 'Lifting Innovation' and now CombiKids is 'Lifting Imaginations'"
"The aim was to achieve a balance between Combilift branding and creating an exciting story featuring endearing characters that children would love. The Combilift adventure is a real page turner and the book also has a couple of 'baddies' – but these are of course not Combilift trucks!" For further enjoyment, there is an activity section at the back which includes something for all age groups such as one-off activities (join the dots and a word search puzzle) and activities that can be completed again and again (a maze, spot the difference and a map of the world).
The CombiKids book highlights overcoming difficulties, the importance of friendship and that bullying is unacceptable, and the hero is always a Combilift truck who "saves the day". Also as the forklift trucks are all different shapes and sizes, there is a focus on the importance of being accepting of others' differences, no matter what they look like.
Martin explains, "We believe it is very important to be involved with the education of the next generation and we already have a number of programs including apprenticeships, tours, etc. However, our new CombiKids initiative will involve even younger children as they 'buy-into' the Combilift brand by creating an association with it. This will encourage future engineers and other budding talent, as well as motivating children to read. It is a great way to highlight Combilift to a wider community that may not be overly familiar with it".
Combilift is a proud member of Guaranteed Irish, and the CombiKids book reflects the company's ethos of supporting local businesses and the importance of Irish jobs – particularly during Covid19. The book was printed, illustrated and typeset in Ireland. Combilift is also very mindful that charities are suffering during the pandemic in terms of support and donations and has committed to donating all proceeds from book sales to the deserving charity, Make a Wish Ireland. To purchase the CombiKids book or for further information on the characters, visit www.Combi-Kids.com