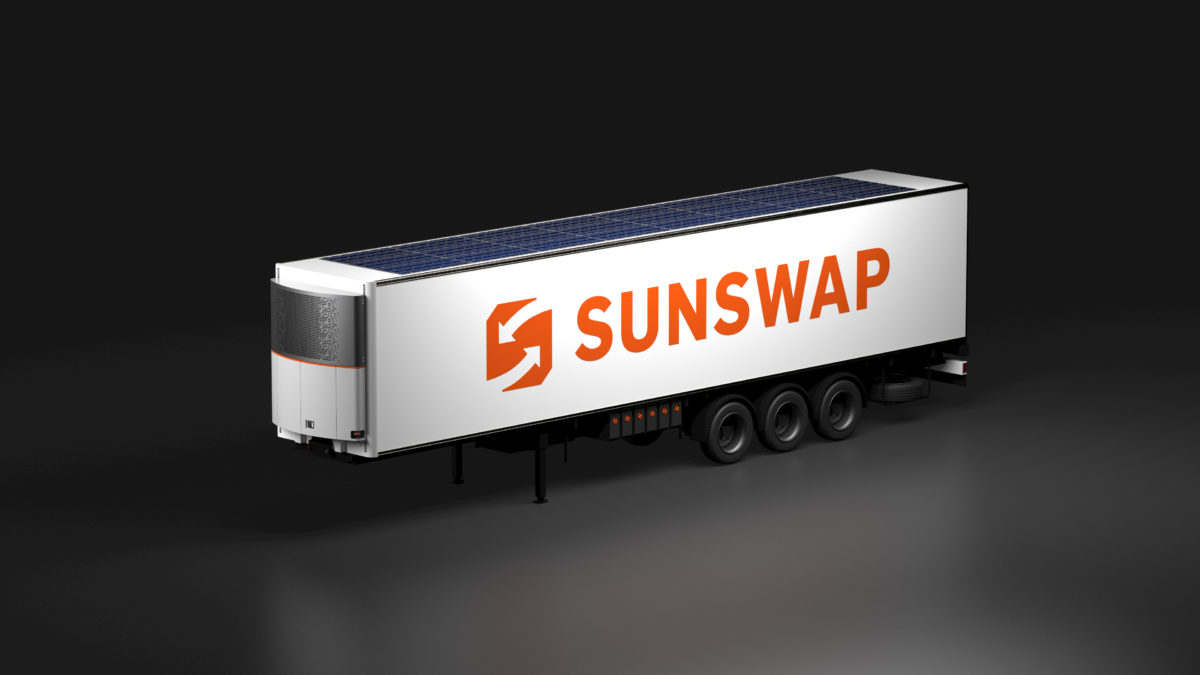 Cleantech Firm Sunswap Announce First Customer Deployment with Global Shipping and Logistics Company DFDS to Decarbonise the Cold Chain
Published on October 11 2021
Leading engineering firm & Cold Chain Federation member Sunswap has announced an agreement with international shipping and logistics company DFDS another Cold Chain Federation member, to deploy a Sunswap transport refrigeration unit (TRU) into their fleet in early 2022, following which an order for production units is expected to be confirmed.  
After a successful investment round at the start of the year, Sunswap has been engaging with key stakeholders in the industry in order to bring their cost-effective, zero-emission TRU products to market. The deal with DFDS, Northern Europe's largest shipping and logistics company, is a significant step in the firm's mission to support the transition away from diesel TRUs and decarbonise the cold chain.
This aligns with DFDS's corporate social responsibility strategy to invest in innovative, sustainable technology that reduces pollution, waste and noise in the communities in which they operate. In September 2020, DFDS launched a climate action plan to become carbon neutral by 2050. TRUs are used across the world, in particular by supermarkets and logistics companies, to transport essential resources such as vaccines and chilled produce.
The deployment will involve DFDS using Sunswap's zero-emission TRU on UK roads in February 2022. The demonstrator will be used to transport real-world produce for DFDS, so that they can road test a green alternative for their current fleet. Following a successful deployment DFDS will confirm an agreed pre-order.
This landmark partnership caps a busy year for Sunswap, with the firm having moved headquarters to a larger engineering facility to expand the team and expedite product development. In September, the firm was also selected as one of Tech Nation's Net Zero 2.0 cohort, a growth programme backed by the Department for Digital, Culture, Media and Sport.
Michael Lowe, Sunswap's CEO, said:
"It is hugely exciting to be able to announce our partnership with DFDS. They are exploring the optimal way to transition their TRU fleet to zero-emission technology and we are delighted to be working with them as part of the solution.
"The Sunswap team has been working incredibly hard behind the scenes this year, developing our unique TRU technology and building partnerships with large supermarkets and logistics firms. It has been pleasing to see that businesses in the industry are increasingly cognisant of the need to switch to green transport refrigeration to support the drive to achieve net zero. Our order books are filling up and we welcome discussions with any businesses looking to transition to cost-effective, industry leading sustainable technology.
"Working with DFDS to deploy a zero-emission TRU, with the potential for a significant order to follow, is a substantial milestone for the firm. We will continue to work at speed, alongside government and the cold chain industry, to drive forward Sunswap's mission to decarbonise the cold chain."
Eddie Green, DFDS's Head of Cold Chain UK & Ireland, said:
"DFDS is committed to becoming carbon neutral by 2050. We are pleased to now have steps in place to explore how we can eliminate emissions from our trucks operating our cold chain services.
"I am confident the deployment with Sunswap will be a success and am looking forward to seeing how their trailer works within our operation. We are committed to investing in innovative technologies that support a better climate. If everything goes as planned we are in a position to place an order straightaway.
"DFDS continues to work with businesses that can help us to make progress on our ambitious climate action plan."