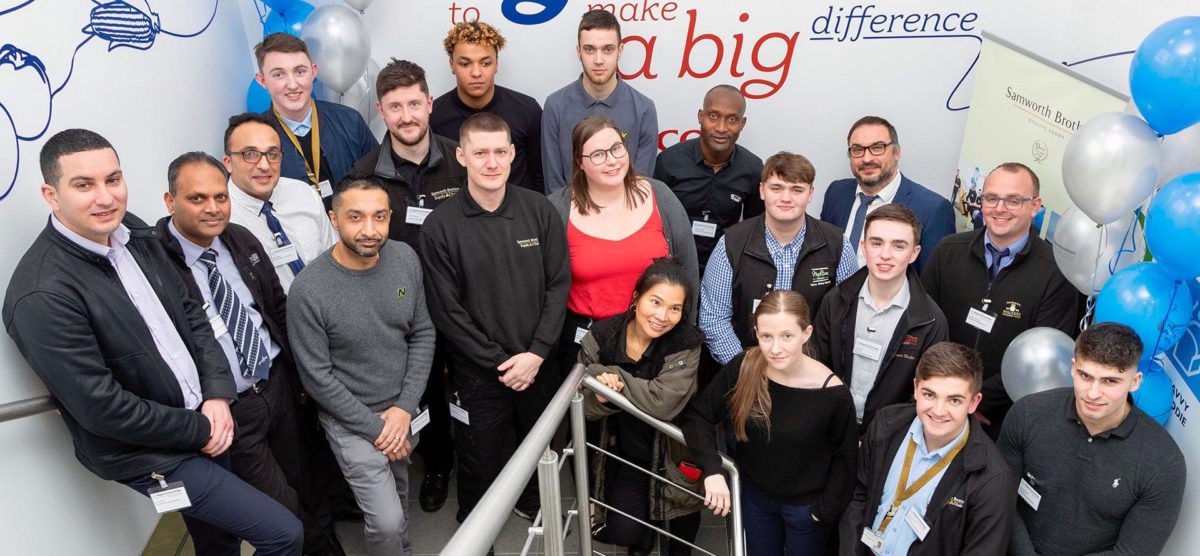 Celebration Highlights Apprenticeship Success
Published on February 6 2020
Apprentices from Cold Chain Federation member Samworth Brothers businesses in Leicestershire came together this week for a National Apprenticeship Week celebration. The event took place at Bradgate Bakery in Beaumont Leys and was attended by the Assistant City Mayor, Councillor Vi Dempster.
Samworth Brothers Group Executive Director Paul Davey, responsible for People, said he supported this year's National Apprenticeship Week 2020 message that apprentices are 'Making an Impact, Not the Tea'.  Sometimes parents, youngsters and society, in general, could have this outdated view.
"Our apprentices are very much doing real jobs, getting high-quality learning opportunities and making a positive impact on our business. We have a great variety of apprenticeship opportunities ranging from programmes for school leavers and young people, through to more life-long learning opportunities for colleagues across all age ranges and at different career stages."
Apprentice guests included Tian, working at Bradgate Bakery in Leicester and studying for a Level 3 qualification in electrical and mechanical engineering as a Food & Drink Maintenance Engineer.
"I joined Samworth Brothers in 2018 as a school leaver, having never done any engineering before I started on this programme. For me, being an apprentice is a great opportunity, because you get to learn a trade and earn a living at the same time. I've learned huge amounts in my first year as an apprentice. The skilled team of engineers based here are my teachers and I also spend one day a week in college. At the end of my four years, I will have a Level 3 qualification in electrical and mechanical engineering and I'll be qualified to undertake a multi-skilled engineering role." Tian, Apprentice Food and Drink Maintenance Engineer.
Another apprentice guest Alex is working towards a Level 5 apprenticeship award in Operational Management.
"I work in the Process Development department which is a fast-paced environment where we trial lots of new product ideas for different customers. I'm being given the opportunity to learn new skills, gain new experiences and to develop my confidence. Along the way, I'm discovering that it's important to take all the opportunities that come my way and not to worry about how many questions I ask!" Alex, Technical Graduate Apprentice
Read about more of our apprentice journeys at