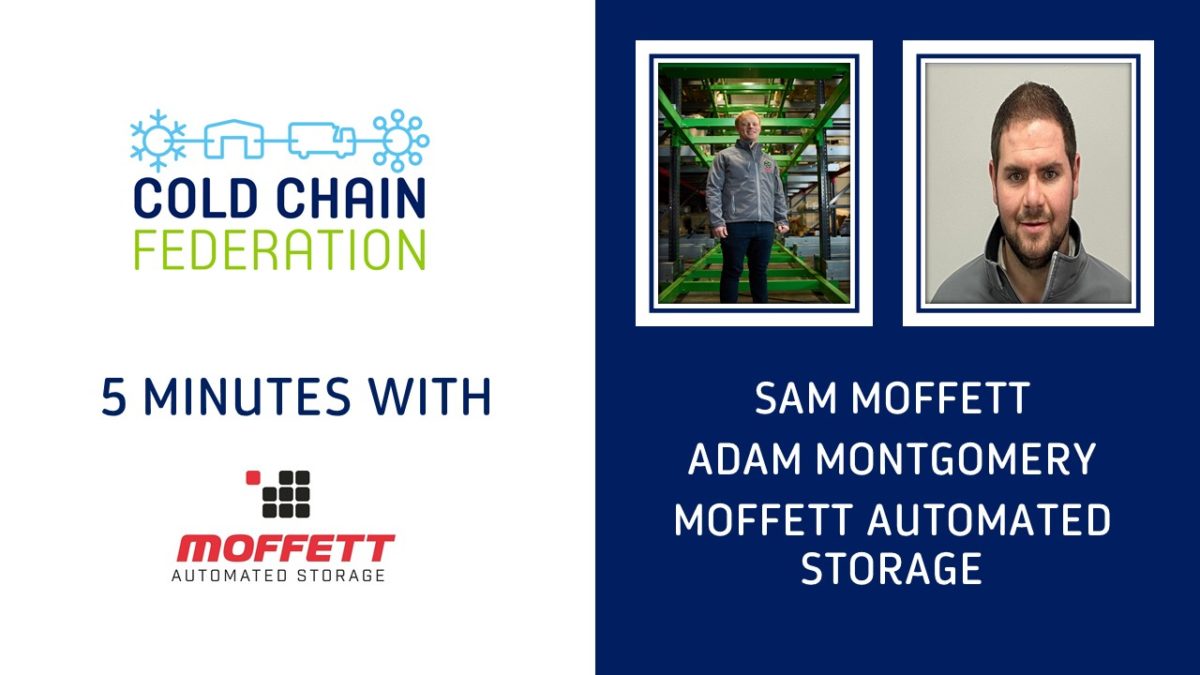 5 Minutes with Cold Chain Federation Member Moffett Automated Storage
Published on October 1 2021
Moffett Automated Storage joined the Federation in May of this year, they provide High Density Automated Pallet Warehousing solutions, designed and developed to guarantee optimum throughput. Thanks to our solutions, we can increase cold storage density by up to 70% whilst also making significant energy savings. We currently have over 30,000 pallets spaces operating in cold storage.
Q. Who is the main person for members to contact?
Sam Moffett who is the Managing Director with over 10 years' experience in manufacturing and logistics and Adam Montgomery who is the Operations Manager.
Q. What do they do and contact details?
Sam has a long history in the material handling sector, as his family is closely associated with the world-renowned Moffett Mounty and co-founders of Combilift. Sam has continued the trend of previous generations by founding this company, having spotted an opportunity for an automated palletised system whilst working at a previous job. With a history in R&D, Sam, and Moffett Automated Storage are committed to innovation and are constantly looking for ways to improve the system's efficiency, such is the company's commitment to sustainability.
Sam can be contacted via email: sam@moffettas.com or by the main phone: +3534780300.
Adam Montgomery, our operations manager, is the main contact for customers. Adam oversees all site layouts, whilst working alongside our racking suppliers to achieve the best possible storage density of each warehouse for every customer, guaranteeing the customer a site layout that gives them the best possible use of their warehousing space.
Adam can be contacted via email: adam@moffettas.com or by the main phone: +3534780300.
Q. Why is it important to be a part of the Cold Chain Federation?
We feel that throughout the federation there is a common goal of producing and maintaining the most efficient and reliable forms of transporting and storing cold goods, and we feel that we can both learn and share our knowledge of this sector with like-minded people, in an environment where all parties have different expertise in this sector. We think that by bringing all these companies together in the form of the Cold Chain Federation, that the best possible warehousing solutions for cold storage can and will be achieved.
Q. What are Moffett's aspirations for the industry?
At Moffett Automated Storage we see the future of cold storage in Automation. Automated palletised systems such as the Moffett '4D Taxi' AS/R system have already proven to be a more efficient warehousing solution, allowing businesses to make the best possible use of their cold storage space, maximising storage density while maintaining optimum throughput, minimising energy loss in the cold storage, and eliminating the need for human presence in the cold storage, allowing your cold storage to be operated 24/7 without disruption, whilst the health and safety of your employees are guaranteed.
A MAS system minimises energy loss, by having much smaller doors in and out of cold storage, eliminating the need for lights, and by reducing the presence of people and forklift trucks in the cold storage. By reducing the energy loss reaffirms the company's commitment to producing a more sustainable cold storage warehousing solution which in turn leads to savings for the customer.