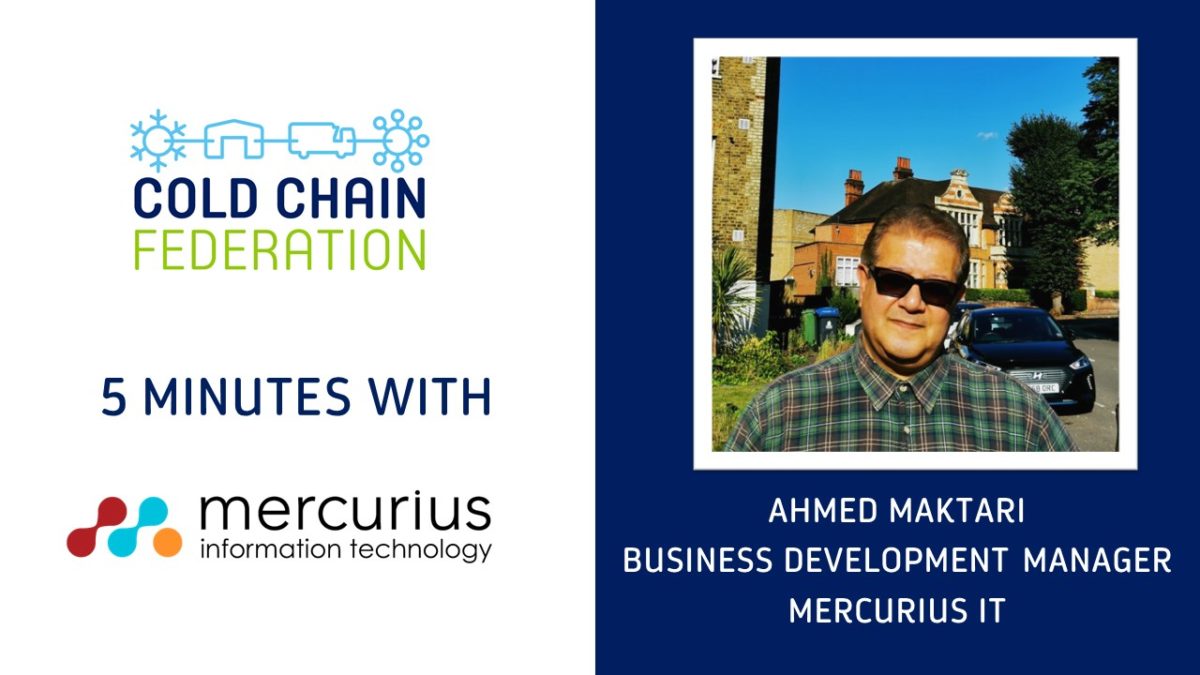 5 Minutes with Cold Chain Federation Member Mercurius IT
Published on April 1 2022
Mercurius IT recently joined the Federation in October 2021, the only UK provider of 3PL Dynamics: a modular software solution for the logistics industry, based on Microsoft Dynamics. Mercurius are supporting our Security Week in May and we thought it was time to share a bit more information about who they are and what they provide.
Q. Who is the main person for members to contact?
Ahmed Maktari, Business Development Manager at Mercurius IT.
Q. What do they do and contact details?
Ahmed can be contacted either by Mobile 07786 065151 or Email: ahmed.m@mercuriusit.com

Ahmed is the Business Development Director at Mercurius IT and the main contact for all enquiries. Coming from service background, Ahmed understands what customers are looking for and the complexities that must be overcome to deliver truly effective solutions. For approximately 20 years, he has helped small and medium sized companies with their Data Analytics, Visualisation, ERP and CRM solutions.

Providing business management software (ERP, CRM etc.) since 2005, Mercurius IT are Gold Microsoft Partners and are the only UK provider of 3PL Dynamics: a modular software solution proven to be the branch standard for the logistics industry.

The solution specifically enables cold storage providers to overcome critical challenges with the help of specific features like pallet temperature recording, batch registration, production and expiry date tracking, strategies for product specific temperature-controlled zones, and much more. Along with cold storage, 3PL Dynamics manages all three logistics verticals (Warehousing, Freight, and Transport) and integrates with Finance, EDI, and Customer Portal.

Please contact Ahmed for more details.
Q. Why is it important to be a part of the Cold Chain Federation?
Being part of the Cold Chain Federation means you stay on top of the latest cold chain news, including events, ways to reduce costs, changing regulations, and discovering the best solutions to challenges.

We are glad to be a member of the Cold Chain Federation because it is the best platform to share our knowledge and assist cold storage providers. Through the 3PL Dynamics software solution, Mercurius IT can help to significantly improve the operational efficiency of logistics service providers.

Q. What are Mercurius IT's aspirations for the industry?
We aim to assist all UK logistics service providers in streamlining their processes to save time and costs.

We have gained insight into the processes and challenges of third-party logistics, enabling us to work closely with you to provide a flexible solution developed specifically for logistics service providers. With Boltrics 3PL Dynamics and D365 Business Central, you can run your business more effectively in today's competitive environment.
Find out more about Mercuris IT on their website – https://www.mercuriusit.com/

Comments are closed.