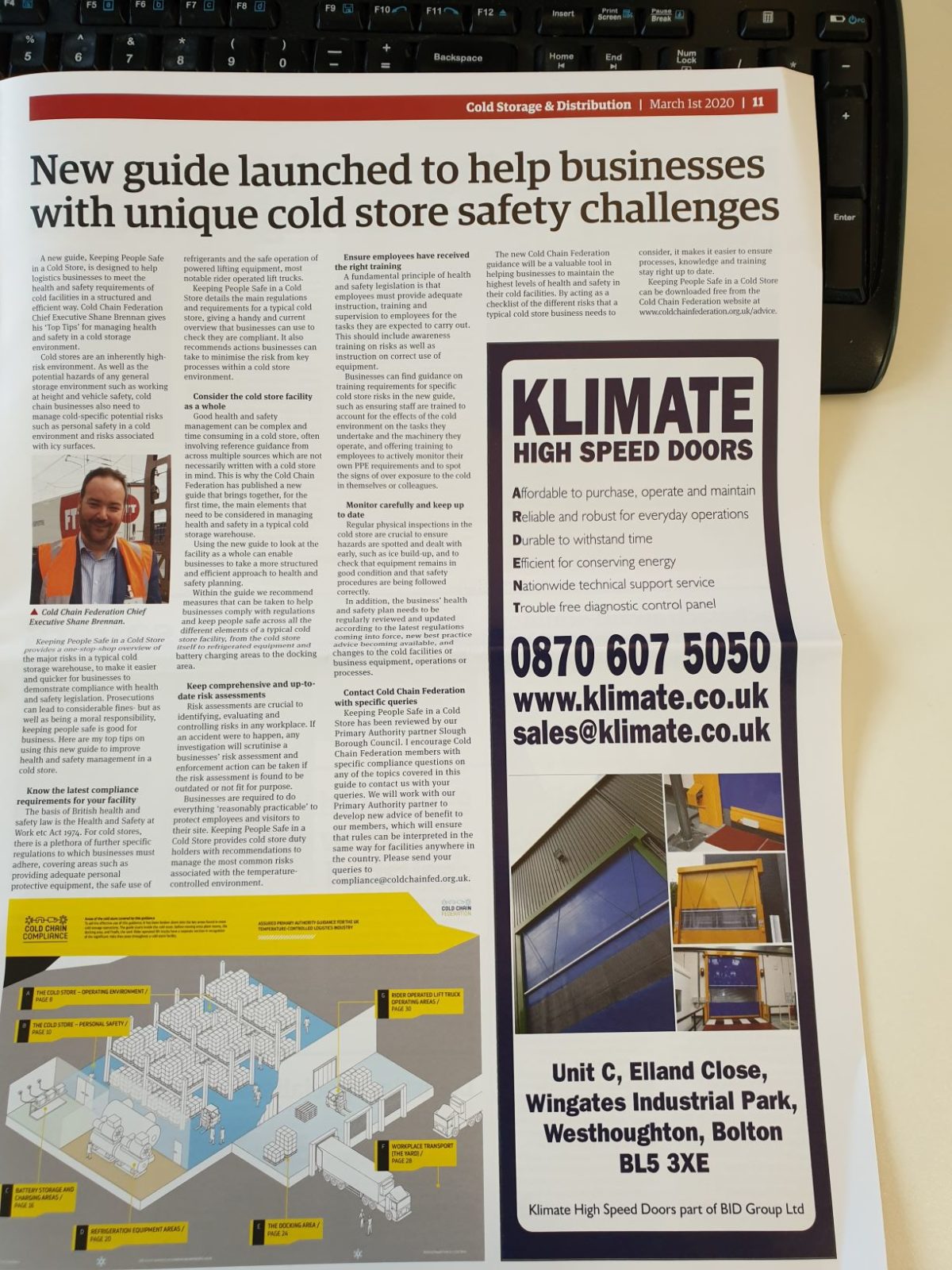 Read my latest column in this week's Warehouse & Logistics News Magazine
Published on March 9 2020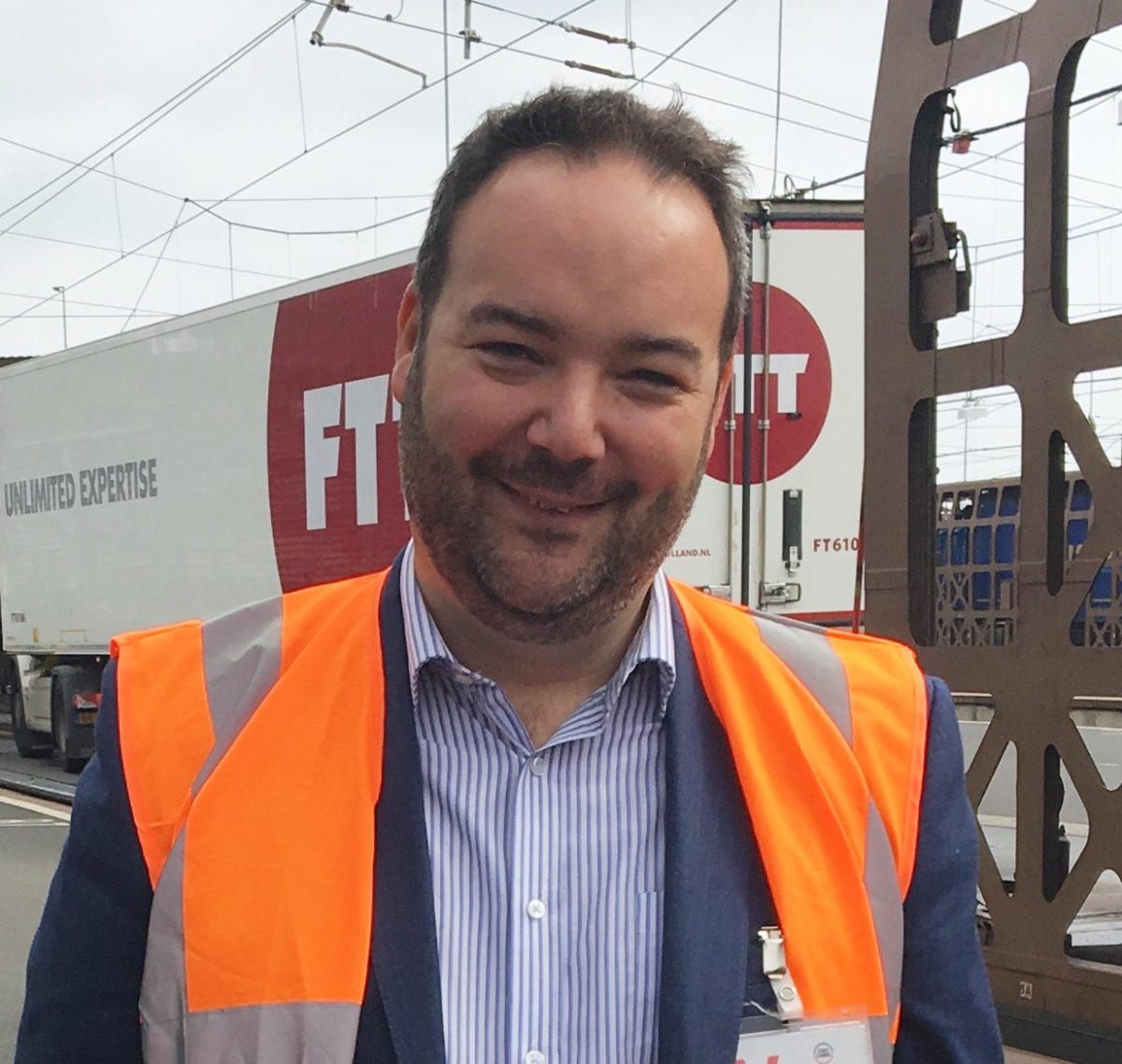 New guide launched to help businesses with unique cold store safety challenges
A new guide, Keeping People Safe in a Cold Store, is designed to help logistics businesses to meet the health and safety requirements of cold facilities in a structured and efficient way. Cold Chain Federation Chief Executive Shane Brennan gives his 'Top Tips' for managing health and safety in a cold storage environment.
Cold stores are an inherently high-risk environment. As well as the potential hazards of any general storage environment such as working at height and vehicle safety, cold chain businesses also need to manage cold-specific potential risks such as personal safety in a cold environment and risks associated with icy surfaces.
Keeping People Safe in a Cold Store provides a one-stop-shop overview of the major risks in a typical cold storage warehouse, to make it easier and quicker for businesses to demonstrate compliance with health and safety legislation. Prosecutions can lead to considerable fines- but as well as being a moral responsibility, keeping people safe is good for business. Here are my top tips on using this new guide to improve health and safety management in a cold store.
Know the latest compliance requirements for your facility
The basis of British health and safety law is the Health and Safety at Work etc Act 1974. For cold stores, there is a plethora of further specific regulations to which businesses must adhere, covering areas such as providing adequate personal protective equipment, the safe use of refrigerants and the safe operation of powered lifting equipment, most notable rider operated lift trucks.
Keeping People Safe in a Cold Store details the main regulations and requirements for a typical cold store, giving a handy and current overview that businesses can use to check they are compliant. It also recommends actions businesses can take to minimise the risk from key processes within a cold store environment.
Consider the cold store facility as a whole
Good health and safety management can be complex and time consuming in a cold store, often involving reference guidance from across multiple sources which are not necessarily written with a cold store in mind. This is why the Cold Chain Federation has published a new guide that brings together, for the first time, the main elements that need to be considered in managing health and safety in a typical cold storage warehouse.
Using the new guide to look at the facility as a whole can enable businesses to take a more structured and efficient approach to health and safety planning.
Within the guide we recommend measures that can be taken to help businesses comply with regulations and keep people safe across all the different elements of a typical cold store facility, from the cold store itself to refrigerated equipment and battery charging areas to the docking area.
Keep comprehensive and up-to-date risk assessments
Risk assessments are crucial to identifying, evaluating and controlling risks in any workplace. If an accident were to happen, any investigation will scrutinise a businesses' risk assessment and enforcement action can be taken if the risk assessment is found to be outdated or not fit for purpose.
Businesses are required to do everything 'reasonably practicable' to protect employees and visitors to their site. Keeping People Safe in a Cold Store provides cold store duty holders with recommendations to manage the most common risks associated with the temperature-controlled environment.
Ensure employees have received the right training
A fundamental principle of health and safety legislation is that employees must provide adequate instruction, training and supervision to employees for the tasks they are expected to carry out. This should include awareness training on risks as well as instruction on correct use of equipment.
Businesses can find guidance on training requirements for specific cold store risks in the new guide, such as ensuring staff are trained to account for the effects of the cold environment on the tasks they undertake and the machinery they operate, and offering training to employees to actively monitor their own PPE requirements and to spot the signs of over exposure to the cold in themselves or colleagues.
Monitor carefully and keep up to date
Regular physical inspections in the cold store are crucial to ensure hazards are spotted and dealt with early, such as ice build-up, and to check that equipment remains in good condition and that safety procedures are being followed correctly.
In addition, the business' health and safety plan needs to be regularly reviewed and updated according to the latest regulations coming into force, new best practice advice becoming available, and changes to the cold facilities or business equipment, operations or processes.
Contact Cold Chain Federation with specific queries
Keeping People Safe in a Cold Store has been reviewed by our Primary Authority partner Slough Borough Council. I encourage Cold Chain Federation members with specific compliance questions on any of the topics covered in this guide to contact us with your queries. We will work with our Primary Authority partner to develop new advice of benefit to our members, which will ensure that rules can be interpreted in the same way for facilities anywhere in the country. Please send your queries to compliance@coldchainfed.org.uk.
The new Cold Chain Federation guidance will be a valuable tool in helping businesses to maintain the highest levels of health and safety in their cold facilities. By acting as a checklist of the different risks that a typical cold store business needs to consider, it makes it easier to ensure processes, knowledge and training stay right up to date.
Keeping People Safe in a Cold Store can be downloaded free from the Cold Chain Federation website at www.coldchainfederation.org.uk/advice.