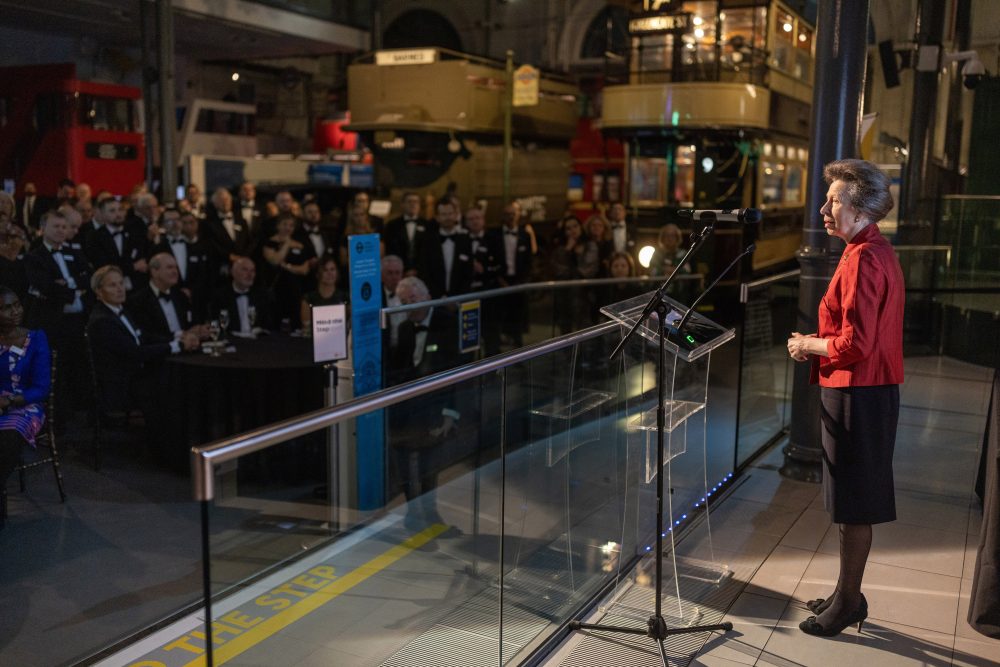 Transport and logistics industry celebrates a quarter century of Transaid at annual showcase
Published on November 17 2023
International development organisation Transaid celebrated its 25th anniversary last night in London with its largest ever showcase, attended by more than 170 industry supporters, partners and development organisations.
Transaid's Patron, HRH The Princess Royal, addressed assembled guests, thanking them for their interest, enthusiasm, and commitment to Transaid's life-saving work.
The event, held at the London Transport Museum, demonstrated the wealth of support for Transaid's many projects, which have benefitted people in more than 20 countries across predominantly sub-Saharan Africa.
Caroline Barber, CEO of Transaid, said: "I am immensely proud of all that Transaid, and our partners, have delivered over 25 years. We have grown the scale and impact of our work, improving access to healthcare services for communities in Africa, delivering pioneering road safety initiatives and working tirelessly to reduce death and injury on the roads."
Highlighting the benefits of supporting Transaid as a corporate partner, Andrew Malcolm, Chief Executive of the Malcolm Group, and a gold sponsor of the event, said: "In 2014, we pledged to utilise our expertise, resources, and global reach to support Transaid's mission to transform communities in sub-Saharan Africa. Our partnership with Transaid is a very special one and continues to be a source of great pride to me."
Transaid was founded 25 years ago by Save the Children, the Chartered Institute of Logistics and Transport (UK) and The Princess Royal. Its aim has always been to support people to build the skills they need to transform their lives – with a focus on improving road safety and increasing access to healthcare for rural communities.
The entire Transaid team was in London to promote the organisation's work, which currently spans nine countries, including professional driver training projects in Ghana, Mozambique, Sierra Leone, Tanzania, Uganda and Zambia. Transaid recently extended its motorcycle safety work with the FIA Foundation in Kenya, plus is working in South Africa and the UK to better understand the strategies young men implement to keep themselves safe while walking to public transport in low-income areas.
Transaid is also seeking the next phase of donor funding for its bicycle ambulance project in Zambia, which has been proven to dramatically reduce severe malaria mortality in children under six and described by the World Health Organisation as being "feasible, safe and effective in hard-to-reach communities".
For more information and to find out how you can support the organisation visit www.transaid.org.
Comments are closed.