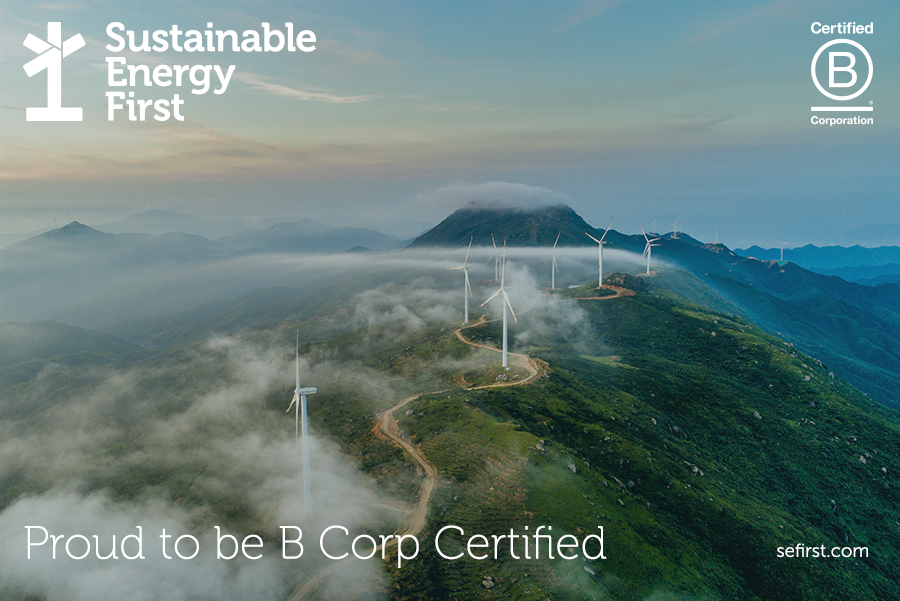 Sustainable Energy First achieves B Corp Certification
Published on November 21 2023
Cold Chain Federation member are incredibly proud to announce that Sustainable Energy First is a certified B Corporation.
As a B Corp, we join a global community of businesses that meet high standards of social and environmental impact. The certification is an acclamation that our business is a force for good and complements our purpose of inspiring and empowering our people to create a positive difference for themselves, our clients, and the planet.
We join other notable B Corp Certified companies such as; The Body Shop, Innocent Drinks, Guardian media group, Brewgooder independent beer brand, Tony's Chocolonely, and the Jamie Oliver group: Media, restaurants, products.
Among a range of ESG benchmarks, B Corp certification is a widely recognised gold standard. The assessment body, B Lab, reviewed our impact across five key pillars and to achieve the certification, organisations must meet high levels of overall social and environmental performance, public transparency and legal accountability to balance profit and purpose.
Joining the B Corp movement marks a significant milestone in our own journey. Earlier this year we made a commitment to decarbonising the UK's business carbon footprint by 327,170 tonnes of CO2e by 2028. The decarbonisation target represents a core element of the company's sustainability strategy and reflects the business' commitments to assist its clients with their carbon footprint reduction and establish a framework for climate action.
Sustainability is at the heart of everything we do – in more than name only, and B Corp certification reinforces our beliefs. We are striving to better ourselves and our clients by creating sustainable energy opportunities for the UK's most prominent organisations. As a B Corp in the energy industry, we're counted among businesses that are leading a global movement for an inclusive, equitable and regenerative economy.
Certified B Corporations, or B Corps, are companies verified by B Lab to meet high standards of social and environmental performance, transparency, and accountability. Businesses that become B Corps have seen great results: committed and motivated employees, increased customer loyalty, higher levels of innovation, and market leadership.
The B Corp framework is a catalyst for continuous improvement, making our business accountable and responsible to its stakeholders with an opportunity to review our own practices and procedures. It is a notable step and declaration of intent in our desire to create meaningful change; to strive for profit with purpose. Today, there are over 1,500 certified B Corp businesses in the UK community, and we are proud to be one of them.
To find out more contact partnerships@sefirst.com or visit sefirst.com

Comments are closed.