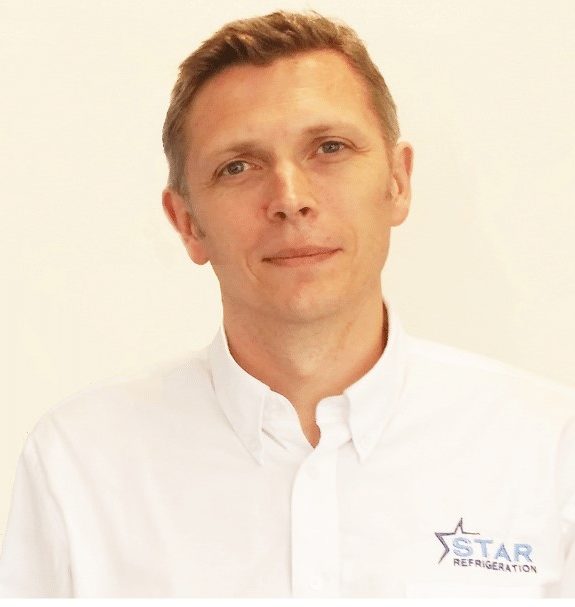 Star Refrigeration Joins Expert Panel at the IOR's Tech Talk to Discuss the Net Zero Transition
Published on November 4 2021
Dr Rob Lamb will deliver a presentation based on his paper entitled 'The Journey to Net Zero – Industrial Refrigeration'
Cold Chain Federation member Star Refrigeration Group Sales and Marketing Director Dr Rob Lamb is set to give an informative talk for the Institute of Refrigeration (IoR) this evening at 5pm. Entitled 'RACHP- The Journey to Net Zero', the free Tech Talk webinar which is accessible online will delve into a sector by sector analysis of the steps required to meet the UK's climate targets.  
Focusing on the environmental impact of industrial refrigeration systems and the net zero transition, Dr Lamb will join a panel of experts from the commercial refrigeration, air conditioning, heat pump and transport refrigeration sectors to discuss their readiness to meet the UK's Net Zero goals by 2050. The panellists will also explore areas where progress is needed and the initiatives and tools that are in place to help the industry achieve this important deadline.
Dr Lamb said, "I'm delighted to be taking part in this vital information session hosted by the Institute of Refrigeration. I hope the Tech Talk reaches as many interested parties and industry stakeholders as possible so that we can work together to create a more sustainable tomorrow for RACHP"
A fervent advocate of low carbon technology and practices, Dr Lamb has been recently presented with the Fred Jamieson Award at the RAC Cooling Awards for the instrumental role he has played in supporting the sector's transition towards net-zero emissions. The upcoming talk will revisit some of Dr Lamb's most salient findings throughout the course of his research.
During his presentation, Dr Lamb will consider the positive steps which have already been taken to lower the environmental impact of industrial refrigeration systems through direct and indirect energy consumption reduction and will look at the future demands placed on the cooling industry by the rapid growth in population. Reflecting on the multiple factors driving the transition to net zero, Dr Lamb will conclude with an overview of new developments in low carbon technology, better data monitoring analysis, maintenance and enhanced recovery of waste heat to support the country's climate ambitions.
The Tech Talk meeting which is set to offer attendees a practical insight into sustainable cooling and heating practices will be followed up by a discussion on the sector's journey to net-zero featuring all of the panelists, with time for Q&A at the end of the session.
The IOR event will take place at the Gulbenkian Room at the One Park Crescent Conference Centre on Great Portland Street in London at 5pm on Thursday 4th November 2021.
To register for the free webinar, go to https://register.gotowebinar.com/register/8170697822809983757 . Those who register their interest will also receive a copy of the recording for later viewing.