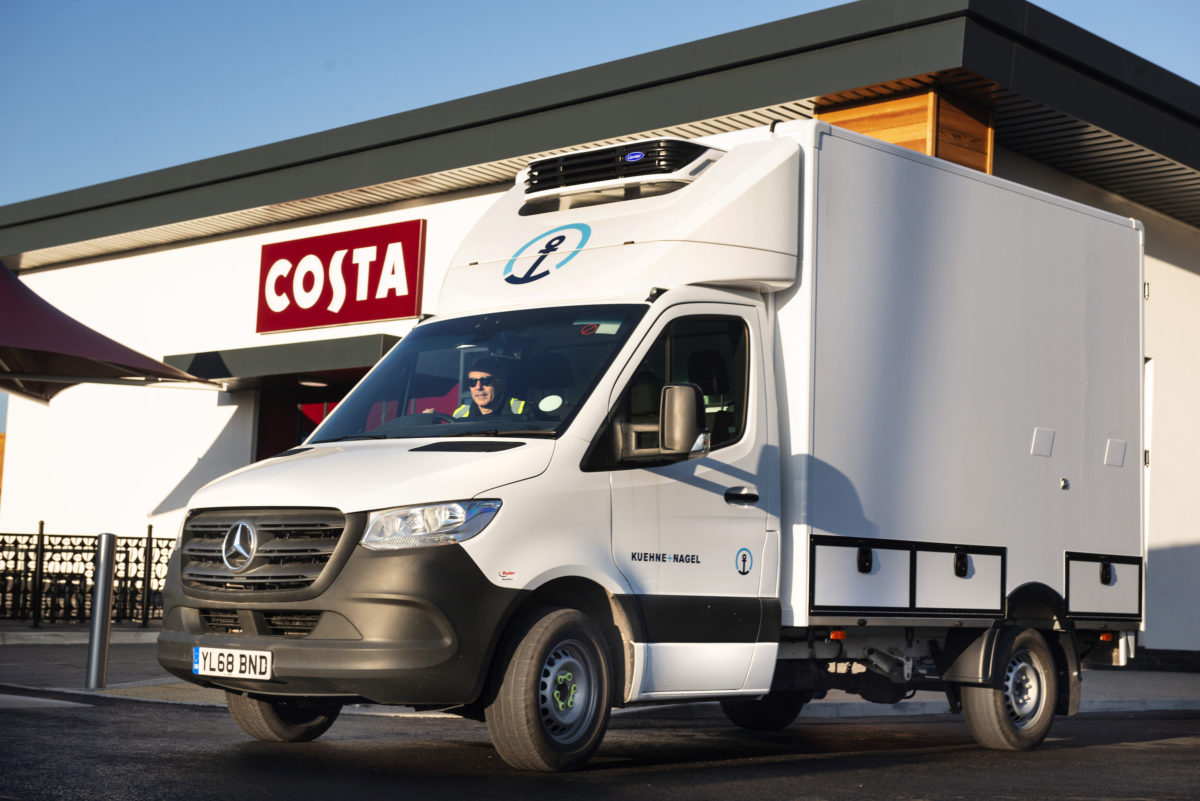 Ryder Supplies new Mercedes-Benz Sprinter Custom Vans with Fridges to Kuehne + Nagel/Costa Coffee
Published on January 23 2020
Ryder, a leading independent provider of commercial vehicle rental, contract hire, and maintenance services in the UK, has supplied 78 new Mercedes-Benz 314CDI Sprinter chassis cab vans to Cold Chain Federation member Kuehne + Nagel. The new vehicles, which are specified with automatic gearboxes and air conditioning, are being utilised to deliver fresh produce and consumables to Costa Coffee outlets throughout the UK. 
 
The new vehicles will operate from Costa Coffee's central supply and distribution centres delivering to Costa Coffee outlets as part of a two-phase network. Fresh produce is delivered every day, while consumables and products with a longer shelf life, including cakes, are delivered every other day.
Ryder's engineering team worked with Kuehne + Nagel and refrigerated vehicle conversion specialist Solomon Commercials to develop the customised specification for the vehicles. They have custom 3.35m insulated box bodies with internal loading and triple rear doors, and are equipped with Carrier Transicold Xarios 350 refrigeration units.
A unique body, with a false floor with integrated lockers, enables segregated waste to be taken away from the Costa Coffee outlets as part of the daily delivery process.
In 2016, Costa Coffee became the first coffee chain to turn its own stores into recycling points. Used coffee granules, food waste and other waste streams, including used cups, are segregated and transported in the vehicles' waste lockers to the company's central supply and distribution centres for onward re-processing and recycling. Costa Coffee is working with clean technology company Bio-bean to recycle its used coffee grounds into biofuel. Bio-bean now recovers more than 3,500 tonnes of coffee grounds every year from around 900 Costa Coffee stores. Utilising the recycling infrastructure that is now in place, including its unique specification delivery vehicles, Costa Coffee aims to become the first coffee chain in the UK to recycle as many takeaway cups as it sells by 2020.
As part of the new vehicle supply agreement, Kuehne + Nagel is trialling TRAILAR solar technology. Ryder is the exclusive UK provider of the TRAILAR system for rigid vehicles, which uses cutting edge solar technology in the form of an ultra-thin, flexible solar matting that is applied to the vehicle roof and connected to a Smart Charge Controller that works in conjunction with the vehicle's battery and alternator. The harvested natural energy contributes to powering the direct drive fridge fans that help retain the body temperature during deliveries, as well as powering all on-board ancillary equipment including heating, air conditioning, and forward-facing cameras, thereby lowering CO2 emissions and reducing fuel consumption by circa 7.8%.
Andrew Blake, Kuehne + Nagel National Distribution Manager, Whitbread contract, said: "Ryder was awarded the contract to supply these new vehicles following a competitive tender. Ryder offered competitive contract terms and was able to meet the unique specification we required with the latest version of the Mercedes Sprinter.
"These new custom-built vehicles have been designed to fit exactly with the demands of the Costa Coffee distribution network. Sustainability is a key driver for Costa Coffee, and the unique bodies, with the integral segregated waste compartments, enable us to combine our daily delivery process with the collection of waste for re-processing. We are delighted with the new vehicles and the support we've received from Ryder and Solomon Commercials."
John Murray, Ryder Sales and Marketing Director, said: "We're very pleased to have been able to build on our relationship with Kuehne + Nagel to supply these new custom-built vehicles. Costa Coffee required a highly competitive leasing solution while needing a unique design of vehicle to meet the delivery and waste collection demands of the contract.
"This is a great example of partnership working between Costa Coffee, Kuehne + Nagel, Ryder and Solomon Commercials to develop a solution that meets all aspects of the demanding contract and vehicle specification."
The new vehicles recently won the refrigerated rigid vehicle of the year award at the Temperature Controlled Storage and Distribution Awards 2019.