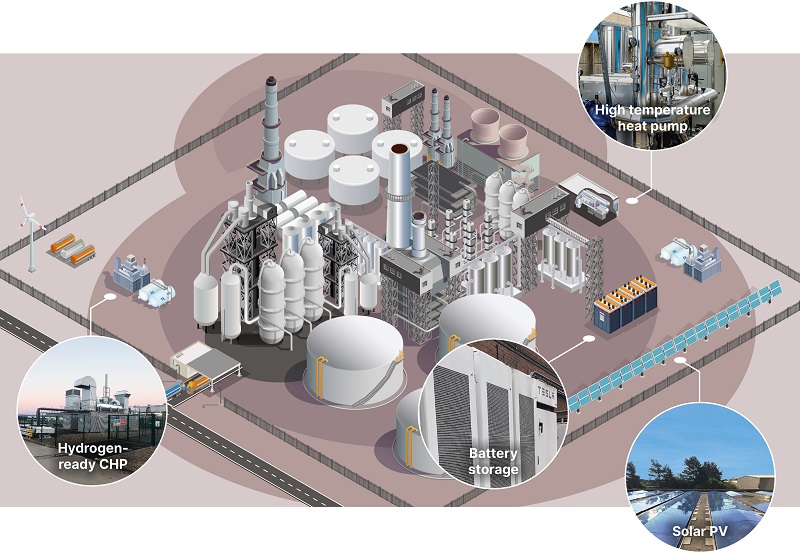 On-Site Solutions can power the chemical sector to a Greener Future
Published on February 27 2023
Many businesses in the UK chemicals sector are under pressure to scale back on their carbon emissions, but how can they reach decarbonisation targets and ideally save energy costs? The chemicals sector is one of the hardest to decarbonise due to its reliance on gas to reach process temperatures. Mitigating CO2 emitted from use of gas isn't straight forward.
Chemicals are key for almost every other manufacturing industry so sustainability cannot come at the expense of financial viability. Despite industry turnover of around £50billion annually (source Chemistry Council), many chemical manufacturers operate with low profit margins. With high energy prices and the current economic headwinds, projects with longer paybacks can be financially challenging.
David Kipling, CEO for Cold Chain Federation member On-Site Energy Ltd, says that there are cost-effective solutions that can help the chemical sector survive and thrive during the transition. "The chemical industry relies on large, long-lived capital assets, which makes it difficult and expensive to switch to low carbon production methods.
"Solutions to lower emissions in the chemicals sector include heat recovery and reducing reliance on the grid. On-site electricity generation brings a number of key benefits. A local energy source is more efficient than the grid so can help stabilise operating costs and makes forward budgeting easier. Another main further advantage is energy security and autonomy, vital for long-term business security and prosperity."
On-Site's Zero-capex (capital expenditure) agreements support energy intensive manufacturers in achieving their sustainability goals whilst minimising energy costs. This business model bears the capital and some of the other risks of ownership which enables the investment to be made off-balance sheet, and so avoid some of the capital constraints that typically hinder investment in sustainable solutions. To make the decarbonisation transition as smooth as possible, On-Site Energy also installs and manages the whole project.
On-site electricity generation along with other carbon emissions solutions will transform energy usage over the next 10 years. The focus should be on energy efficiency and on-site generation to provide the best carbon and cost solution. For early adopters in the chemical industry, this could be a source of competitive advantage in the global market.
On-Site Energy will be exhibiting on Stand B72 at the chemical industry's showpiece exhibition ChemUK 2023 at the NEC Birmingham on the 10th-11th May. David Kipling will also be speaking at the exhibition on the sustainability stage.

Comments are closed.