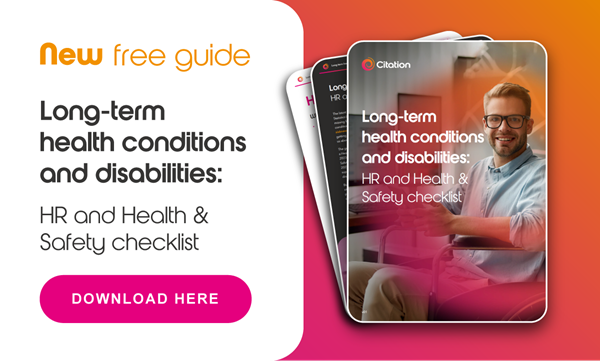 New free guide: managing employees with long-term health conditions
Published on February 28 2023
The latest figures from the Office for National Statistics (ONS) suggest some 2.5 million people are missing from the labour market because of medical conditions, marking the highest rate of long-term sickness absence on record.
But, do you know your obligations as an employer when it comes to workers with long-term health conditions and disabilities, and the things to consider in order to stay compliant, retain your people, and boost productivity.
Cold Chain Federation Member Citation, know that managing employees with long-term health conditions and disabilities can be expensive, stressful and confusing. That's why they have created this free Health & Safety and HR checklist to help you power your people.
Download now: https://tinyurl.com/3h72bznc
Your CCF member benefit
If you'd like to chat about how Citation can help with the HR and Health & Safety side of your business, just give them a call on 0345 844 1111, or fill in their call-back form, and they'll get right back to you. Remember to quote Cold Chain Federation when enquiring to access preferential rates.  

Comments are closed.