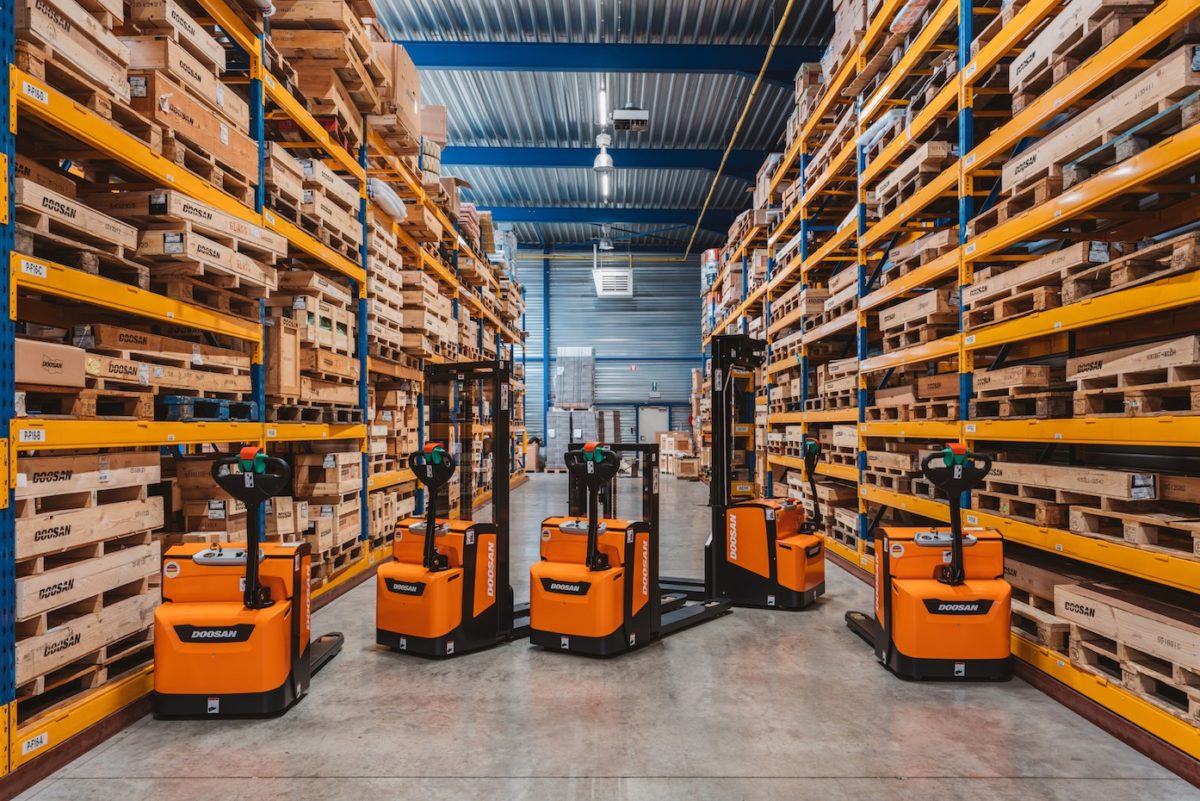 Doosan reveals uplift to warehouse truck range
Published on October 3 2019
Cold Chain Federation member Doosan, the leading manufacturer of robust high performance forklift trucks, has launched a major upgrade programme for its high-performance warehouse truck range, starting with the introduction at IMHX 2019 of new enhanced models in the stacker and powered pallet truck ranges – including the BPL18/20S-7 with lateral drive, the BPM20S-7 with middle drive, and the BDL13S-7(H) double stacker.
Also launched at IMHX in September was Doosan's new versatile, 1.5 tonne capacity electric pallet truck – the BPSC15E-7 lateral drive, which has a built-in charger, long-life batteries and a compact chassis for extra maneuverability.
Further upgraded models making their debut at the show included a comprehensive range of five pedestrian stacker trucks in capacities from 1.0 – 2.0 tonne, a 1.8 tonne pedestrian double stacker (BDL13S-7) and a 2.0 tonne platform double stacker (BDR13S-7).
Standard features across the ranges include low-noise and maintenance-free AC motors, electric power steering, regenerative braking, sensitive proportional hydraulics, multi-functional display for monitoring energy and machine status, turtle speed button, hydraulic damper for shock-free load lowering – all combined with a robust, compact chassis that offers high maneuverability in tight spaces and designed-in stability for lifting confidence and safety.
The warehouse range is fully supported by Doosan's worldwide service network and backed-up by genuine Doosan parts – underscoring Doosan's commitment to maximum performance with minimum downtime.
Power to perform
Doosan has also unveiled a 1.5 to 2.0 tonne capacity Lithium-ion powered pallet truck, offering excellent acceleration for enhanced productivity and a choice of charging systems – either direct or by easy removal of the battery. Fully recharged within 2 – 2.5 hours, the battery offers an average of three hours of operation and supports boost charging at anytime.
Later this autumn, two new rider platform powered pallet trucks will be introduced to the market as part of an on-going programme of product development and enhancement for Doosan's high-performance warehouse truck range.
All new warehouse models reflect Doosan's renowned design characteristics of compact functional form, high maneuverability, durability and rugged, reliable performance.
David Clarkson, CEO, Doosan Industrial Vehicle UK, says: "Productivity within the warehouse is increasingly becoming an important focus for businesses in manufacturing and retail. Labour availability is under pressure and customer expectations for service and delivery is unrelenting, so companies need higher performance materials handling equipment to support their plans for productivity gains.
"The scale and scope of Doosan as a $21 billion global engineering business enables us to make significant, on-going investment into our warehouse product range – bringing design enhancements, new battery and charging technology upgrades, advanced safety features, and a whole range of performance boosting innovations."
He continues: "Over the coming months we will be introducing a steady stream of warehouse truck upgrades and new models – complementing our extensive range of IC engine and electric counterbalance trucks. This is all part of a comprehensive remodeling programme that further supports Doosan's position as a powerful brand supplying robust and reliable solutions across a broad spectrum of industrial activity – in the yard, the factory and the warehouse."