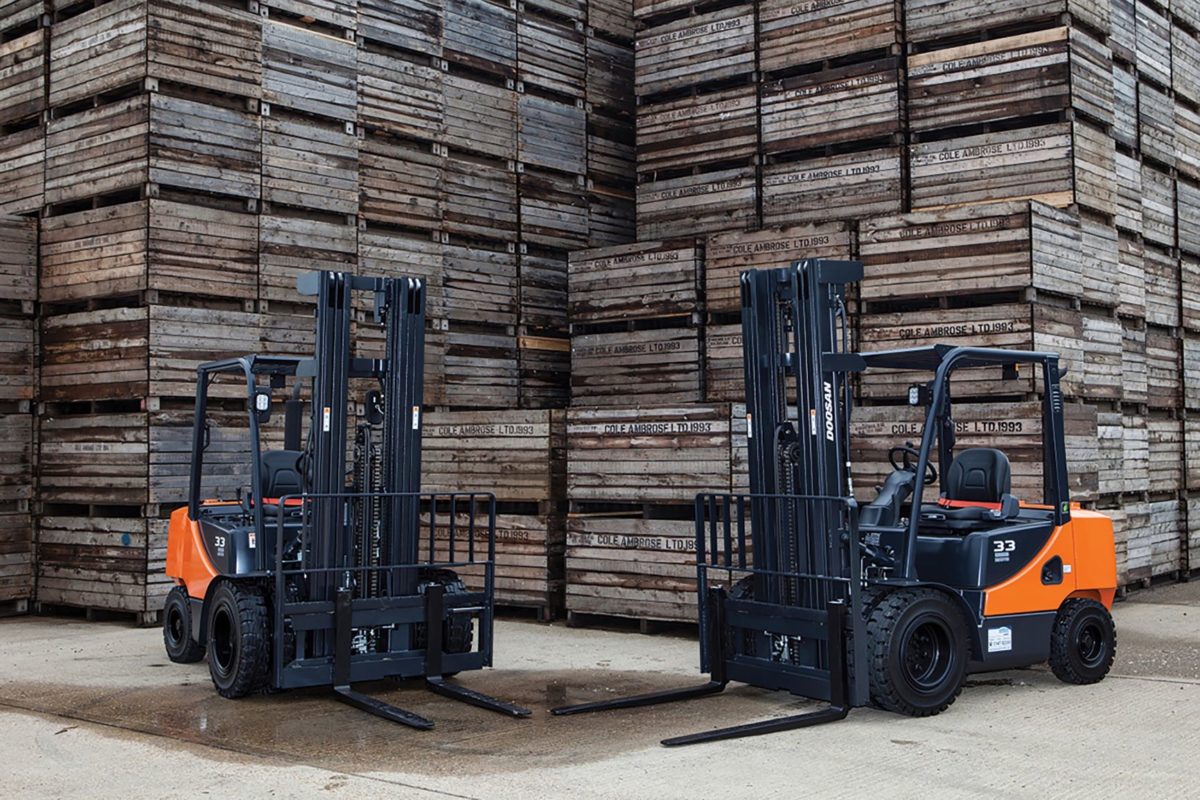 Doosan highlights performance at LAMMA 20
Published on November 28 2019
Cold Chain Federation member Doosan, the leading manufacturer of robust high performance forklift trucks, will be exhibiting at LAMMA 20 (hall 18, stand 516), the UK's top farm machinery, equipment and services show, to be held at the NEC in Birmingham, 7th– 8th January 2019.
Well suited to harsh farmyard duties, Doosan's comprehensive range of versatile, reliable and tough forklift trucks will be represented on the Doosan stand by four of the manufacturer's latest feature-rich models – a D35S-7 3.5 tonne diesel counterbalance, a gas powered G25P-7 2.5 tonne counterbalance truck, a D33S-7 3.25 tonne diesel counterbalance fitted with a 6.5m triple mast and the new LPM20 lithium ion powered pallet truck. 
These are just a few examples from the manufacturer's extensive range of over 200 models of counterbalance, reach and warehouse trucks, with capacities spanning 1.3 to 25 tonne, over power sources of electric, gas and diesel. Everything the agricultural sector needs in terms of handling performance to keep busy farms productive.
Productivity focused farmers will be interested in Doosan's revolutionary G2 diesel engine, which is fully compliant with all current Euro Stage lll/lllB/lV emission regulations, without requiring a Diesel Particulate Filter (DPF) – so no downtime recharging a filter.
Perfect for applications where space is a premium, Doosan's D33S-7 fuel-efficient diesel powered 3.25 tonne capacity counterbalance truck is built on a compact chassis, enabling it to work in more confined spaces and making it attractive to farmers looking to maximise storage capacity on site. Fitted with a 6.5m mast, this model will allow for block stacking of produce laden boxes two higher than competitive models – further boosting storage density. The compact design format offers extra manoeuvrability and uniquely has a residual capacity sufficient for lifting two loaded boxes. Due to its popularity with farmers, this model is readily available within Doosan's short-term rental fleet for flexible hire during peak periods.
David Clarkson, CEO, Doosan Industrial Vehicle UK, says: "Farming is a tough business and demands equally tough materials handling equipment. We have a strong, robust range of heavy lifting trucks capable of meeting the diverse needs of the agricultural sector – from handling heavy pieces of farm equipment and IBCs, to loading / unloading vehicles. Our industry leading Doosan G2 diesel engine delivers the power to get the job done and our electric heavy-lifting counterbalance trucks are just as able."
He adds: "This is an important show for the agricultural sector and we're delighted to have the opportunity to engage with farming businesses on ways of driving productivity and performance in their material handling operations."
Doosan Industrial Vehicles is one of the world's leading manufacturers of forklift trucks. As an important part of the $21 billion global Doosan Group – a conglomerate with a 120-year history – the forklift truck division has the extensive resources needed to lead in product design, performance, ergonomics, energy and safety.